In 2021, the Pretzel Bacon Pub Cheeseburger left Wendy's: it has returned. This is the only sandwich available right now that features a pretzel bun. In between this bun is a quarter pound of never frozen beef, Muenster cheese, three strips of Applewood smoked bacon, smoky honey mustard, warm beer cheese sauce, crispy fried onions, and pickles. You can get the sandwich for roughly $5.89, but pricing and participation will vary, so be sure to check with your local Wendy's.
Wendy's Boo Books Are Back For Halloween
For just $1, you can help find adoptive homes for children in foster care and enjoy 5 free Jr. Frosty treats with the Halloween Boo Books from Wendy's.  Boo Books are $1 each and has 5 separate coupons for a free Frosty Jr.  These are great trick or treat items, but no one says you can't buy them for yourself!  You can buy them in person at participating locations, or order them online.
The Frosty is the signature frozen dairy dessert of Wendy's fast-food restaurants, introduced in 1969 when the first restaurant opened.  The Jr. Frosty is a 6 oz serving.
For every Boo Book purchased, $0.85 will support the Dave Thomas Foundation for Adoption's mission.
Wendy's $5 Biggie Bag
With the Wendy's Biggie Bag you get a Jr. Bacon Cheeseburger, Crispy Chicken BLT, or Double Stack, along with a 4 piece Spicy or Crispy Nugget, small fries and a small drink, all for $5.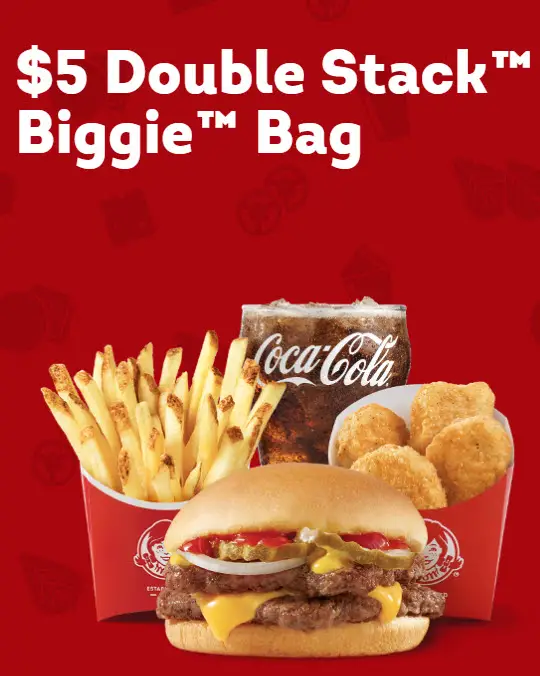 More from EatDrinkDeals
Inflation stinks!  Want to get make your money go further with the best deals, discounts, top coupons and promotional codes from your favorite restaurants?  Click here to see the latest and greatest from EatDrinkDeals!
Wendy's 4 for $4 Special
Wendy's has a 4 for $4 menu that gives you a sandwich, 4-piece nuggets, fries and a drink for just $4.  It's one of the best deals in the fast food restaurant game right now.
The 4 for $4 limited time offer features these sandwich choices:
Jr. Cheeseburger
Jr. Bacon Cheeseburger
Crispy Chicken Sandwich
Spicy Chicken Sandwich
More details are on the Wendy's Meal Deals Page.  You can find a discussion of the deal on the Wendy's Facebook Page.
Wendy's Biggie Deals Menu
Wendy's has a Biggie Deals Menu with Cheeseburgers, Chicken Sandwiches, Wraps, Side Salads and other items priced starting at 99 cents.  It's a popular fast food value menu with the best price on a lot of standard fare.  Prices will vary by location, but current typical prices as of are:
Jr. Hamburger, $1.39

Jr. Cheeseburger, $1.79

Jr. Cheeseburger Deluxe, $1.89

Jr. Bacon Cheeseburger, $1.99

Double Stack, $2.49
Bacon Double Stack $3.29

Crispy Chicken Sandwich, $1.59

Crispy Chicken BLT, $2.09
To view the entire menu visit:  Wendy's Biggie Deals Menu. Good at participating locations.
Homestyle French Toast Sticks
Wendy's recently added new Homestyle French Toast Sticks with Syrup Dip to their menu. The sticks are made with real eggs and dipped in a milk custard with a tad bit of vanilla. You can get 4 pieces, 6 pieces, or a 6 piece combo that comes with seasoned potatoes and a drink. You will also get a maple syrup dip on the side to complement the French Toast Sticks. Price will vary by location, but the four piece costs roughly $2.79 at most Wendy's locations. Order now through the app!
Strawberry Frosty
Wendy's is steppin' into summer with the Strawberry Frosty available for a limited time!
"We're always listening to our fans and as the most-requested item, it was a no-brainer for us to bring the Strawberry Frosty to the menu this season," says Carl Loredo, Chief Marketing Officer for The Wendy's Company in this press release. "While some of our competitors are still trying to get their ice cream machines to work, fans can dip into this new strawberry treat all summer long at Wendy's."  SLAM!
The Strawberry Frosty costs the same as the classic flavors – usually $1.39 for a Junior size up for $2.99 for the Large.
There's also a Strawberry Chicken Salad made with said strawberries, bacon and grilled chicken on a bed of crispy lettuce and spring mix.  The salad is topped with an Italian cheese blend, candied almonds and a sweet Champagne vinaigrette dressing.  The Strawberry Chicken Salad is priced similar to the other salad options – about $7.50 in most locations.
Wendy's Breakfast Menu
Wendy's has a breakfast menu featuring a variety of biscuits and croissants with egg, sausage, bacon or chicken.  According to the Wendy's breakfast website, every breakfast sandwich (except the Burrito) is made to order with a freshly-cracked egg.  Some interesting items include the Breakfast Baconator or the Honey Butter Chicken Biscuit.  Try one in a breakfast combo with Homestyle Potatoes and a drink.
Want to go big?  Try out the Breakfast Baconator.  You'll get a sandwich with egg, sausage, 6 pieces of bacon, American cheese and a swiss cheese sauce on top of it all.  Glorious.  You'll have normal beverage choices plus the Wendy's special Frosty-ccino, which is a mix of cold-brewed coffee with either vanilla or chocolate Frosty and served over ice.  Hours will vary by location, but typically run from 6:30 AM – 10:30 AM daily.  Get your breakfast order in before the lunch rush!
Wendy's Rewards
Wendy's now offers rewards for app purchases.  You can also scan your code from the app if you're ordering in person.  Earn 10 points for every $1 you spend.  Go to the Rewards button on the bottom of the screen on the app to view your points and claim rewards. Occasionally, you might see special discount codes to apply to your purchases, or to get free food.  Usually, though, everything you need will be in the Offers section of the Rewards store.  Mobile ordering is also a big convenience that you'll get.
Get items like a Small Frosty or 4 piece Chicken Nuggets for 150 Rewards Points, a Small Fry for 200 points, a Crispy Chicken Sandwich for 250 points, all the way up through a Baconator for 700 points.  When you're claiming a reward, you don't have to worry about any promotional code.  You can't beat the low price of free fast food!  You'll just have to have the applicable item in your order before you apply the Reward.  Sometimes you'll see other exclusive offers like buy one, get one free deals or 50% off!
For more details on the program and to learn more about Wendy's coupon codes, check out our Wendy's coupons page.
Wendy's Hours
Most Wendy's are open every day from 6:30 am to midnight but times can vary.  They usually follow the pattern of other fast-food restaurants in a given area.  To find the hours, address and more details for your Wendy's restaurant, select your location from:  Wendy's Locations
Wendy's Menu
The Wendy's menu has expanded from a basic offering of burgers and fries to include a full lineup of fast food items with favorites like their Spicy Chicken Sandwich.  You'll notice that Wendy's burgers are square-shaped, unlike Burger King and the rest of the competition. Plus, Wendy's has a full breakfast menu featuring a variety of biscuits and croissants with egg, sausage, bacon or chicken.  According to the Wendy's breakfast website, every breakfast sandwich (except the Burrito) is made to order with a freshly-cracked egg.  Some interesting items include the Breakfast Baconator or the Honey Butter Chicken Biscuit.
Wendy's Delivery
Wendy's offers delivery through its three third-party delivery partners: Grubhub, Ubereats and Doordash.  Usually there is a delivery fee but delivery is free during Wendy's special promotions.  To start Wendy's delivery orders, or to check on Wendy's delivery deals, visit:  Wendy's Delivery
You can also place a delivery order through the Wendy's App.
Wendy's Nutrition
Wendy's lists food allergen information in their online and app menus.  To view the allergen content of any menu item, navigate to the menu, select a menu category, then a product, and then click the "Nutrition & Allergens" hyperlink. A new window will appear containing the product's allergens, nutrition facts panel and ingredient lists.  For example, the nutrition and allergen info on Wendy's Strawberry Summer is at:  Summer Strawberry Salad Nutrition
When you start an online or order, you can make modifications to the menu ingredients online; when ordering at the restaurant, simply ask the crew member to hold a given ingredient.
For more information visit:  Wendy's Nutrition and Health
More Restaurant Daily Deals
Daily deals for all days of the week can be found here:
For more daily and weekly restaurant specials like these, see:  Restaurant Daily Deals