The popular buy one, get one for $1 deal returns to Wendy's, with a lineup including Spicy Chicken Nuggets with a new Ghost Pepper Ranch Sauce!  That can really kick your Spicy Nuggets into high gear.  The entrees available for the BOGO deal are:
10 piece Crispy or Spicy Chicken Nuggets
Classic Chicken Sandwich
Spicy Chicken Sandwich
Dave's Single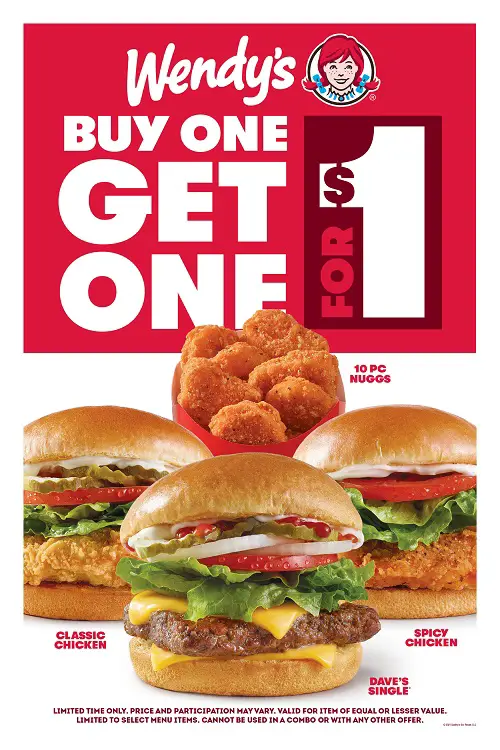 Wendy's posted the great news on its website.
Wendy's 2 for $4 Breakfast Deal Is Back!
The 2 for $4 Breakfast Sandwich deal is back on at Wendy's for a limited time!  Your options are the Honey Butter Chicken Biscuit, a Sausage, Egg and Swiss Croissant or Bacon, Egg and Swiss Croissant.  Wendy's posted the deal on their website.
Wendy's Biggie Bag For $5 Deal
With the Wendy's Biggie Bag you get a Bacon Double Stack, 4 piece Spicy or Crispy Nugget, small fries and a small drink, all for $5.
More from EatDrinkDeals
Want to get info on other deals, discounts, coupons and specials from your favorite restaurants?  Click here to see the latest and greatest from EatDrinkDeals!
Wendy's 4 for $4 Special
Wendy's has a 4 for $4 menu that gives you a sandwich, 4-piece nuggets, fries and a drink for just $4.
The 4 for $4 deal features these sandwich choices:
Jr. Cheeseburger
Jr. Bacon Cheeseburger
Crispy Chicken Sandwich
Spicy Crispy Chicken Sandwich
More details are on the Wendy's Meal Deals Page.  You can find a discussion of the deal on the Wendy's Facebook Page.
Wendy's Biggie Deals Menu
Wendy's has a Biggie Deals Menu with Cheeseburgers, Chicken Sandwiches, Wraps, Side Salads and other items priced starting at 99 cents.  Prices vary slightly by location but current typical prices as of June 2021 are:
Jr. Hamburger, $1.39

Jr. Cheeseburger, $1.79

Jr. Cheeseburger Deluxe, $1.89

Jr. Bacon Cheeseburger, $1.99

Double Stack, $2.49
Bacon Double Stack $3.29

Crispy Chicken Sandwich, $1.59

Crispy Chicken BLT, $2.09
To view the entire menu visit:  Wendy's Biggie Deals Menu. Good at participating locations.
Frosty Cookie Sundae
The Frosty Cookie Sundae is back at Wendy's!  It's a Vanilla or Chocolate Frosty base, topped with Chocolate Chunk Cookie bites (yes!) and Ghirardelli Chocolate Sauce (double yes!).
It's $1.99 to get in on this Sundae action (prices may vary by location).
Wendy's Breakfast Menu
Wendy's has a new breakfast menu featuring a variety of biscuits and croissants with egg, sausage, bacon or chicken.  According to the Wendy's breakfast website, every breakfast sandwich (except the Burrito) is made to order with a freshly-cracked egg.  Some interesting items include the Breakfast Baconator or the Honey Butter Chicken Biscuit.
A lot of Wendy's app coupons are good for Wendy's breakfast items.  Visit our EatDrinkDeals Wendy's coupons page to learn more.
Want to go big?  Try out the Breakfast Baconator.  You'll get a sandwich with egg, sausage, 6 pieces of bacon, American cheese and a swiss cheese sauce on top of it all.  Glorious.
You'll have normal beverage choices plus the Wendy's special Frosty-ccino, which is a mix of cold-brewed coffee with either vanilla or chocolate Frosty and served over ice.
Breakfast hours will vary by location, but typically run from 6:30 AM – 10:30 AM daily.
Wendy's Rewards
Wendy's now offers rewards for app purchases.  You can also scan your code from the app if you're ordering in person.  Earn 10 points for every $1 you spend.  Go to the Rewards button on the bottom of the screen on the app to view your points and claim rewards. Get items like a Small Frosty or 4 piece Chicken Nuggets for 150 points, a Small Fry for 200 points, a Crispy Chicken Sandwich for 250 points, all the way up through a Baconator for 700 points.  For more details on the program, click here for the Wendy's Rewards page.
Wendy's Hours
Most Wendy's are open every day from 6:30 am to midnight but times can vary. To find the hours, address and more details for your Wendy's, select your location from:  Wendy's Locations
Most Wendy's remain closed for dine-in service due to the Coronavirus pandemic and are limited to drive-through and delivery service.
Wendy's Delivery
Wendy's offers delivery through its three third-party delivery partners: Grubhub, Ubereats and Doordash.  Usually there is a delivery fee but delivery is free during Wendy's special promotions.  To start a Wendy's delivery order, or to check on Wendy's delivery deals, visit:  Wendy's Delivery
You can also place a delivery order through the Wendy's App.
Wendy's Nutrition
Wendy's lists food allergen information in their online and app menus.  To view the allergen content of any menu item, navigate to the menu, select a menu category, then a product, and then click the "Nutrition & Allergens" hyperlink. A new window will appear containing the product's allergens, nutrition facts panel and ingredient list.  For example, the nutrition and allergen info on Wendy's Summer Strawberry Chicken Salad is at:  Summer Strawberry Salad Nutrition
When you start an online or order, you can make modifications to the menu ingredients online; when ordering at the restaurant, simply ask the crew member to hold a given ingredient.
For more information visit:  Wendy's Nutrition and Health