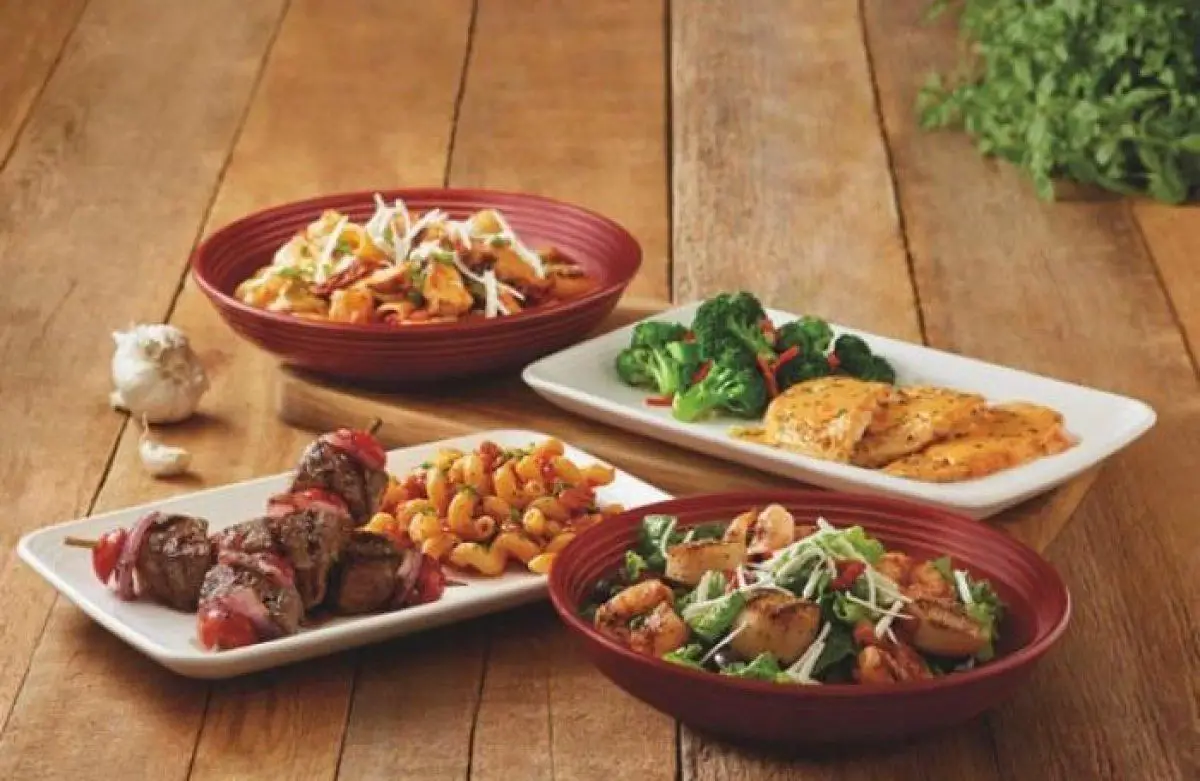 From pizza to pasta to panna cotta, Italian food is a staple of the American restaurant scene.  But with so many options to choose from, where can you get the best bruschetta for your buck?  HuffPost and The Daily Meal have weighed in on America's best casual, non-pizza Italian restaurant chains and posted a ranking of their top twelve.  EatDrinkDeals regularly posts coupons and special offers from many of the chains that made the list.
Restaurants were ranked by the following criteria: menu variety, price point, freshness, value, ambiance and design, availability of classic entrees alongside creative new dishes, special menus (including kids' and seniors' menus and gluten-free options), and special deals and extras (such as online ordering, catering, delivery, charity work and more).
America's Top Twelve Italian Chains (2018)
12. Fazoli's
Family-friendly and super-casual, Fazoli's is famous for its unlimited breadsticks, inexpensive bowls of oven-baked pasta, oven-baked "Submarino" sandwiches, pizza and generous sampler platters.
For info on Fazoli's deals, click here to go to the EatDrinkDeals Fazoli's page!
11. Biaggi's Ristorante Italiano
Biaggi's offers white-tablecloth ambiance with a casual atmosphere and reasonable prices.  Popular menu items include carpaccio, sherry tomato soup, black fettucine with lobster, butternut squash ravioli in a sage-brown butter sauce, potato-parmesan crusted tilapia and osso bucco.
Spaghetti Warehouse's 15 locations offer a unique dining experience and some non-traditional menu items.  Many restaurants are located in old warehouses and each features a trolley car in the middle of the dining room.  Menu selections range from their classic 15-layer lasagne to creative favorites like baked pepperoni spaghetti, spaghetti topped with beef chili and fried ravioli.
9. Zio's Italian Kitchen
This Midwestern chain features an open kitchen and a spacious "piazza-style" atmosphere.  With an affordable weekday lunch deal and a $3.99 kids' menu, there's a lot to love about Zio's, from their pepperoni bread and Italian nachos to their linguine topped with cheese ravioli and spicy shrimp and prosciutto.
With a name like "Joe's Basement", it's clear that guests are in for a fun dining experience at Buca di Beppo.  This chain is known for its lively atmosphere, family-friendly menu options and eclectic decorations.  Popular menu items include Cheesy Bread Florentine, square-cut pizzas, prosciutto-stuffed chicken and sausage and peppers.  Buca di Beppo has a wide range of gluten-free options and a popular "Feed 4 for $40" deal, and the chain donates $1.00 to St. Jude's Children's Research Hospital for every meatball dish sold.
7. Olive Garden
With its newly revamped menu and decor, there's a reason that many diners still count on Olive Garden for their favorite Italian-American classics, as well as creative new dishes like Moscato Peach Chicken, Steak Gorgonzola-Alfredo and Chicken & Shrimp Carbonara.  Olive Garden regularly features special deals like Parents' Night Out and their four-course Festa Italiana dinner, and their $6.99 unlimited soup, salad and breadsticks deal is hard to beat.
Click here to visit the EatDrinkDeals Olive Garden page for info on specials, coupons and savings1
6. Johnny Carino's
There's something for everyone on the menu at Johnny Carino's, from classic favorites like chicken Parmesan, lasagna and spaghetti and meatballs to house specialties like chicken stuffed with ham, basil, and provolone topped with mushrooms and Alfredo sauce; Parmesan-crusted and balsamic-glazed baby back ribs; and bow tie pasta with meat sauce, Italian sausage, bacon, ham, pepperoni, onions, bell peppers and cheese.  The selection of family-size platters and specialty frozen cocktails and martinis puts this menu over the top.
5. Maggiano's Little Italy
Maggiano's is well known for their menu that features classic Italian-American favorites alongside specialties like their Rigatoni 'D' with chicken, mushrooms, caramelized onions and Marsala cream sauce and higher-end items like 16-ounce Prime New York steak and veal porterhouse. Maggiano's also delivers and offers a "Family Style" menu for parties of four or more.
For coupons and info on specials and promotions, click here to read our EatDrinkDeals Maggiano's article.
4. Romano's Macaroni Grill
Macaroni Grill has more than 200 locations nationwide and in countries including Egypt, Mexico and Japan.  Macaroni Grill is a go-to option for Italian-American red-sauce classics, but they also offer a "Lite" menu, seasonal specials, catering and online ordering.  Macaroni Grill recently started offering express lunch service at Romano's Kitchen Counter in select locations.  You can find current lunch coupons in this post.
They've often got great coupons like Buy One, Get One Free, $10 off, and more – click here to visit the EatDrinkDeals Macaroni Grill page!
3. The Old Spaghetti Factory
The Old Spaghetti Factory sets the bar high with its unique dining atmosphere and almost entirely from-scratch menu.  Many of the restaurants are located in refurbished warehouses and feature antique decor and a streetcar in the dining room.  Entrees are served with bread, soup or salad, a drink and dessert, and the restaurants, which are family-owned and operated, dish up favorites such as jumbo crab ravioli; garlic shrimp fettuccine; lasagna; and pasta with Mizithra cheese (a sheep's milk cheese imported from Greece) and browned butter.  Add their kid's menu, gluten-free menu and senior's menu, and you've got a recipe for success.
2. Bertucci's
Like some pizza with your pasta?  Bertucci's brick oven pizza, scratch-made food and casual atmosphere might be just what you're looking for.  You can build your own pizza or calzone or sample oven-baked favorites such as a new chicken parm casserole, lasagna rustica and chicken piccata. Popular pastas include lobster, basil, and smoked mozzarella ravioli and rigatoni with roasted peppers and sweet Italian sausage.  Top it all off with a $7.99 lunch special and Roman-style party pizzas.
For deals at this great Italian spot, click here for the EatDrinkDeals Bertucci's page.
1. Carrabba's Italian Grill
Italian food doesn't get any better than old-world family recipes, and many of the dishes served at Carrabba's are variations on authentic Sicilian family recipes. Pastas include lobster ravioli, shrimp and scallop linguine alla vodka and old-school lasagna; chicken dishes include the popular Chicken Bryan, topped with goat cheese, sun-dried tomatoes, basil and lemon butter sauce; and other offerings include Roman-style pizzas, prosciutto-wrapped pork tenderloin and filet mignon with a variety of toppings. When you factor in the special menus ("15 for $15", gluten-free and "Under 600 Calories"), wine selection, catering, online ordering and specials (including the three-course "Amore Mondays" dinners starting at $12), it's easy to see why Carrabba's is the cream of the crop.
Congrats on #1, Carrabba's!  And users – click here for the EatDrinkDeals Carrabba's page to save when you pay them a visit!