Bojangles has a Steak Biscuits special, free delivery on all orders, and more deals.
Bojangles Steak Biscuits Special
Get 2 Steak biscuits for just $5 for a limited time now at Bojangles. All Bojangles biscuits are available all day.   Bojangles has the offer up on its homepage.
Free Bojangles Delivery On Doordash
Get free delivery on any Bojangles order when you order with the Bojangles app. Bojangles announced the promo – in conjunction with Doordash – on the Bojangles Home Page.
Bojangles Coupon For Free Chicken Sandwich
Get a FREE Chicken Sandwich from Bojangles when you first use the app, valid for a limited time, no purchase necessary!  If you don't have it yet, you can visit the Bojangles website here to download the app.  If you do, you should see the free Chicken Sandwich in your Offers section.  Hit "Redeem", then add a Chicken Sandwich to your order, and then you can claim the reward in a spot that's just above your order total.  Do that, and it should look like this: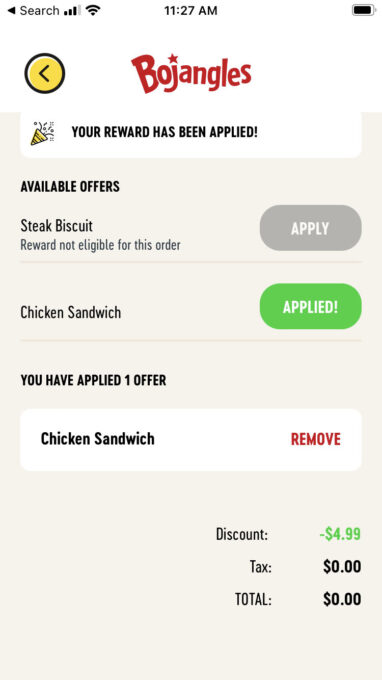 Bojangles Is Selling Hard Sweet Tea
Bojangles iced tea is a big thing. It's legendary. So, it's only natural that they'd try to get it out to the masses in all ways possible. Hence, Bojangles has partnered with the Appalachian Mountain Brewery from Boone, NC to create Bojangles Hard Sweet Tea. It won't be available for sale in Bojangles restaurants (why?!) but it will be available in major grocery and convenience store chains in March. 12 packs of 12-ounce cans and individual 16-ounce cans will be available. Chains like Circle K, QT, Sheetz, Spinx, Harris Teeter, Ingles, Lowes, Walmart, Food Lion and other retailers in North and South Carolina are expected to carry it. So check your local stores in March!
Bojangles Pork Chop Griller Biscuit
Bojangles has its fan favorite Pork Chop Griller biscuit on the menu during limited engagements.  The Pork Chop Griller is a slice of pork loin marinated in a dry rub seasoning and seared, served in a hot, made-from-scratch Bojangles biscuit.  Mmmmm.
More Bojangles Deals
For lunch or dinner, Bojangles has a 2-piece Chicken Dinner Combo for about $6.  At most locations, ask for the 2-Piece Combo and get a leg and thigh of Bojangles' bone-in chicken, one individual fixin', a made-from-scratch buttermilk biscuit and a 22 oz. Legendary Iced Tea or fountain drink.  Priced at about $6.  Good at lunch or dinner at participating locations.
Also at Bojangles get an 8-piece takeout box for about $19.99.
Bojangles E-Club and Free Tea
Sign up for the E-Club and get a free 1/2 gallon of Legendary Iced Tea from Bojangles.  An amazing discount for some amazing tea!  Click here to get started!
Many – but not all – Bojangles locations offer a 10% discount to seniors.  Ask your cashier if they have a senior discount, or when you place your order just say "senior."
Does Bojangles Have Coupons?
There may be other Bojangles printable coupons and promo codes out there, but unfortunately, they are often only available for specific locations, or have expired.  At EatDrinkDeals, our policy is to only publish Bojangles coupon codes that are widely available to avoid disappointing our users.  When Bojangles discount codes are nationally available and from verifiable sources, we will post them here.  We test the coupons and promo codes for a variety of stores across the U.S. to make sure they work.  You won't be disappointed with a dud!  We only post the best Bojangles promo codes that are widely available.
Bojangles App Deals
Download the Bojangles app or visit its website and create an account. You can visit the Bojangles website here to download the app.  You'll just need a phone number and an email address to get started.  It's easy to place an app order, and daily specials pop up here and there, too.
Bojangles Menu
Visit our Bojangles menu page here to see what they've got and how much things cost. Or, visit their website here.
Where Is The Bojangles Nearest To Me?
Bojangles has around 1,000 locations, most all in the United States, so chances are there's one near you.  They're one of the bigger fried chicken restaurant chains in the country.  They got their start in North Carolina, founded by Jack Fulk and Richard Thomas.  They're focused in the Southeast.  You can find the nearest Bojangles location at: Bojangles Near Me
What Are Bojangles' Hours?
Most Bojangles are open every day from 10 am to 10 pm, but times can vary. To find the hours, address and more details for your local Bojangles, select your location from: Bojangles Near Me
Does Bojangles Deliver?
Bojangles doesn't have a big delivery focus, but in some areas it's offered through its third-party delivery partners, Doordash and Postmates.  Usually there is a delivery fee, but delivery is free during special promotions.
Where Is Bojangles Nutrition Info?
Bojangles lists food allergen information in their online menu.  To view the allergen content of any menu item, click here for the Bojangles Nutrition page.
When you start an online order, you can make modifications to the menu ingredients online; when ordering at the restaurant, simply ask the crew member to hold a given ingredient.