Bojangles has reduced the price of their iconic iced tea for $1 for the summer starting today, Monday, June 10, 2019.
Any size, including Bojangles' 32-oz insulated cup, is $1 for a limited time.
"Our Legendary Iced Tea is timeless, and has refreshed Bojangles' fanatics for decades," said Jackie Woodward, chief marketing officer for Bojangles'. "It's a Southern staple, and with the arrival of summer, there's no better time for us to share this promotion. Bojangles' fans, grab a cup of our sweet tea and join us in toasting to summer!"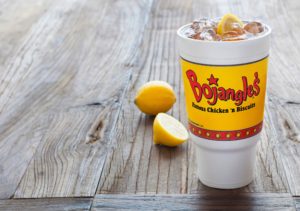 Bojangles also announced they are giving away one thousand cups of Legendary Iced Tea to one lucky fan. Simply follow Bojangles' on Instagram and enjoy the journey of Cuppy – Bojangles' unofficial mascot – as this lovable, wide-eyed 32-ounce cup of tea treks along the South Carolina coast for a day of fun, mischief and of course, Bojangles'.
Also at Bojangles, sign up for Bojangles' E-Club and receive a free half-gallon of Legendary Iced Tea with any purchase.
Bojangles announced the specials, to celebrate National Iced Tea Day, in a company press release.
About Bojangles (from company press release)
Bojangles', Inc. is a highly differentiated and growing restaurant operator and franchisor dedicated to serving customers high-quality, craveable food made from our Southern recipes, including breakfast served All Day, Every Day. Founded in 1977 in Charlotte, N.C., Bojangles'® serves menu items such as made-from-scratch biscuit breakfast sandwiches, delicious hand-breaded bone-in chicken, flavorful fixin's (sides) and Legendary Iced Tea®.
At December 30, 2018, Bojangles' had 759 system-wide restaurants, of which 319 were company-operated and 440 were franchised restaurants, primarily located in the Southeastern United States. For more information, visit www.bojangles.com or follow Bojangles' on Facebook, Instagram and Twitter.