The Habit Burger Grill has a mission for you, if you choose to accept it. They're trying to get to one million downloads for their app by December 16. If so, they'll give away one million Charburgers to celebrate! Join the cause and click here to download the app for iPhone or Android. The Habit posted the news on Facebook.
Family Meals $25 to Feed 4
Feed a group of 4 for just $25 with the Family Char Meal from The Habit Burger Grill! Here's the new promo posted on The Habit's homepage. Get 4 Charburgers with cheese, 4 fries, and 1 Garden Entree Salad.
Or, try the $30 Variety Meal to feed 4. Get 2 Charburgers with Cheese, 2 Chargrilled Chicken Sandwiches, 2 Golden Fries, 2 Crispy Onion Rings and 1 Entree sized Garden Salad.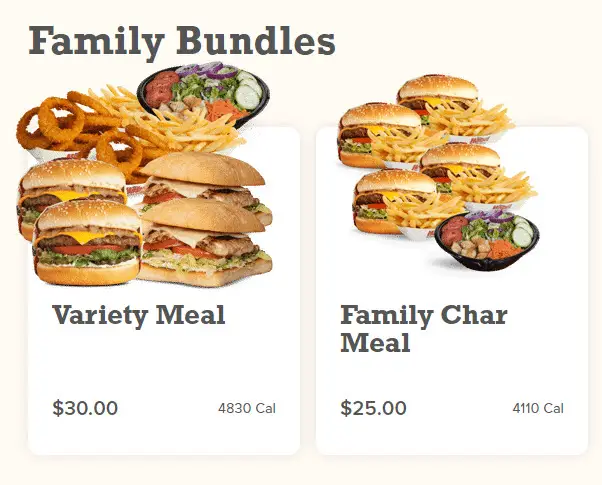 Click here if you want to place an order.
Tempura Jalapeno Char Burger
Feeling spicy? Try out the new Tempura Jalapeno Char at The Habit Burger Grill for a limited time. The burger comes with cheese, jalapeno mustard ranch sauce, jalapenos fried in a Japanese-style tempura batter, then topped with a sweet and spicy jalapeno jam. Now that's a spicy burger!
The Habit posted the new burger on their Facebook page.
Free Burger for App Download
Get a free Charburger with purchase of a regular drink when you first download the Habit Burger Grill app and use it to order. Isn't technology grand? Here's the Habit Burger Grill Facebook post with the details. Download the app for iPhone here and Android here.
.
Also, join the Habit Burger Char Club and get a treat on your birthday, an invitation to grand openings and special events, and news about new menu items.
For more details or to enroll visit: Habit Burger Char Club
Looking for other great deals on burgers? Go to our EatDrinkDeals Burger Deals section!
About The Habit Burger Grill (from Wikipedia)
The Habit Burger Grill is an American fast casual restaurant chain that specializes in charbroiled hamburgers. The company also purveys other typical fast-casual fare. Its headquarters are in Irvine, California. From 1969 to 2007, the chain slowly expanded around the Los Angeles metropolitan area to 23 restaurants. The Habit Burger Grill currently has over 200 locations. The majority of their locations are in California, but they also have locations in other states and two countries. The company plans to expand into the United Kingdom with 30 restaurants.
In mid-2014, The Habit's "Charburger" was named the best burger in America by Consumer Reports, a nonprofit organization dedicated to unbiased product testing, scoring an 8.1 out of 10 among 53,745 participants.