National Chicken Wing Day is Saturday, July 29, and you can find specials at Buffalo Wild Wings, Wingstop and more places.  Here are the deals announced so far, in alphabetical order.
Our roundup includes links to restaurant websites where you can confirm the deal and find further information.  EatDrinkDeals does not post deals that cannot be verified from a source such as a restaurant website, social media account, or press release.  Do you want to have great deals like these emailed directly to you? Click here to sign up for our newsletter!
National Chicken Wing Day Deals
7Rewards and Speedy Rewards members can get 5 classic wings for just $5 at 7-Eleven (plus Speedway and Stripes stores) on Chicken Wing Day, or go boneless with 8 pieces for $3.  Click here for the 7Rewards page to sign up and get access to the deal. Try out the new Korean BBQ flavor! 7-Eleven sent this press release with the offer details.
Applebee's
Applebee's does wings, and a whole lotta other stuff. Right now, there's a promo code for $10 off a $40 online order. Start an online order here and use promo code DEAL23 at checkout for the discount. You can also get Late Night appetizers for half-price all summer long. Read our Applebee's story here for more details.
Anthony's
Anthony's is celebrating National Chicken Wing Day all week long! Members of the Anthony's Coal Fired Club Rewards program will get a free 5-piece chicken wing appetizer on their next visit when they purchase chicken wings in an order of $10 or more from July 24-30. The free wings will be valid for 30 days. New members who sign-up can also snag a free 12-inch Anthony's cheese pizza on any order of $10 or more on their next visit. Plus, on National Chicken Wing Day, Anthony's will be giving a $1,000 gift card away on Instagram!
Beef 'O' Brady's
Beef 'O' Brady's is celebrating with a 50% bonus on Traditional or Boneless Wings on July 29.  Buy 10 and get 5 free, or buy 20 and get 10 free. The order is valid for dine-in or to go orders. If you order online, use promo code WINGDAY23 to get the bonus. Beef 'O' Brady's sent this message with the news.
Bonchon
Get 15 wings at Bonchon (Soy, Garlic, Spicy, and Korean BBQ) for $23.99 on National Chicken Wing Day! This offer ends on July 30th and is listed front and center on the Bonchon website.
Buffalo Wild Wings is offering guests 6 free boneless or traditional wings throughout the day when they dine in and spend $10 or more. Plus, try Buffalo Wild Wings' new Blazin' Knockout Sauce, General Tso's Sauce, and Sweet Chile Lime Sauce.  Buffalo Wild Wings has about 1,238 locations; for the location nearest you, see  http://www.buffalowildwings.com/en/locations/. This would be a great place to catch UFC 291 for free, too – read our roundup here for other spots.
Buffalo's Cafe
Get $1 wings at Buffalo's Cafe locations on July 29 in celebration of National Wing Day – here's a press release with the details.
Detroit Wing Company
Detroit Wing Company is honoring Wing Day with $0.89 wings – Classic or Boneless – on July 29. Check out this press release from the restaurant.
Dickey's Barbecue Pit
Dickey's has had wings on their menu for a little while, as a nice complement to its traditional barbecue. On July 29th, you can get a 6-piece chicken wing combo starting at $11.99, including a side and drink.
Glory Days Grill has a $7.29 special on Chicken Wing Day, July 29 and also on July 30.  Get 6 wings any style for $7.29 (not valid in Richmond locations). We spotted the news on their social media.
Buy 10 wings of any style and get 10 free wings at Hooters on National Chicken Wing Day.  Here's the news from Hooters.
Get 10 wings for $12.99 from Hurricane Grill & Wings on July 29. The offer is valid for dine-in and online orders placed directly from their website here. They posted the offer on their social accounts.
Get 50% of an order of Caesar Wings with a $20 minimum purchase on July 29 with promo code WINGDAY from Little Caesars. You can start an online order here.
Marco's Pizza
Marco's is offering 10 boneless wings for $7.99 when guests use code TENBW7 at checkout. We found the offer on the Marco's homepage.
Native Grill & Wings has $0.59 wings on July 29. Also, they're rolling out a brand new Secret Weapon sauce on the same day. It's a mix of Native Grill's traditional Buffalo sauce with a garlic pepper zing. A perfect chance to try it out! You'll also get a $5 coupon for a future visit valid through August 31. Here are all the details from their press release.
Get Boneless Wings for just $0.75 apiece when you buy 8 or more with a Pizza Hut deal valid online for a limited time at participating locations. If your Pizza Hut offers it, you'll find it here on their deals page like this: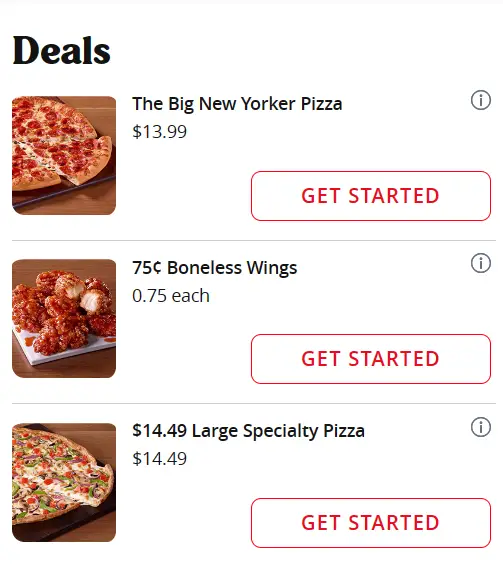 Rooster's
Get $0.79 wings, Boneless or Traditional, at Rooster's on Chicken Wing Day.  You can get the deal for dine-in or carryout orders. You can get up to 100 wings if you're really throwing down! Rooster's sent this email with the offer.
Get 25 Tenders for $25, or 20 Wings for $20 from July 27-29 from Slim Chickens. You can get the offer for dine-in, to-go and online orders. For online orders, you can find the bundles in the Party Trays section. No promo code is necessary. If you've got a REALLY big party for National Wing Day, you can get up to 5 of these bundles at the special price. Slim Chickens posted the offer on their socials.
Buy a 6 or 10-count order of wings and get another 50% off at Tijuana Flats on July 29.  Tijuana Flats sent this email with the deal.  Show this to your cashier, or for online orders, use promo code BOGOWINGS23.
Wingstop
Wingstop is the spot to be on National Chicken Wing Day. Order online or in the app (start an order here) and get 5 free wings with promo code FREEWINGS at checkout! Here's a press release with the good news.
Available everyday is their Boneless Meal Deal for $16.99, which features 20 Boneless Wings, a large fry, and 2 dips. You can also get the Latto Meal Deal which includes 21 Bone-In wings in three different flavors, a large fry, and two dips. Click here to read about more Wingstop deals!
Wingstop has about 1,000 locations; for the location nearest you, see http://www.wingstop.com/
Wings Over
Wings Over is offering 6 free wings with any purchase that includes wings on July 29. All you have to do is use code WINGDAY23 on your purchase of $10 or more online or through the app. Plus, on July 27, the chain will be offering four free tenders to guests on their orders of $10 or more when they use code TENDERDAY23.
Wing Zone
Get 16 Boneless Wings for $10 at Wing Zone on National Chicken Wing Day or 16 Traditional Wings for $12.  Wing Zone has deal up on its homepage.  If you want to order online (click here to do that), use promo code 2239 and it should set you up with a 16 pack for $12.
Zaxby's
Buy one order of 10 Traditional Wings and get another free with a Zaxby's deal valid on July 28 & 29.  You'll need to order with the Zaxby's app for the deal.  Zaxby's offers 10 Traditional Wings with Ranch for around $12.99 at most locations. Click here for the Zaxby's Reward page and a link to download it. See the details in this press release on how to put your order together for the bonus food.