City Barbeque has $3 off for Rewards members all September long. A $3 gift will be loaded onto rewards accounts every morning from through September 30, and can be used on orders of $10 or more. Read below to learn how to sign up for Rewards, and the other perks that come along with it.
"Our City Rewards members have been so loyal and generous to us throughout the years, and we really wanted to recognize and celebrate them with something special," says City Barbeque CEO Mike Muldoon in this press release. "What better way to show our appreciation than with a gift every single day for a month?"
It's not too late to join the celebration: Folks who sign up today will get their first $3 gift tomorrow and will continue getting daily $3 gifts through the end of the month. City Rewards members also get surprise offers throughout the year, a heads-up on new menu items, and exclusive promotions tailored just for them.
City Barbeque also has a $5 off coupon for signing up for their Rewards program, plus $1.79 Rib Bones every Tuesday.
Rib Bone Tuesdays For $1.79 At City Barbeque
Rib Bone Tuesdays are back at City Barbeque, with Ribs by the Bone available for $1.79 each.  City Barbeque has the news up on its website.
City Barbeque Party Packs
Try Party Pack specials to feed a group starting at $54.99 for 4-6 people.  You'll get two pounds of meat, two quarts of sides, buns, and sauces.  You can upsize to feed bigger groups, too.  City Barbeque has all the details on their menu online – you'll have to select your location first.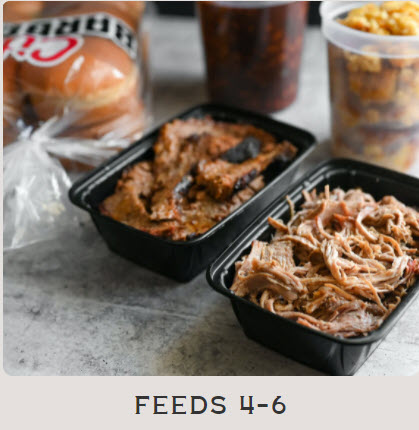 City Barbeque Rewards Program
Get a coupon for $5 off and more deals when you sign up for the City Barbeque rewards program and download the app.  Sign up and download the app to get the $5 offer, which you can use right away, plus on your birthday get a coupon for more free food!  To enroll and get more details, visit:   City Barbeque Rewards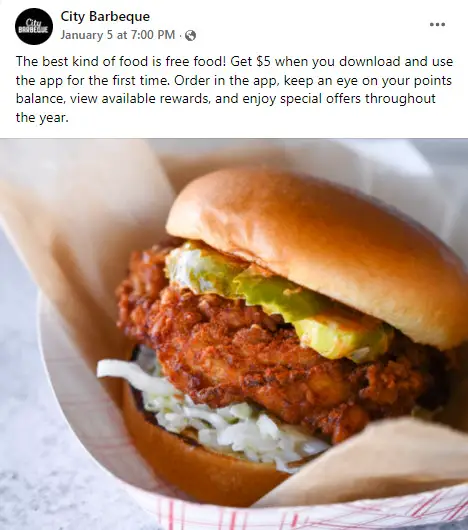 Also, you can get a coupon for $5 off a purchase of $30 or more if you sign up for City BBQ texts.
About City Barbeque
City Barbeque is a fast-casual barbecue restaurant chain that was founded in 1999 in Columbus, Ohio. The brand prides itself on its slow-smoked meats, made in-house every day. Some of their most popular menu items include beef brisket, pulled pork, smoked turkey, and St. Louis-style ribs. City Barbeque also offers a variety of sides, such as macaroni and cheese, corn pudding, and green beans, as well as desserts like banana pudding and peach cobbler. In addition to its classic menu, City Barbeque has also introduced new items over the years, such as the Brisket Chili and the Brisket Mac & Cheese. City Barbeque has over 60 locations across six states.