National Coffee Day is Tuesday, September 29, 2020. Let's…get…JITTERY!!! We're going to share all the deals we can find with you so you can get free coffee all day long until your heartrate goes through the roof and you can float off the ground when you flap your arms really hard and…. whew. Sorry about that. Coffee Day really is a fun day, and you can get lots of deals on a good cup o' joe to celebrate, and even free coffee outright at lots of places. Here's our EatDrinkDeals Ultimate Guide to National Coffee Day to help you get your fix and join the party!
EatDrinkDeals confirms all National Coffee Day deals from verifiable sources such as the restaurant website or social media pages before posting. We wouldn't want you to be all tweaked out wondering if the posted deal really is too good to be true. We will update this page as more offers are announced.
If you are abstaining from coffee on National Coffee Day (WHY?!), you can find more coffee deals in our EatDrinkDeals Coffee section.
Email us at editor@eatdrinkdeals.com if we've missed any!
Want to get info on all the deals, discounts, coupons and specials from your favorite restaurants? Click here to see the latest and greatest from EatDrinkDeals!
Do you want to have great deals like these emailed directly to you? Click here to sign up for our newsletter!
2020 Coffee Day Deals, in Alphabetical Order
Caribou Coffee
At Caribou Coffee, buy any large beverage or any sized Nitro drink and get 50% off any bag of pre-packed coffee beans on September 29. Take the National Coffee Day party home with you! Caribou Coffee sent this press release with the offer.
Circle K
Circle K will have free coffee for app users all day at each of its participating 7,000 locations on Coffee Day. To receive a FREE medium cup of coffee, text "COFFEE" to 252379 to get a coupon texted to you. The National Coffee Day offer is good for one medium sized cup Premium Coffee and is valid for 7 days. If you have the Circle K app, you should see this in the Deals section: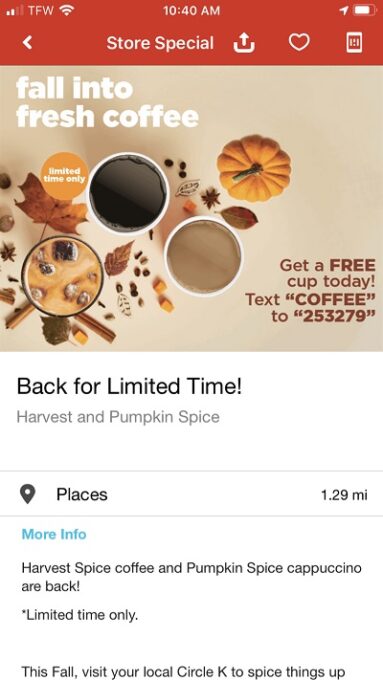 Coffee Beanery
Get any size brewed coffee for 99 cents at Coffee Beanery. The chain announced the special on Facebook.
Also 15% off you order through September 30 when you provide your email address thru this Coffee Beanery website. When you enter your email address, you'll be provided with a coupon code.
Cumberland Farms
Cumberland Farms has a coupon for a free coffee on Coffee Day. Text "FREECOFFEE" to 64827 to get your coupon. It doesn't get a whole lot easier than that.
Duck Donuts
Get a free coffee with any purchase in-store at Duck Donuts on September 29. Here's the post on the Duck Donuts Facebook page with the news.
https://www.facebook.com/duckdonuts/photos/a.370728767807/10158630834952808/
Dunkin'
Get a free medium hot or iced coffee with any purchase on September 29! Dunkin' announced the deal on the Dunkin' News Page and the Dunkin' Twitter page. Dunkin's so confident they're calling it National Dunkin' Day. Bold move. Just like the coffee!
When you think coffee, you think Dunkin'. ☕️ So, we gave National Coffee Day an update… 📣 Introducing #NATIONALDUNKINDAY ➡️ Sept. 29th! 📣 Come celebrate with us and grab a FREE medium hot or iced coffee with any purchase.☕️🎉 pic.twitter.com/tzRM1r271j

— Dunkin' (@dunkindonuts) September 22, 2020
For other great Dunkin' deals, like their afternoon Happy Hour, click here to read our Dunkin' deals story.
Eight O'Clock Coffee
Place a big order of $150 or more online from Eight O'Clock Coffee, and get a free Keurig Duo Plus Coffee Maker! That's serious business. Supplies are limited, though. Use coupon code COFFEE at checkout for the free coffee maker. Click here if you want to start an order online. Good luck! Eight O'Clock sent this email with the code.
Farmer Boys
Get a free cup of coffee every day from September 29 – October 3 at Farmer Boys with any other purchase. You'll need to be in the VIF (Very Important Farmers) Loyalty Club and redeem the deal in the app. Click here to join the club and get the app. Farmer Boys sent this email with the deal.
Godiva
Get 30% off on ground coffee today at Godiva online. Click here to get to shopping. Godiva sent this email out with the news.
Kolache Factory
Get a free small cup of Katz Coffee at Kolache Factory on National Coffee Day. Read the Kolache Factory Facebook page announcement for more details. No purchase is necessary. Free coffee straight up is always a good thing!
Krispy Kreme
Get a free coffee AND a free doughnut at Krispy Kreme on National Coffee Day! You'll need to be a Krispy Kreme Rewards member to get the free goodies. Krispy Kreme posted the offer on Facebook.
For more info on doughnuty deals, click here to read the EatDrinkDeals Krispy Kreme story.
Love's Travel Stops
Get any size coffee for only $1 on National Coffee Day with the Love's app. Click here if you want to download it. And actually, that $1 is going straight to charity for Children's Miracle Network Hospitals. Love's put the news up on its Twitter feed.
Use the Love's Connect app on Sept. 29 to purchase any size coffee for $1 – that's only 4 quarters, 10 dimes, 20 nickels or 100 pennies. That handful of coins can #ChangeKidsHealth. Every $1 coffee redeemed on #NationalCoffeeDay goes to @CMNHospitals! https://t.co/qZ6L8sMZC5 pic.twitter.com/jQSVgCtQbH

— Love's Travel Stops (@LovesTravelStop) September 23, 2020
McDonald's
Get any size Premium Roast or Iced Coffee for just $0.99 when you use the McDonald's app. You can actually get this deal everyday through December 27. For more info on this and other app coupons, click here for the EatDrinkDeals McDonald's App Coupons page. You'll be lovin' it.
Panera Bread
Panera still has their coffee subscription deal going. For $8.99 a month, get unlimited coffee and tea at Paneras nationwide. Click here for more details or to enroll in the Panera coffee subscription.
Click here to read the EatDrinkDeals Panera story with more info on the coffee subscription, $5.99 Value Duos, and other deals.
Peet's Coffee
Get 25% off coffee bean purchases September 27-29 in-store or online to celebrate National Coffee Day. For online shopping, use promo code COFFEEDAY20. Also, get free delivery and no delivery service fees on all coffeebar orders placed via the Peet's app and online at pickup.peets.com. BRING ME MY COFFEE!
Pilot / Flying J
Pilot / Flying J has a free coffee deal for its app users for National Coffee Day. On September 29, app users can enjoy a free serving of their choice of Pilot Flying J's coffee varieties, hot or cold. Coffees include the new Vanilla Cold Brew and the limited-time offer Pumpkin Maple Cappucino. Click here to download the myPilot app and get your coffee on. Pilot put out this press release about the Coffee Day perk.
Scooter's Coffee
Get a free small coffee from Scooter's Coffee on September 29. "We all need a smile these days, and there's no better smile than a free cup of coffee" said Chief Marketing Officer Bill Black in this press release.
Sheetz
Get a free cold brew coffee from Sheetz when you order in the app. Need the app? Click here to download it.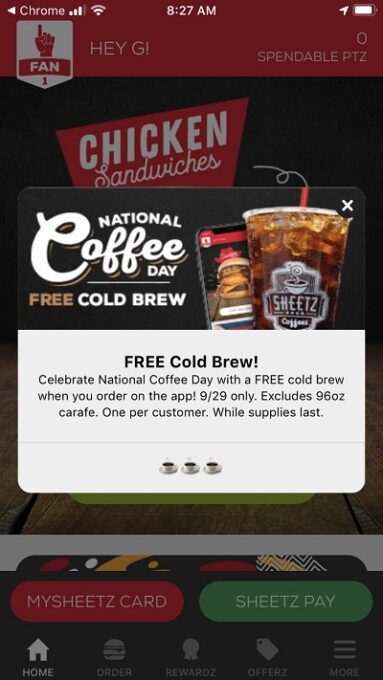 Speedway
Get a free 16 oz Hot Coffee at Speedway anytime from 6 am to 6 pm on National Coffee Day. They wouldn't want you to have a cup late and ruin your bedtime. Speedway posted the free coffee deal on their website.
Starbucks
Starbucks Rewards members who order a handcrafted beverage (grande or larger) by using the order ahead and pay feature in the Starbucks app will receive a free drink loaded to their account for use on their next visit. Handcrafted drinks include espresso beverages, Frappuccinos and iced coffees. If you're not signed up yet, click here to join the free Starbucks Rewards Program and download the Starbucks app. Starbucks posted the coffee day deal on their website.
For info on other Starbucks promotions and deals, like buy one get one free Happy Hour deals, click here for the EatDrinkDeals Starbucks page.
Stewart's Shops
Stewart's Shops has a free coffee from noon to close on Coffee Day. Choose from hot, iced or cold brew coffee. Stewart's announced the special on Facebook.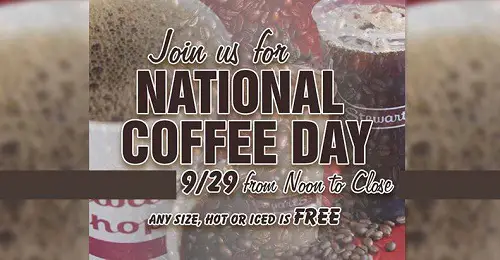 Tim Hortons
Join Tims Rewards and use the app to get special member deals everyday (yes, including Coffee Day) and earn points with each visit to get free food, and get a free birthday treat. Click here for the Tim Hortons website and scroll down to find the app to download and sign up for Tims Rewards. Member deals change periodically, but right now you can get any size Hot or Iced Coffee for just $0.99. Tim Hortons posted the deal on its website.
For more deals from the friendly chain, click here for the EatDrinkDeals Tim Hortons page.
Wawa
All Wawa Rewards members will get a free coffee on National Coffee Day. Click here to sign up for Wawa Rewards. Here's the Wawa Twitter feed announcement.
This #NationalCoffeeDay is stacking up to be one you won't want to miss out on! Sign up for Wawa Rewards today to get Free Coffee on 9/29. pic.twitter.com/56jLylR9Xm

— Wawa (@Wawa) September 21, 2020