Tim Hortons Cafe and Bake Shop more deals for app users most days.
Visit the Tim Horton's app or the Tim Horton's Offers Page to see today's current deal.  To get more details or to download the app visit the Tim Horton's home page.
Fall Menu At Tim Hortons
Fall is here – almost. But it's close enough for Tim Hortons, who has some old favorites and new pumpkiney goodies on their fall menu. You can head in to your nearest Tim Hortons now and find the following:
Pumpkin Spice Iced Capp – Because, let's face it, it's still hot outside. This cold beverage has pumpkin spice-flavored syrup and whipped cream. You can also get this in a latte, iced latte or cold brew form
Pumpkin Spice Donut – a pumpkin spice-flavored crinkle ring donut coated with a sugary sweet glaze.
Pumpkin Spice Muffin – a pumpkin spice-flavored muffin filled with a rich, creamy filling.
Maple Cinnamon Sugar Iced Latte – With maple syrup, brown sugar and cinnamon flavors, mixed with milk and topped with whipped topping and cinnamon. You can also try it as a hot latte or a cold brew.
Spiced Apple Cranberry Refresher – With a Spiced Chai flavor of cinnamon, nutmeg, and cardamom spices.
Peach Refresher – Cinnamon, molasses, and nutmeg flavors for those Fall vibes.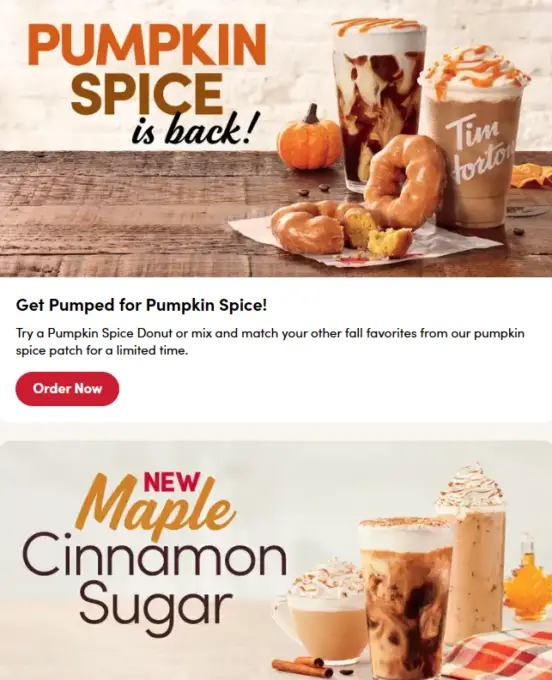 "Fall is one our favorite times of year at Tim Hortons. We're excited to bring a new lineup of delicious beverages and baked goods that truly capture all the great flavors of the season," said Tim Hortons USA President Katerina Glyptis in this press release. "Hot, Iced, or blended as an Iced Capp – in pumpkin spice, maple cinnamon sugar, spiced apple cranberry, or fall peach flavors – the fall beverages provide options for everyone.
Timbit Tuesdays 10 For $1 At Tim Horton's
Timbit Tuesdays means a 10 pack of Timbits at Tim Hortons for just $1!  Timbits are tasty little doughnut holes and come in a variety of flavors.  You'll need to order in the app for the deal.  Read below for more info on how to get the app, and the other perks that come along with it.
Tim Hortons posted about Timbit Tuesdays here on their website.
Tims Rewards Offers
Join Tims Rewards and use the app to get special member deals everyday, earn points with each visit to get free food, and get a free birthday treat.  Earn 10 points with every $1 spent, with reward levels as follows:
340 points gets a free Classic Cookie, Classic Donut or Specialty Donut
440 points gets a free Brewed Coffee or Tea (Specialty or Steeped)
620 points earns you a free Regular Iced Coffee, Hot Chocolate, or French Vanilla
820 allows for a free Original Iced Capp, Regular Hot or Cold Latte, or 10 Pack Timbits
Click here for the Tim Hortons website and scroll down to find the app to download and sign up for Tims Rewards.  Member deals change periodically.

About Tim Hortons
Tim Hortons is a fast-food restaurant chain that was founded in 1964 in Hamilton, Ontario, Canada. The chain is known for its coffee, donuts, and other breakfast items. Tim Hortons has around 4,400 locations worldwide. About 80% of them are in Canada.
The menu features a variety of coffee drinks, including its signature "double double" coffee, which is made with two creams and two sugars. The chain also offers a variety of donuts, muffins, bagels, and breakfast sandwiches. In addition to its breakfast items, Tim Hortons also offers soups, sandwiches, and wraps for lunch and dinner.