Current Taco Cabana specials include the 5 Under $5 Menu, their new Breakfast Combos, and their ever-popular $3 margaritas.
5 Under $5 Menu
Taco Cabana has a new 5 Under $5 Menu. You can get these 5 items for under $5:
Bean and Cheese Nachos ($4.59)
Cheese Enchilada Bowl ($4.99)
Three-Pack Chicken Flautas ($4.99)
Taco Duo (starting at $4.49)
Double Crunch Pizza ($4.99)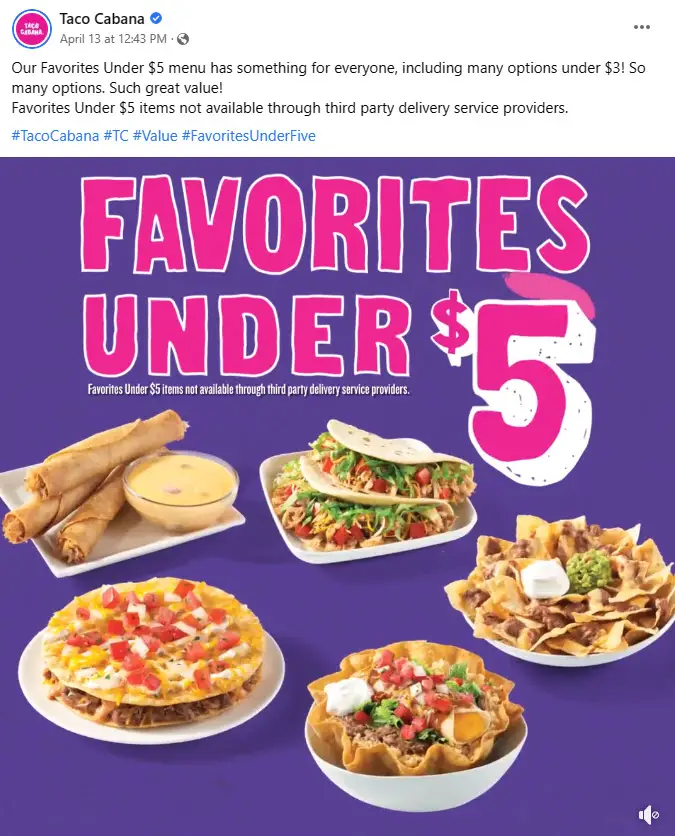 You can get all these items online, in-store, or through the Taco Cabana App.
Breakfast Combos At Taco Cabana
Start your day off right with Breakfast Combos from Taco Cabana. Each combo comes with a crispy Hash Brown and a coffee or soft drink. The combos come pretty cheap – pricing ranges from about $4.50 for a Bean and Cheese Taco Combo to $6.50 for a Steak Fajita and Egg Taco Combo.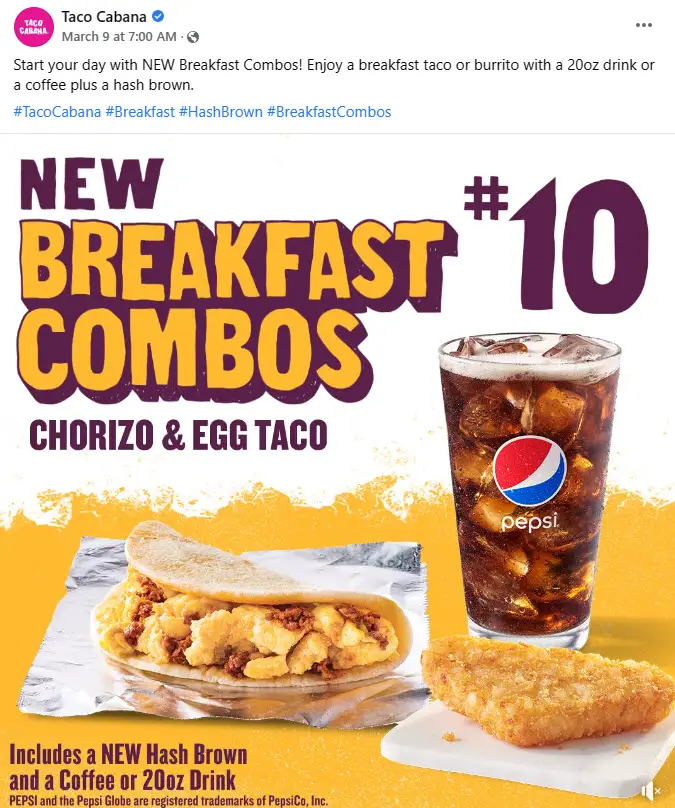 $3 Margaritas At Taco Cabana Every Day
Get $3 margaritas in five different flavors all day at Taco Cabana!  Your options are Lime, Strawberry, Dragonfruit, Mango, Strawberry/Mango and Mangonada.  Taco Cabana posted the offer on their website, and on Facebook.  Margarita prices are higher in some locations.
Free Food For Military every Month
All veterans & active-duty military get a FREE Ground Beef or Shredded Chicken Taco on the 2nd Tuesday of every month. Bring proof of service and show them this Twitter post to get the deal.
Taco Cabana Family Meals To-Go
Need some food that you can wash down with that margarita?  Try the Taco Cabana Family Meals!  Family Meals feature signature Steak and Chicken Fajitas in personal, large or meat-only options. Each Fajita Meal includes rice, refried beans, a dozen tortillas, pico de gallo, sour cream, cheese and guacamole.
Chicken Fajitas Meal – Personal $11.99/ Large 41.99 / Meat Only 26.99
Steak Fajitas Meal – Personal $19.99/ Large 39.99 / Meat Only 26.99
Mixed Steak & Chicken – Personal $16.99/ Large 36.99/ Meat Only 22.99
Guests can also order a dozen fresh tortillas, as well as Chocolate Cake or Sopapillas for dessert.  Click here for more details from the Taco Cabana website.
About Taco Cabana
Taco Cabana is a fast-casual restaurant chain that specializes in Mexican cuisine. It got its start in San Antonio, Texas, and has since expanded to over 130 locations throughout Texas, Oklahoma, and New Mexico.
The menu at Taco Cabana features a variety of Mexican dishes, including tacos, burritos, quesadillas, nachos, and fajitas. Taco Cabana is also known for its margaritas. They carry a huge variety of margarita flavors, including traditional lime, strawberry, mango, and prickly pear.
The atmosphere at Taco Cabana is casual and relaxed, with many locations featuring outdoor patios and colorful decor. The chain also prides itself on its commitment to using fresh ingredients and preparing its food from scratch daily. You can dine-in, pop over to the drive-thru, or order online.