Get $2 Lime and Strawberry Margaritas all day after 10:30 am from Taco Cabana – now available To Go!  Taco Cabana posted the deal on their Facebook page.  You can also get $2.50 Domestic and $3.00 Premium Beers.  You'll to order some food to go with it, but lucky for you Taco Cabana is delicious!
Family Meals To-Go
Need some food that you can wash down with that $2 margarita?  Try the Taco Cabana Family Meals!  Family Meals feature signature Steak and Chicken Fajitas in personal, large or meat-only options. Each Fajita Meal includes rice, refried beans, a dozen tortillas, pico de gallo, sour cream, cheese and guacamole.
Chicken Fajitas Meal – Personal 11.99/ Large 25.99/ Meat Only 19.49
Steak Fajitas Meal – Personal 14.99/ Large 35.99/ Meat Only 25.99
Mixed Steak & Chicken – Personal 13.99/ Large 29.99/ Meat Only 20.99
Guests can also order a dozen fresh tortillas, as well as Chocolate Cake or Sopapillas for dessert.  Click here for more details from the Taco Cabana website.
Free Delivery Through April 3
Get a $0 Delivery Fee on orders placed in the My TC app through April 3, 2020.  Taco Cabana announced the offer on Facebook.
Go to our EatDrinkDeals Restaurant Delivery Guide for info on other free delivery deals from your favorite restaurants.
Happy Hour Daily Deals
Enjoy Happy Hour every day from 4 – 7 pm at Taco Cabana with food and drink specials.  Get Frozen Strawberry or Lime Margaritas or draft beers for $2, and get Bean & Cheese or Ground Beef Nachos for $3.
* Must be 21 to drink alcohol. TC encourages you to drink responsibly. Limited time only. Tax not included.
About Taco Cabana (from Wikipedia)
Taco Cabana is an American fast casual restaurant chain specializing in Mexican cuisine.  A wholly owned subsidiary of Fiesta Restaurant Group, Inc, it is headquartered in San Antonio, Texas. As of September 2014 Taco Cabana had 166 locations throughout Texas, Oklahoma and New Mexico. As of July 2017, there were 176 Taco Cabana restaurants. Most Taco Cabana restaurants have a drive-thru and many are open 24 hours a day. For most of the chain's history all locations were painted in the company's signature pink. Taco Cabana is known for its interior, semi-enclosed and patio dining areas. Most menu items are handmade daily on site in open display cooking areas, including fajitas on an open-flame grill and tortillas made in-house.
Most Taco Cabana restaurants have a drive thru and many are open 24 hours a day.
Menu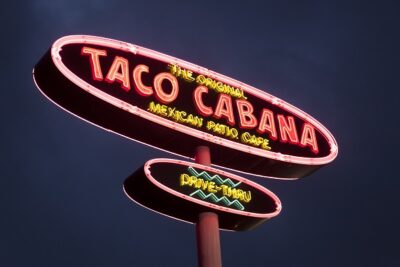 In 2002, Taco Cabana temporarily introduced flautas to the menu. They were made permanent after they proved popular. In 2003, Taco Cabana introduced the "premium bowl," a precursor for salads and bowls on the menu. In April 2004, Taco Cabana introduced the Dozen Breakfast Tacos Box, a promotion that proved popular enough to become permanent. During 2006 through 2010, new products were tested, including the Shrimp Tampico and grilled Pupusa. Taco Cabana has made a number of temporary items permanent since then, with steak street tacos added in December 2010, brisket tacos added in April 2011, sopapillas and flan in June 2011, and shrimp in February 2013.
In 2012, the company's chefs were experimenting with street food.  In 2015, Taco Cabana began utilizing an online mobile ordering app. By January 2018, the chain began offering certain breakfast foods all day.  The chain continues to have alcohol, with happy hour specials for margaritas for Margarita Day in February 2018. In March 2018, the chain brought back Texas smokehouse brisket. It continues to have taco boxes with a dozen tacos of various sorts, with breakfast tacos available in mornings.