Here are your Crumbl cookie flavor specials for the week of November 27 – December 3:
Semi-Sweet Chocolate Chunk – with semi-sweet chocolate chunks and a sprinkle of sea salt
Peanut Butter Crisp – with creamy peanut butter, melted chocolate, and crunchy Butterfinger pieces
Triple Berry Cobbler – strawberry, blueberry, and raspberry, topped with cinnamon cream cheese frosting and a dash of cinnamon streusel
Candy Cane Brownie – a chocolate candy cane cookie topped with peppermint buttercream frosting, chocolate ganache, and crunchy candy cane pieces
Cake Batter Blondie (Rainbow) – with white drops and a bunch of rainbow sprinkles
Frozen Hot Chocolate – chocolate cookie coated in hot cocoa-flavored mousse and topped with mini marshmallows
Also, use the Crumbl Loyalty app for perks like $10 off and free goodies on your birthday.
Crumbl Loyalty Program Rewards
Download the Crumbl app and join the Loyalty Program and get a coupon for $10 off after you earn 100 Crumbs.  You can earn 1 Crumb per dollar spent, but you can also get free ones for easy things, like signing up for emails, joining the birthday club, and following Crumbl on various social media platforms.  CLICK HERE to enroll online with the Sign Up / Sign In button, or find the app on your phone's app store.  Plus, enjoy birthday rewards, and other perks.  Who doesn't want a free cookie on their birthday?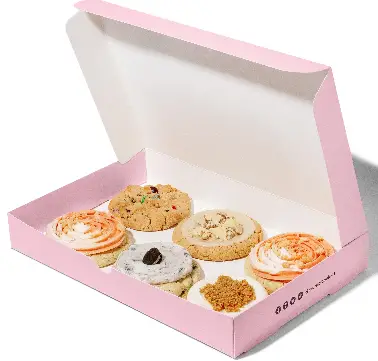 About Crumbl Cookies
Crumbl Cookies is a franchise chain of bakeries in the United States and Canada that specializes in baking a variety of cookies and serving ice cream. The cookie crafter leapt onto the scene in 2017 and has already ballooned to over 850 stores across the United States as of June 2023. Crumbl Cookies offers a rotating weekly menu. You'll see 6 flavors available. You'll just about always find the classic Milk Chocolate Chip, and with over 170 unique cookie flavors, you'll encounter other cool stuff like French silk pie, Kentucky butter cake, and New York cheesecake. You can buy a single cookie for about $4 (and they're huge!) or a box of four, six, or twelve. If you can eat the whole cookie, a congrats are in order. If you have the willpower to only eat half the cookie and share the rest or save it for later, congrats are in order. In addition to cookies, Crumbl also offers ice cream and other desserts, as well as catering services for events and parties.
Some of the brand's most popular flavors include:
Chocolate Chip
Milk Chocolate Chip
Chilled Sugar
Biscoff Lava
Peanut Butter Chocolate Chip
Snickerdoodle
Nutella Sea Salt
Oatmeal Raisin
S'mores
Mint Brownie
Crumbl bakes everything fresh in each store daily. You can see the process in action when you walk in. You can pickup up an online or app order or just drop in unannounced. Crumbl Cookies also offers a rewards program called Crumbl Nation. Customers earn points and redeem them for free cookies and other rewards. Overall, Crumbl Cookies is a popular and rapidly growing bakery chain known for its fresh, gourmet desserts and playful branding.