Get a free Lobster Tail with any steak purchase $19.99 and up with a coupon valid through January 27, 2020.  CLICK HERE for your Black Angus free lobster tail coupon.
* Excludes Prime Rib and Campfire Feast for Two Entrees.  Good for up to 6 people.  Present coupon when ordering.  Not valid on delivery.  Additional charges may apply.  Promotion subject to change without notice.  
Black Angus NFL Game Day Specials
Black Angus Steakhouse has announced NFL football game time specials in the bar area.  The steakhouse also announced its Online Pick'em Game with a grand prize trip for two to Super Bowl 54.
During all NFL Games, the Black Angus Menu will feature a number of specials including:
Beer Specials include 

$4

Bud Light Drafts, $14.95 pitchers, and the limited release Budweiser Copper Lager Bottle aged on Jim Beam Barrel Staves for

$5.95

Sandwich and Brew Combos starting at 

$12.99 with choice of fries or coleslaw

Steakhouse Bacon Cheeseburger
Buttermilk Fried Chicken Sandwich – New
BBQ Baby Back Rib Sandwich – New

Chile Con Queso made with Black Angus' famous Steakhouse Chili for just 

$7.99

All day Happy Hour on Sunday and extended Happy Hour through the end of the game on Monday and Thursday nights
* NFL Game Day Offers (Sun, Mon, Thurs & late season Sat) in the BullsEye Bar only. Not valid on holidays. Availability varies by location.
The game time specials conclude on February 2, 2020.
You can find more GameDay Specials in our EatDrinkDeals GameDay Section.
.
Black Angus Happy Hour
Black Angus Steakhouse has happy hour specials and daily deals on most days.
Regular happy hour schedules are: Mondays-Fridays 3-7 pm and all day on Tuesdays and Sundays.
Deals vary by location but typical Black Angus Happy Hour deals include: $4, $5 and $6 beer, wine and well drinks, and $4 appetizers like Garlic Bread, $5 appetizers like Chicken Tenders, and $7 appetizers like Shrimp Cocktail.
For more details see the Black Angus Bar page; for a menu see: Black Angus Happy Hour Menu.
Daily Deals
Black Angus Steakhouse also has daily deals every day but Saturday.
Mondays get a Top Sirloin Steak and Double Fries for $13.99.
Tuesdays get all-day happy hour specials.
Wednesdays get a half-rack of ribs and double french fries for $13.99.
Thursdays get a bacon cheeseburger and any 16 oz draft for $12.99.
Fridays get a Steak Sandwich and any draft beer for $14.50.
Sunday get all-day happy hour specials.
For more details see the Black Angus Bar page.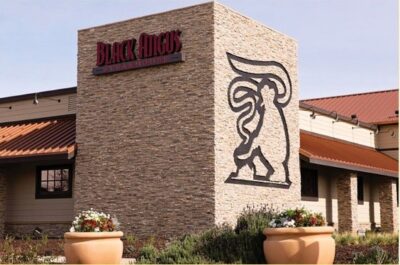 About  Black Angus Steakhouse (from Wikipedia)
Stuart Anderson founded the Black Angus Steakhouse chain in 1964. As of April 2017, there are 45 Black Angus locations, with 31 in California.