Get 20% off take out with a Black Angus coupon valid for a limited time.  Here's the coupon posted on Facebook.  Use code 524-941-856 when you pick up your food to get the deal.
Happy Hour Specials
Black Angus Steakhouse has happy hour specials and daily deals on most days.
Regular happy hour schedules are: Mondays-Fridays 3-7 pm and all day on Tuesdays and Sundays.
Deals vary by location but typical Black Angus Happy Hour deals include: $4, $5 and $6 beer, wine and well drinks, and $4 appetizers like Garlic Bread, $5 appetizers like Chicken Tenders, and $7 appetizers like Shrimp Cocktail.
For more details see the Black Angus Bar page; for a menu see: Black Angus Happy Hour Menu.
Daily Deals
Black Angus Steakhouse also has daily deals every day but Saturday.
Mondays get a Top Sirloin Steak and Double Fries for $13.99.
Tuesdays get all-day happy hour specials.
Wednesdays get a half-rack of ribs and double french fries for $13.99.
Thursdays get a bacon cheeseburger and any 16 oz draft for $12.99.
Fridays get a Steak Sandwich and any draft beer for $14.50.
Sunday get all-day happy hour specials.
For more details see the Black Angus Bar page.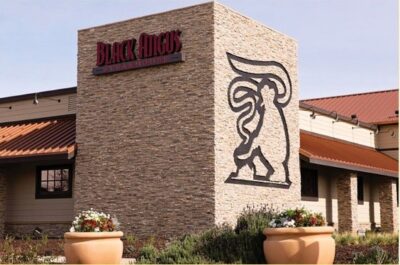 About  Black Angus Steakhouse (from Wikipedia)
Stuart Anderson founded the Black Angus Steakhouse chain in 1964. As of April 2017, there are 45 Black Angus locations, with 31 in California.