Get a BOGO on a Whopper, $3 ten piece nuggets and large fries and more deals with these Burger King app coupons.
These Burger King coupons are good every day for mobile orders or just by showing to your cashier:
Burger King Coupons Freebies and BOGOs
Burger King Coupons and Offers $5 or Less
$1 Large French Fries
$3 Double Whopper

$3 Chicken Fries and

large French Fries 

$3 Ten pc Nuggets and large French Fries 

$3 Double Cheeseburger Meal (Double Cheeseburger, small fries, small drink) 

$3.99 Two Whopper Jr Sandwiches and 2 small fries 

$4 two Bacon Cheeseburgers, 1 small fries and drink 

$4.99 Two original Chicken Sandwiches and 2 small fries 

$5 Croissan'Wich Meal for Two (2 Croissan'Wiches

, 2 small has browns, 2 small coffees) 

$5 Whopper Jr Meal for two for $5 (2 Whopper Jrs, 2 small fries, 2 small drinks) 

$5 Whopper Meal (1 Whopper, 1 small fries, 1 small drink)

$5 Crispy Chicken Meal for (1 Crispy Chicken Sandwich, 1 small fries, 1 small drink) 

$6 Small Bacon King Combo Meal (1 Bacon King, 1 small fries, 1 small drink)
Burger King Coupons and Offers Over $5
$6 Impossible Whopper Combo (Impossible Whopper,

small fries, small drink) 

$8.99 Whopper Meal for two (2 each of Whopper, small fries, small drink)   

$8.99 Impossible Whopper Meal for two (2 each of Impossible Whopper, small fries, small drink) 

$12.99 Family Bundle (3 Whopper sandwiches, 3 cheeseburgers, 3 small fries)
How to use BK App coupons
You can download the app to get your coupons at:  Burger King App Coupons.
After you download the app you'll need to log in with Facebook or an email account.  To see what Burger King coupons are available, click the Coupons tab.  While you are in a Burger King restaurant, click "Use In-Restaurant" for the coupon you want, or click Mobile Order if you want to order and pay through the app.
Deals may vary by location.
The Burger King App
The BK app also allows you to pay for your order with your mobile phone.
Specific features include:
-Exclusive Coupons: Access hot mobile coupons right from your phone. We refresh coupons frequently, so the savings never get stale.
– Find Your BK®: Locate your nearest BURGER KING® restaurant. Use list-view or map-view searching, or filter by restaurant features and distance.
– Menu: Explore your BK® favorites and discover our freshest menu additions. Plus, you can browse item descriptions and nutritional information at any time.
– Mobile Payment: Add a BK® Crown Card or activate a Virtual Card to make paying wallet-free. You can see balances and easily reload funds right from your phone.
For the best experience, please be sure to enable Location Services when you first launch the app.
In our review of the Burger King app, we enjoyed the straightforward ordering process and direct immediate access to valuable coupons.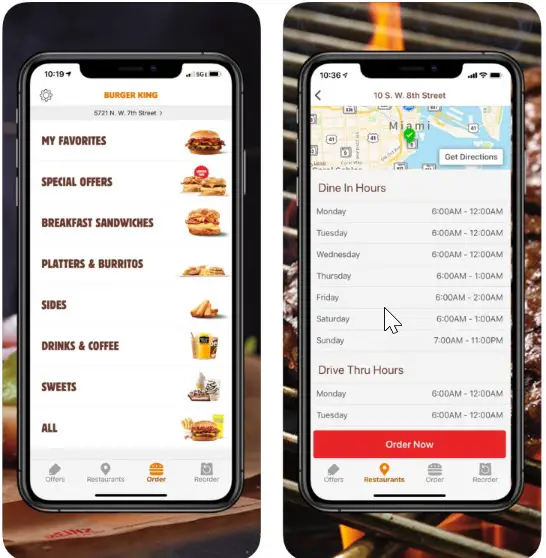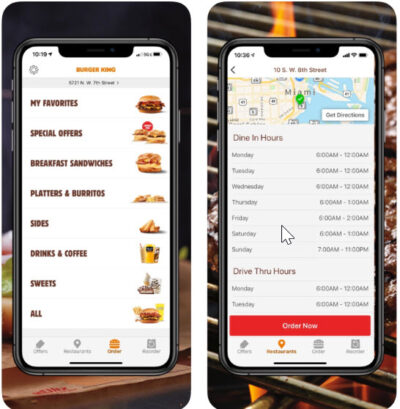 Other Burger King Specials
Burger King has other limited time offers with no coupon required.  Learn more about those by visiting our EatDrinkDeals Burger King Menu Specials page.
More Fast Food Coupons
For more deals like this including coupons from McDonald's and Wendy's, see the EatDrinkDeals Fast Food Coupons page.
About Burger King (from Wikipedia)

Burger King, often abbreviated as BK, is a global chain of hamburger fast food restaurants headquartered in  Miami-Dade County, Florida, United States. The company began in 1953 as Insta-Burger King, a Jacksonville, Florida-based restaurant chain.
As of 2018, Burger King reported it had 17,726 outlets in 73 countries; of these, 66 percent are in the United States and 95 percent are privately owned and operated.
The Burger King menu has expanded from a basic offering of burgers, French fries, sodas, and milkshakes in 1954, to a larger, more diverse set of product offerings. In 1957, the Whopper was the first major addition to the menu; it has since become Burger King's signature product.