For a limited time, get All You Can Eat Cheese Krystals, Pups and Fries for $7.99 at Krystal.  The offer is dine-in only (for obvious reasons).  Cheese Krystals are the beef sliders that Krystal is famous for, with a bit of cheese to jazz it up.  Pups are like mini-hot dogs with a bun, and we all know what fries are (answer: delicious).  Loosen up that belt, or maybe even leave it at home altogether!  How much can you put away?
Krystal posted the deal on their website.
Looking for ways to save at your other favorite fast food joints?  Click here to go to our EatDrinkDeals Fast Food Coupons, Specials and Deals section!
About Krystal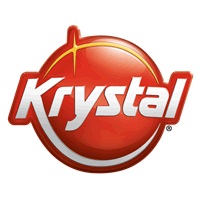 Krystal is an American fast food restaurant chain known for their small, square hamburger sliders with steamed-in onions and 24/7 business hours. Krystal is often described as the Southern equivalent of the Midwest American hamburger chain White Castle.  Krystal has 420 locations.
Krystal restaurants, both company-owned and franchised, operate in Alabama, Florida, Georgia, Kentucky, Louisiana, Mississippi, South Carolina, and Tennessee. There is also a Krystal in Bristol, Virginia, (which lies on the Tennessee-Virginia border), one in West Memphis, Arkansas (directly across the Mississippi River from Memphis, Tennessee), and one in Murphy, North Carolina. Krystal has also operated several restaurants in Texas over the years. It is often compared to the northern restaurant chain White Castle, and other than the South Central Kentucky and Nashville, Tennessee markets, the two restaurants' market areas do not generally overlap.
Krystal maintained its corporate headquarters in Chattanooga from 1932 to 2013, and has been owned by Argonne Capital Group since early 2012. Previously, Port Royal Holdings, Inc. owned the chain from 1997-2012, expanding the chain to a peak of over 420 locations in 11 states in 2002, before downsizing and closing dozens of locations. 10 new locations were added in 2011, 11 more in 2012-2013, and 25 more are planned for 2014 throughout the Southeast.
Krystal is known for a diverse breakfast menu, which includes a made-to-order country breakfast, meat and egg sandwiches, and biscuits, as well as other items. One particularly popular breakfast item is the Scrambler, which includes a layered stack of scrambled eggs, sausage, grits, and cheese served in a styrofoam cup.[12] Other variations of the Scrambler also feature pancakes, sausage gravy, or southwestern-style spices.