Get 10 Krystals for $6 and other deals with these Krystal coupons.
CLICK HERE for your Krystal coupons. Good for 10 Krystal burgers for $6 or six Krystal Chiks plus six Krystals for $10.99, and other deals. Krystal announced the specials on the Krystal Offers Page.
Note:  These coupons have no expiration date, but since they are on the main Krystal site we assume they are good until removed from the site.
For more information visit www.Krystal.com. While online, sign up for the Krystal Club to stay in the know on other deals and news.
About Krystal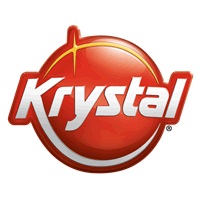 Krystal is an American fast food restaurant chain known for their small, square hamburger sliders with steamed-in onions and 24/7 business hours. Krystal is often described as the Southern equivalent of the Midwest American hamburger chain White Castle.  Krystal has 420 locations.