Krystal has some new everyday deals available.  For breakfast, get a Sunriser (a mini sausage, egg and cheese sandwich) for just $1, and later in the day enjoy a Chili Cheese Pup (a mini chili cheese dog) for $1.  Fancy an upgrade?  Try out the Hangover (Bacon, Egg and Cheese) Krystal for $1.69 for a limited time.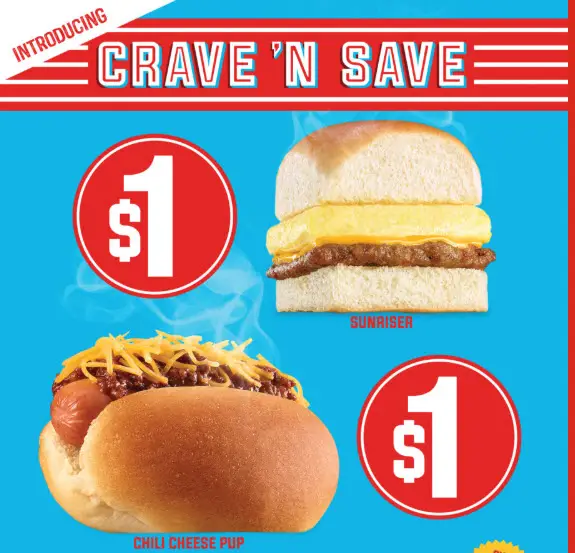 For more information visit www.Krystal.com. While online, sign up for the Krystal Club to stay in the know on other deals and news.
More Fast Food Coupons
For more deals like this including coupons from McDonald,s Wendy's and Burger King, see the EatDrinkDeals Fast Food Coupons page.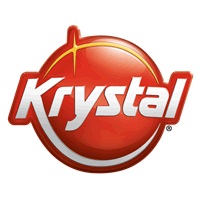 Krystal is an American fast food restaurant chain known for their small, square hamburger sliders with steamed-in onions and 24/7 business hours. Krystal is often described as the Southern equivalent of the regional American hamburger chain White Castle.  Krystal has about 360 locations.
Krystal restaurants, both company-owned and franchised, operate in Alabama, Florida, Georgia, Kentucky, Louisiana, Mississippi, South Carolina, and Tennessee.
Krystal is known for a diverse breakfast menu, which includes a made-to-order country breakfast, meat and egg sandwiches, and biscuits, as well as other items. One particularly popular breakfast item is the Scrambler, which includes a layered stack of scrambled eggs, sausage, grits, and cheese served in a styrofoam cup. Other variations of the Scrambler also feature pancakes, sausage gravy, or southwestern-style spices.