McCormick & Schmick's has a lunch special for September featuring a BLTA Sandwich.
For $15 get a Bacon, Lettuce, Tomato and Avocado Sandwich plus Tomato Dill Bisque and french fries.
The chain has a new lunch special every month.  You can find more details on the McCormick & Schmick's website.  
Happy Hour at M&S
McCormick & Schmick's  has a happy hour with specials like $3 Bruschetta, $5 Calamari and $9 Shrimp Cocktail.
The happy hour menu varies by location but a typical menu includes $3 Bruschetta, Truffle Fries or Hummus; $5 Calamari or Cheeseburger and Fries, $7 Buffalo Shrimp or Ahi Tuna Bowl; and $9 Seared Ahi Tuna or Shrimp Cocktail.    Food specials usually require a beverage purchase of at least $3.25 per person.  Good in the bar area only.
Typical drink specials include $6 or $7 wines and $7 to $9 cocktails.
Happy Hour days and times also vary by location, but usually are 4 pm to 6:30 pm Mondays through Fridays.  Some locations have a 4 to 7 pm happy hour every day.
To find the happy hour menu and times for your location, go to the McCormick & Schmick's Menu site,  select your location, click Get Menu, then click Happy Hour Menu.
As an example, here is the Happy Hour menu for the Chicago location.
About McCormick & Schmick's (from Wikipedia)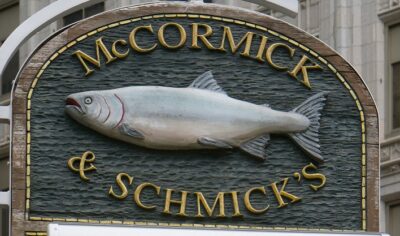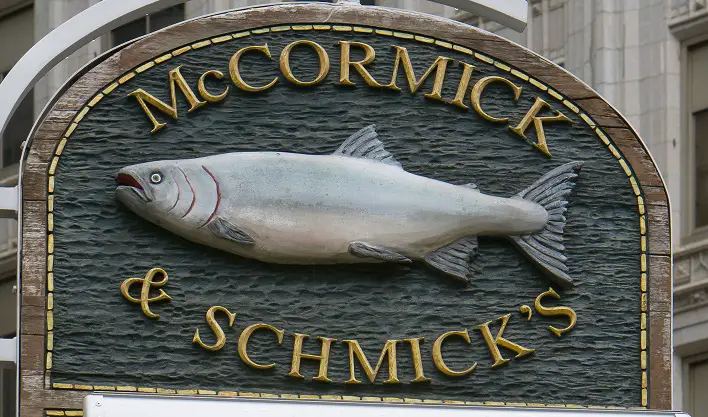 McCormick & Schmick's Seafood Restaurants Inc. is an American seafood restaurant chain, based in Portland, Oregon.  Founded in 1979, the company operates approximately 90 locations in North America under various brands, including Canadian locations that operate under the Boathouse name. A sale to the parent company of Landry's Restaurants was completed in January 2012.