Celebrating the New Year may have been exciting, but the party must end. When it does, we are left feeling a bit down. Especially in these trying times, it can be hard to discern the road ahead. To help you cope with this, at least a little bit, Moe's is offering all loyalty members a free side of queso with your entree every Thursday from in January starting on the 13th from 4-6 PM. If you're not a member already, be sure to join now!  Visit the Moe's Rewards page here to do just that.
Plus, until March 20, customers that place an online order for $20 or more can win unique rewards. Prizes range from a dollar off your next purchase to free burritos for a year! You can also enter through social media, but prizes will distributed through Moe's Rewards accounts. That's just another fantastic reason to sign up for Moe's rewards program now! For more information, click here.
Moe's Kids Eat Free Sunday
Kids Eat Free with purchase of an adult entree on Sundays at Moe's!  To celebrate the promotion, Moe's is hosting the Moe's Mini Chef contest, where the winner will get to create and name their very own kids menu item that'll be available in restaurants nationwide. The winner and their guardian will also get a free trip to a Moe's test kitchen in Atlanta where they'll have a VIP food tasting with Moe's Executive Chef, and score a one-year supply of the chocolate chip cookies that come with all kids menu meals!  To enter, visit the Moe's Mini Chef page here.  Moe's posted the details of their Kids Eat Free deal on their website.
Moe Monday Deal for $6.49
Moe's Southwest Grill has a Moe Monday deal to help you start the week in style.  You can view the deal by visiting the Moe's website or the Moe's app on Mondays.  You'll get a Homewrecker Burrito, chips, salsa and a drink for just $6.49.  Normally that's $9 or $10.  Price and participation vary by location.
Visit www.moes.com to find a restaurant nearest to you and connect with Moe's on Instagram, Twitter, and Facebook.
More from EatDrinkDeals
Want to get info on other deals, discounts, coupons and specials from your favorite restaurants?  Click here to see the latest and greatest from EatDrinkDeals!
Moe's Meal Kits
Moe's has some meal kits to take home for the crew with the Nacho Meal Kit and the Fajita Meal Kit.
Nacho Kits start at $31.99 and comes with your choice of 2 proteins, beans, pico de gallo, jalapenos, sour cream, salsa, queso and chips.  It's nacho average meal kit, that's for sure!
The Fajita Meal Kit starts at $39.99 and comes with your choice of 2 proteins, tortillas, beans, rice, lettuce, cheese, pico de gallo, grilled peppers, grilled onions, guacamole, sour cream, queso and chips.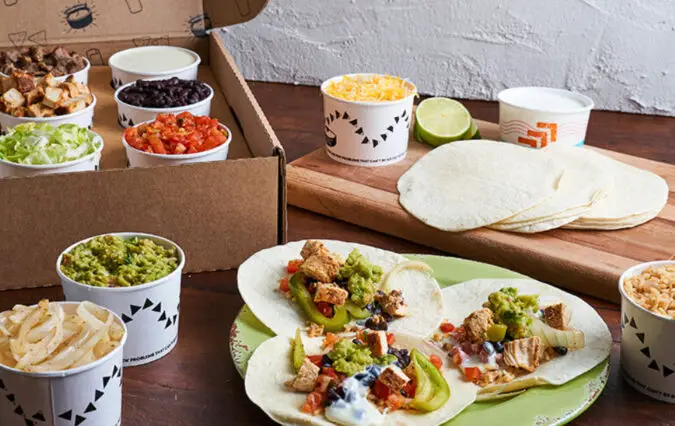 Moe's still has the good ol' Taco Kit too.  Starting at $34.99, get 12 tortillas, 2 proteins, shredded cheese, rice, beans, sour cream, pico de gallo and a bowl of queso, plus chips and salsa.  Moe's posted the deal on their website and on Facebook.  Enjoy!
Moe's App and Rewards
Downloading the Moe's Rewards App will get you the access to the rewards program. On the home screen click the menu button and select "My Rewards" to access your personalized program. For every dollar spent, Moe's awards members one point. Every 100 points translates to $10 in banked rewards.  In our review, we found the app to be simple and easy to navigate.
More Restaurant Daily Deals
Daily deals for all days of the week can be found here:
For more daily and weekly restaurant specials like these, see:  Restaurant Daily Deals
If you're an AARP member, you can get every day discounts at Denny's, McCormick & Schmick's, Outback and more places.  You can find all the details in our story, AARP Dining Discounts.
Also, many restaurant chains such as Bob Evans, Outback Steakhouse, Zoe's Kitchen and more offer discounts to the active military and veterans.  Here's the EatDrinkDeals roundup, Restaurant Military and Veterans Discounts.