Moe's has a new Loaded Steak & Potato Burrito entree available through November 16. It comes with all-natural sirloin steak, seasoned potatoes, bacon, sour cream, and cheese, and it's topped with Moe's queso. You can get it without the tortilla in a bowl, too. The Loaded Steak and Potato Burrito price varies by location, but usually it'll cost about $8.50. Moe's put out this welcome announcement on Facebook.
Moe's Take Home Meal Kits
Moe's has a couple of new meal kits to try out at home – the Nacho Meal Kit and the Fajita Meal Kit.
Nacho Kits start at $31.99 and comes with your choice of 2 proteins, beans, pico de gallo, jalapenos, sour cream, salsa, queso and chips. It's nacho average meal kit, that's for sure!
The Fajita Meal Kit starts at $39.99 and comes with your choice of 2 proteins, tortillas, beans, rice, lettuce, cheese, pico de gallo, grilled peppers, grilled onions, guacamole, sour cream, queso and chips.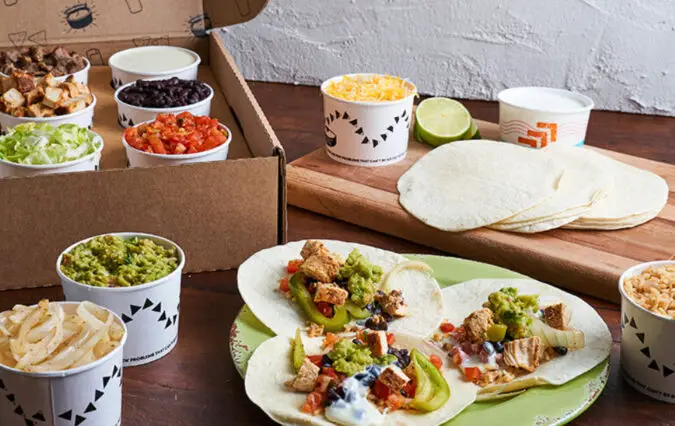 Moe's still has the good ol' Taco Kit too. Starting at $34.99, get 12 tortillas, 2 proteins, shredded cheese, rice, beans, sour cream, pico de gallo and a bowl of queso, plus chips and salsa. Moe's posted the deal on their website and on Facebook. Enjoy!
More from EatDrinkDeals
Want to get info on other deals, discounts, coupons and specials from your favorite restaurants? Click here to see the latest and greatest from EatDrinkDeals!
Moe's Daily Deals
Moe's Southwest Grill has a daily deals menu with $6.49 Burrito and Quesadilla specials.
You can view today's deal by visiting the Moe's website or the Moe's app. Choose your location, then click Order Now and look for the day's deal in the Featured Products tab.
A typical daily deals menu for one location is:
Monday: Homewrecker Burrito, chips, salsa and drink for $6.49

Wednesday: Closetalker Salad for $6.49.

Thursday: John Coctostan Quesadilla for $6.49

Friday: Earmuffs Burrito Bowl for $6.49.
Price and participation vary by location.
Visit www.moes.com to find a restaurant nearest to you and connect with Moe's on Instagram, Twitter, and Facebook.
More Restaurant Daily Deals
Daily deals for all days of the week can be found here: