Moe's Southwest Grill has a $6.99 burrito special on Mondays.
What Is The Moe Monday Deal?
Moe's Southwest Grill has a Moe Monday deal to help you start the week in style.  You can view the deal by visiting the Moe's website or the Moe's app on Mondays.  You'll need to be a Moe's Rewards member to get the deal.  Sign up on the Moe's Rewards page here.  You'll get a Homewrecker Burrito, chips, salsa and a drink for just $6.99.  Normally that's $9 or $10, so it's a great deal.  Price and participation vary by location.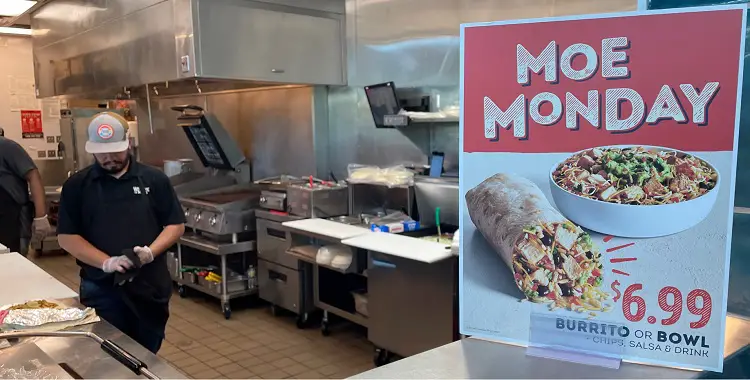 For in-restaurant orders, tap into the 'My Rewards' section of the app once you've made your way through the line and ordered your entree.  Find the Moe Monday reward and tap "Redeem in Store." A QR code will pop up for the cashier to scan.  For online orders, place your order and make sure you're signed in to your Rewards account.  That can be done on the Moe's website, or their app.  Apply your Moe Monday reward during checkout.  The discount will apply, assuming that you've got a burrito or bowl and a drink in your shopping cart.
Does Moe's Have A Senior Discount?
AARP members can get 10% off their check every day at Moe's Southwest Grill. To get the discount you need to be a Moe's Rewards member, and link your AARP and Moe's accounts.  You can do this at:  Moe's AARP Discount.
More from EatDrinkDeals
Inflation stinks!  Want to get make your money go further with the best deals, discounts, coupons and specials from your favorite restaurants?  Click here to see the latest and greatest from EatDrinkDeals!
Moe's Meal Kits
Moe's has some meal kits to take home for the crew with the Nacho Meal Kit and the Fajita Meal Kit.
Nacho Kits start at $31.99 and comes with your choice of 2 proteins, beans, pico de gallo, jalapenos, sour cream, salsa, queso and chips.  It's nacho average meal kit, that's for sure!
The Fajita Meal Kit starts at $39.99 and comes with your choice of 2 proteins, tortillas, beans, rice, lettuce, cheese, pico de gallo, grilled peppers, grilled onions, guacamole, sour cream, queso and chips.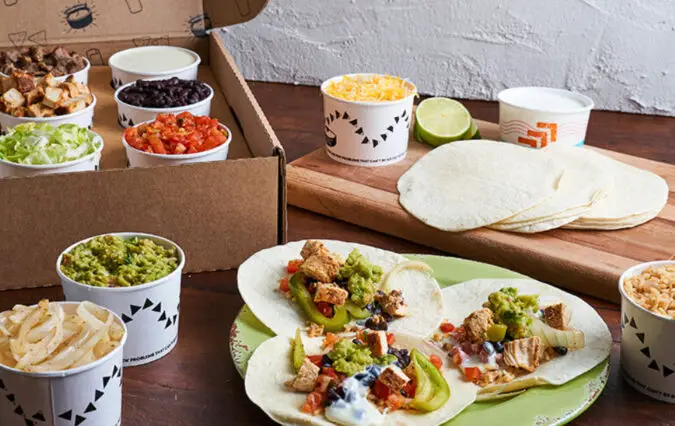 Moe's still has the good ol' Taco Kit too.  Starting at $34.99, get 12 tortillas, 2 proteins, shredded cheese, rice, beans, sour cream, pico de gallo and a bowl of queso, plus chips and salsa.  We spotted the deal on the Moe's website and on Facebook.  Enjoy!
How Do I Get Moe's Discounts And Promo Codes?
Downloading the Moe's Rewards App will get you the access to the rewards program. On the home screen click the menu button and select "My Rewards" to access your personalized program. For every dollar spent, Moe's awards members one point, but sometimes you can get extra free points on certain days or by ordering certain items. Every 100 reward points translates to $10 in banked rewards – basically a free burrito and drink!  Plus, you'll get a free cup of queso for your birthday just for signing up!  Join Moe Rewards for bonus points and moe savings!  In our review, we found the app to be simple and easy to navigate.
What Are The Best Menu Items At Moe's?
Moe's Southwest Grill focuses on Tex-Mex cuisine made with fresh ingredients like burritos, tacos, or bowls for the low carb crowd with choices of proteins like chicken, beef, or pork, with vegetarian options available, too.  The big burrito is the Homewrecker, with smaller versions in the Joey Bag of Donuts and Joey Jr.  Don't ask where those names came from.  We have no idea.  All of Moe's entrees come with chips included, as well as an array of freshly made salsas to choose from.  Since the sides are included, many folks view Moe's as an affordable price option compared to the competition.  That helps for those of us on a tight budget!  Moe's famous queso is another big focal point of the menu, as well as its guacamole.  They'll also offer limited time items that rotate seasonally.  For the full current menu, click here for the Moe's Southwest Grill website.
Moe's also frequently has discount codes that you can use to get free food. Our policy is that we only post accurate and guaranteed Moe's Southwest Grill coupons. Rest assured, if there are verified Moe's Southwest Grill coupon codes and Moes promo codes out there, we will update this article with them.
Does Moe's Give Free Chips?
One of the key differences with competitors like Chipotle is that Moe's offers chips and salsa for free with purchase of an entree.  So, whether you get tacos, or a burrito, or quesadillas, you'll get chips and salsa on the side.  If you're ordering online, you only get a couple of choices of salsas – the medium spicy red or the mild green tomatillo salsa.  However, if you're picking your online order up in-store, you can pick from a much wider variety at their salsa bar.  There's usually 5 or 6 options ranging from mild to oh my gosh hot.  If you want queso or guacamole for your chips, that's an extra buck or two.
Is There A Moe's Near Me?
There are nearly 700 Moe's locations, mostly in the United States.  You can find the Moe's location near you at: Moe's Near Me
What Are Moe's Hours?
Most Moe's are open from 11 am – 9 pm local time every day, but times can vary.  To find the hours, address and additional details for your local Moes, select your location from: Moe's Near Me
Can I Order Moe's Delivery?
Moes offers delivery with a fee of $3 – $4, and many times they'll have promotions like free delivery on $10 or more orders.  To start a Moe's delivery order, or to check on delivery deals, visit:  Moe's Delivery and click on the Delivery button
You can get delivery with a Moes App order on your mobile device.  Click here to download the app if you don't have it yet.
Where Is Moes Nutrition Information?
Moes proudly posts its nutritional information in their online and app menus.  To view the nutritional content of any menu item, go to the Moes Nutritional Calculator page.
When you start an online or order, you can make modifications to the menu ingredients online; when ordering at the restaurant, simply ask the crew member to hold a given ingredient.  The online ordering system has been revamped to allow for a lot more customization on your food – tell them to give you extra rice, hold the tomatoes, and extra salsa, or anything in between!
Does Moe's Sell Gift Cards?
Moes gift cards are a popular item for the burrito-lovers of the world.  Looking for one?  Visit the Moes gift card page here and add one to your shopping cart.  Sometimes, there are Moe's coupons that give you an extra discount on a gift card purchase, like 20% off.  The special offer usually comes around during the springtime and holiday season, like Black Friday and Cyber Monday, but we see it in the summertime too.  When a Moe's gift card deal pops up, we'll post it here!
More Restaurant Daily Deals
Daily deals for all days of the week can be found here:
For more daily and weekly restaurant specials like these, see:  Restaurant Daily Deals