Moe's famous Free Queso Day returns for the tenth time on Thursday, September 19, 2019.  Get a free cup of queso with no other purchase necessary.  Or, get a free cup of queso with any online order. More details are available on the Moe's website.
Besides Moe's Free Queso Day, the restaurant also has daily specials on weekdays.  Read our Moe's story for more details.
Moe's celebrates queso all month long with other deals.  Get 100 bonus Moe's Rewards points when you add a cup of queso to your meal between now and September 19.  Also, when you order Moe's Catering for Free Queso Day, everyone in your party will get a digital Moe Buck for a free cup of queso. You must order for delivery on Thursday, September 19.
Moe's Daily Deals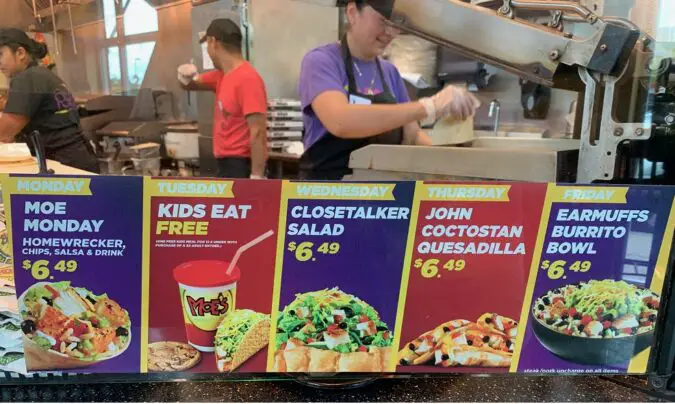 Moe's Southwest Grill has a daily deals menu with $6.49 Burrito and Quesadilla specials and a kids eat free night.  The daily deals menu at most (not all) locations is:
Monday: Homewrecker Burrito, chips, salsa and drink for $6.49

Tuesday: Kids eat free. One free kids meal (kids 12 and under) with purchase of a $5 adult entree.

Wednesday: Closetalker Salad for $6.49.

Thursday: John Coctostan Quesadilla for $6.49

Friday: Earmuffs Burrito Bowl for $6.49.
Moe's Southwest Grill announced the daily deal special in This Email.  Price and participation may vary by location.
Visit www.moes.com to find a restaurant nearest to you and connect with Moe's on Instagram, Twitter, Vine and Facebook.
If you're interested in daily deals and specials from your other favorite restaurants, our roundups for every day of the week are here:
About Moe's (from Wikipedia)
Moe's Southwest Grill, referred to informally as Moe's, is an American chain of fast casual style Tex-Mex restaurants headquartered in Atlanta, Georgia.
As of 2015, there were about 600 locations in operation in 38 states. According to the 2016 Harris PollEquiTrend survey, Moe's is the "Fast Casual Mexican Restaurant of the Year", passing former top restaurant Chipotle Mexican Grill even with less than half the number of locations as Chipotle has.
The company is co-owned with Schlotzsky's, Carvel, Cinnabon, McAlister's Deli, and Auntie Anne's brands by Focus Brands.  Focus is an, an affiliate of private equity firm Roark Capital Group, based in Sandy Springs, Georgia.  Focus Brands operates over 5,000 stores.
The Moe's menu features 20+ fresh ingredients that are prepared daily, including their beans, guacamole, and pico de gallo.