Nathan's Famous is throwing it back to 1916 for National Hot Dog Day on July 22, 2020.  From 12 – 5 pm, get a hot dog for only 5 cents – the original price back when Woodrow Wilson was president!  You can get up to two, so scrounge around your car and your couch for a dime and double up, coin shortage or not!  Nathan's announced the great deal on its Facebook page.
More from EatDrinkDeals
Want to get info on other deals, discounts, coupons and specials from your favorite restaurants?  Click here to see the latest and greatest from EatDrinkDeals!
Nathan's Hot Dog Eating Contest Goes On
Coronavirus or not, the Nathan's Famous Hot Dog Eating Contest will go on this year for July 4, 2020!  Fans cannot attend this year, sadly.  You can still watch it on TV, though.  According to Major League Eating, the event will raise funds for New York City food bank organizations and honor essential workers whose efforts have saved thousands of lives this spring.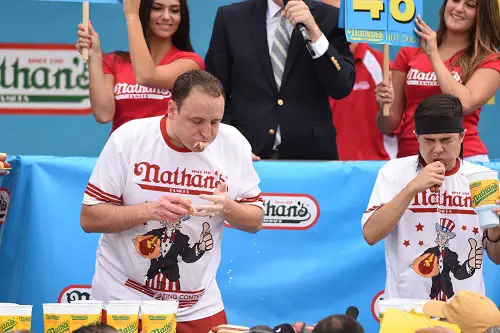 An annual tradition since 1916, the hot dog eating competition at Coney Island, NY, features the top male and female qualifiers competing in front of a standard crowd of 30,000 spectators in the ESPN televised event.  It will be a different ballgame without the fans this year.  Will Joey Chestnut retain his championship?  Or will a challenger be able to unseat him from his throne?
For more details, visit the Nathan's Famous website or Facebook page.
About Nathan's Famous Hot Dogs (from Wikipedia)
Nathan's Famous, Inc. is an American company that operates a chain of fast food restaurants specializing in hot dogs.  The original Nathan's restaurant stands at the corner of Surf and Stillwell Avenues in the Coney Island neighborhood of the Brooklyn borough of New York City, New York.
Nathan's began as a nickel hot dog stand in Coney Island in 1916 and bears the name of co-founder Nathan Handwerker (June 14, 1890, Kraków, Poland – March 25, 1974), who started the business with his wife, Ida Handwerker, née Ida Greenwald (September 25, 1897 – December 24, 1976).
Ida created the hot dog recipe they used, and Ida's grandmother created the secret spice recipe.  Handwerker, an employee of Feltman's German Gardens, was encouraged by singing waiters Eddie Cantor and Jimmy Durante to go into business in competition with his former employer.  He and Ida spent their life savings of $300 to begin the business.  Handwerker undercut Feltman's by charging five cents for a hot dog when his former employer was charging ten.  The business proved immensely popular.
The Nathan's Hot Dog Eating Contest has been held at the original location on Coney Island since the early 1970s.  Contestants try to consume as many hot dogs as possible in a ten-minute time period.  The Nathan's event is at the center of the competitive eating circuit.