Noodles & Company has a new lineup of $7 entrees to help you eat healthy for not a lot of money.  The seven classic and fan-favorite dishes featured on the new menu are:
Wisconsin Mac & Cheese
Japanese Pan Noodles
Pesto Cavatappi
Med Salad
Pasta Fresca
Spaghetti
Butter Noodles
Noodles & Company posted the deal on their menu page.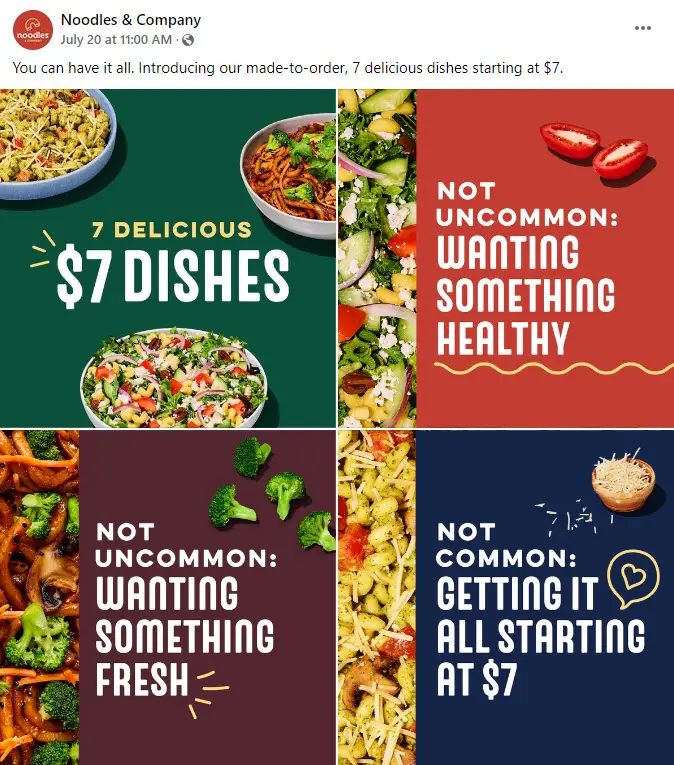 Noodles Rewards
Sign up for a Noodles Rewards account and earn points towards free food on future visits. For more details or to sign up visit: Noodles & Company Rewards.  There's also other perks that are changing all the time.
Healthy Eating Incentives
Noodles & Company is looking to support your New Years healthy eating resolutions with a free healthy noodles swap reward. This lets rewards members substitute regular noodles for healthier alternatives like zucchini and cauliflower noodles. Plus, rewards members will also get double points all month long on healthy dishes including Perfect bowls, Zoodles, Caulifloodles, and more. In this cold weather, you can eat a bowl of these warm noodles by the fire and take solace in the fact that you're also committing to your health.
Noodles & Company App
The Noodles and Company app is very well designed and pleasing to the eye. In our review, we scored it a 10/10 for its top tier benefits program.
About Noodles & Co
Noodles & Company is a fast-casual restaurant chain that specializes in serving a variety of noodle dishes inspired by cuisines from around the world. It now boasts over 450 locations all over the U.S.
What's on the menu at Noodles & Co? You guessed it – noodles. Noodles of all types and cuisines. The menu features a wide selection of noodle dishes, including classic Italian pasta dishes like spaghetti and meatballs and mac and cheese, as well as Asian-inspired dishes like pad thai and Japanese pan noodles. If you're not into Noodles – why are you here?? Just kidding. They also offer soups, salads, and sandwiches, as well as vegetarian, vegan, and gluten-free options.
Noodles & Company has a "World Kitchen" concept, which basically lets you customize your food with a variety of ingredients, sauces, and toppings. You want Japanese pan noodles with a traditional Italian pasta sauce? Go for it.