Noodles & Co Rewards members can get a $2 off coupon every day till the end of the year, the chain announced.
Get a coupon for $2 off a Quick Pickup order of $10 or more with the Noodles & Co. app or via the Noodles & Co. website.  You should see the coupon in your rewards account at:  Noodles Rewards $2 Off Coupon
You can click to Scan In Store to get the $2 off your in-store order, or click Start Order to redeem with an online order.
You can use the coupon once a day, every day now through December 31, 2023.  For more details see This Noodles & Co. Announcement
Valid 11/26/23–12/31/23 only (Promotion Period). Enjoy $2 off your Quick Pickup order of $10 or more (excluding taxes, gratuity, delivery or other fees) valid for use once every day during promotion period. Only one reward per Noodles Rewards account. Cannot be combined with other offers or discounts. Your reward can be found in the "Rewards" section of your Noodles Rewards account and the reward must be applied on the 'my cart' screen prior to checkout to receive $2 off your order a Quick Pickup order of $10 or more. Must be signed in and have a valid Noodles Rewards account at time of purchase. Not valid on orders placed via third-party delivery platforms, call-in orders, in-restaurant, or catering orders. Valid only at participating locations.
New Chicken Parmesan At Noodles & Co
Try the new Chicken Parmesan at Noodles & Company for $10.95 for a limited time. The first ever baked menu item is available exclusively for Noodles Rewards members through September 19. After that, it's up for grabs by anyone. The dish is made with penne pasta, marinara sauce, crispy parmesan-crusted chicken, melted mozzarella cheese, and a bit of parsley for further seasoning.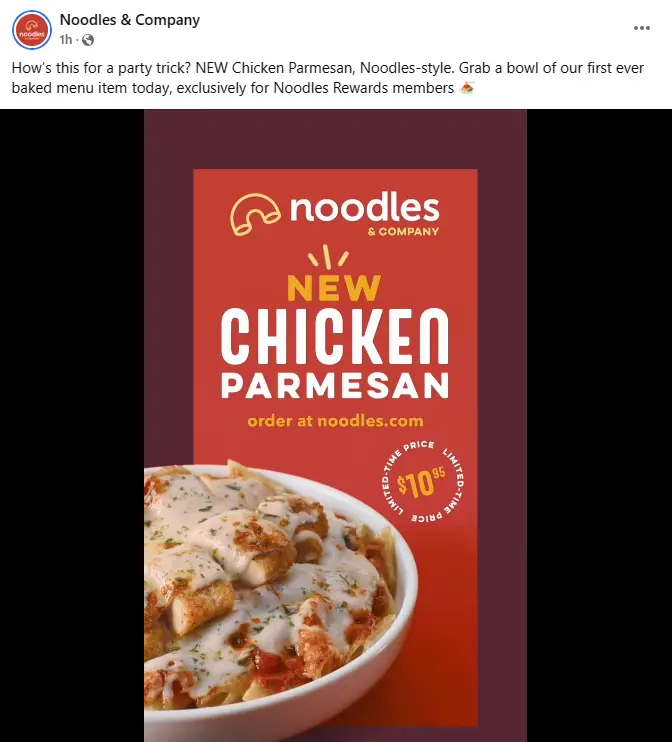 Noodles & Company also has $7 entrees, a $10 Mac and Cheese Combo, and more deals.
$7 Entrees At Noodles & Company
Noodles & Company has a new lineup of $7 entrees to help you eat healthy for not a lot of money.  The seven classic and fan-favorite dishes featured on the new menu are:
Wisconsin Mac & Cheese
Japanese Pan Noodles
Pesto Cavatappi
Med Salad
Pasta Fresca
Spaghetti
Butter Noodles
Noodles & Company posted the deal on their menu page.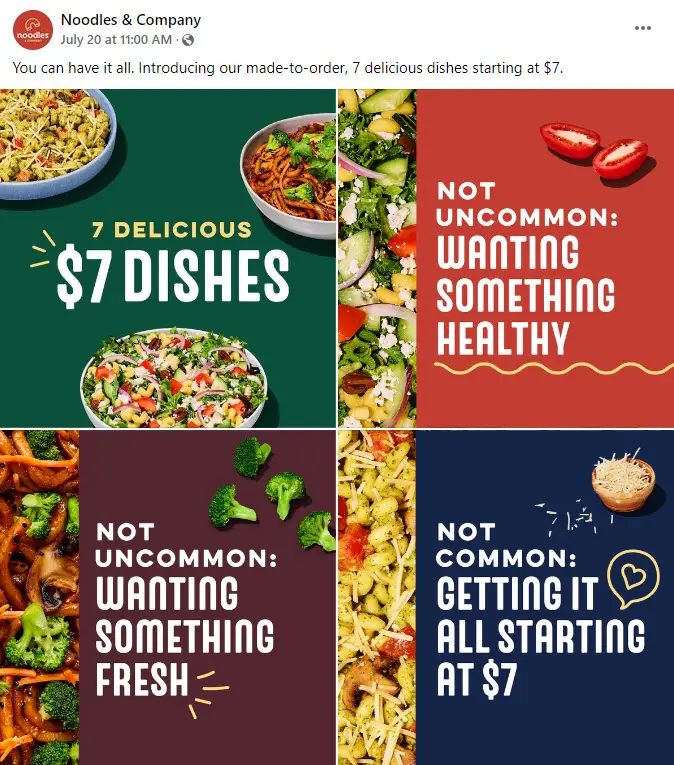 $10 Mac & Cheese Combo
Noodles and Co. has a $10 Mac & Cheese Meal Deal with it's beloved Wisconsin Mac & Cheese dish, a drink and a classic crispy!
"We are always looking for opportunities to enhance our guest experience by adding extra value and extra goodness to our guests' lives while bringing forward our craveable menu of global flavors," says Stacey Pool, chief marketing officer at Noodles & Company in this press release. "…we are thrilled to reintroduce this offering to our guests, along with our first-ever Mac & Cheese Meal Deal. You won't find this quality of fresh, made-to-order food at a convenient price point anywhere else."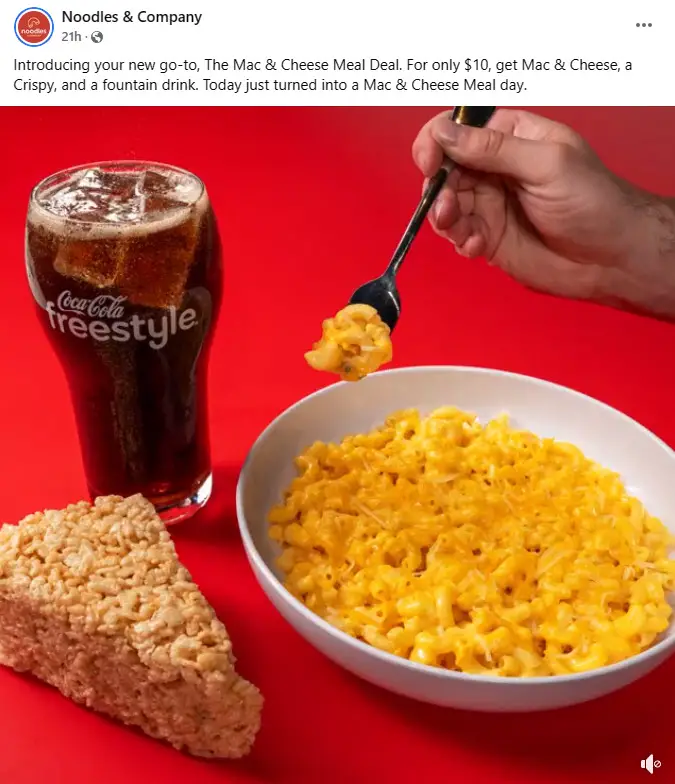 Noodles Rewards
Sign up for a Noodles Rewards account and earn points towards free food on future visits. For more details or to sign up visit: Noodles & Company Rewards.  There's also other perks that are changing all the time.
Healthy Eating Incentives
Noodles & Company is looking to support your New Years healthy eating resolutions with a free healthy noodles swap reward. This lets rewards members substitute regular noodles for healthier alternatives like zucchini and cauliflower noodles. Plus, rewards members will also get double points all month long on healthy dishes including Perfect bowls, Zoodles, Caulifloodles, and more. In this cold weather, you can eat a bowl of these warm noodles by the fire and take solace in the fact that you're also committing to your health.
Noodles & Company App
The Noodles and Company app is very well designed and pleasing to the eye. In our review, we scored it a 10/10 for its top tier benefits program.
About Noodles & Co
Noodles & Company is a fast-casual restaurant chain that specializes in serving a variety of noodle dishes inspired by cuisines from around the world. It now boasts over 450 locations all over the U.S.
What's on the menu at Noodles & Co? You guessed it – noodles. Noodles of all types and cuisines. The menu features a wide selection of noodle dishes, including classic Italian pasta dishes like spaghetti and meatballs and mac and cheese, as well as Asian-inspired dishes like pad thai and Japanese pan noodles. If you're not into Noodles – why are you here?? Just kidding. They also offer soups, salads, and sandwiches, as well as vegetarian, vegan, and gluten-free options.
Noodles & Company has a "World Kitchen" concept, which basically lets you customize your food with a variety of ingredients, sauces, and toppings. You want Japanese pan noodles with a traditional Italian pasta sauce? Go for it.