As celebration for the return of their Shrimp Scampi offering, get 1,150 bonus points (enough for a free small entree on a return visit) when you buy a regular size entree with shrimp from February 26-29, 2020.  Just in time for Lent!
"Shrimp on any dish is a guest-favorite protein during this time of year, and we knew we had to bring our Shrimp Scampi dish back for good after it turned into our best-selling Zoodles dish last year," said Nick Graff, executive chef at Noodles & Company in this press release. "The deal we're offering is another opportunity to show guests how easy it is to find fresh, filling options at Noodles that are customizable to any lifestyle and, the best part is, you can get rewarded for it through our Noodles Rewards program."
You'll need to sign up for the app (info below) by February 25 to be able to get the bonus points offer.
Looking for other seafood deals during Lent?  Read our EatDrinkDeals Seafood Specials For Lent 2020 article here.
App Rewards
Get special offers and promo codes from Noodles & Company coupon when you download the app and register.
You can enroll and get the app at at: Noodles & Co. Rewards.
About Noodles & Company (from Wikipedia)
Noodles & Company is a fast-casual restaurant headquartered in Broomfield, Colorado, that offers international and American noodle dishes, as well as soups, salads, pasta and sandwiches.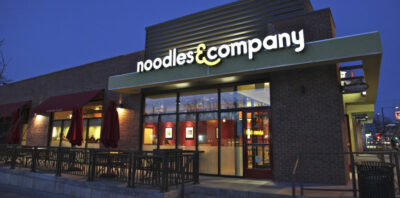 The company had 510 locations, including franchises, in 39 states as of December, 2016.
Noodles & Company offers international and American noodle dishes, as well as soups, salads, pasta and sandwiches. Most pasta entrees come vegetarian, but have optional protein toppings such as tofu, chicken, beef or shrimp. It also sells flat bread and desserts like Rice Krispies Treats.
Customers order at the counter and are served at their table, usually within five to seven minutes.  The average check is approximately $8 per person. The restaurants use soft lighting, furniture made from recycled bamboo and have bench seating and community tables. Orders can be made online, for-here, or to-go.
Seasonal items were first introduced to supplement the menu in 2002. Two years later, noodle-less entrees were added in response to the trend for low-carb diets. The following year it introduced a whole grain Tuscan fettuccine. Naturally-raised pork was added as a meat option in 2012. Three seasonal items and a gluten-free fusilli were added in April 2013.