To help ease the pain of Daylight Savings Time, get 850 bonus points (enough for a free Regular Shareable on a return visit) when you place an online order from March 7 – March 9, 2020.  You'll need to be a Noodles Rewards member to get the bonus.
"Mealtime doesn't need to be a stressor for families, especially when we lose an hour to the time change," says Jonathan Tress, vice president of marketing at Noodles & Company in this press release. "It couldn't be easier to order with Noodles' Quick Pickup feature, where Rewards members can skip the restaurant line by placing their order online or via the Noodles mobile app."
Noodles & Company sent the details on the offer in this email.
*Valid 3/7/20-3/9/20. Place an online order through Noodles.com/order or through the Noodles app while signed into a valid Noodles Rewards account during the promotion period and earn 850 additional Rewards Points. Additional points will be applied to member's Noodles Rewards account after the qualified purchase is complete. Award of Rewards Points under this promotion limited to one qualifying order per Noodles Rewards account during the promotion period. Must have a valid Noodles Rewards account. Not valid on delivery orders and cannot be combined with any other offer or discounts.  For full Noodles Rewards terms and conditions, click here.
App Rewards
Get special offers and promo codes from Noodles & Company coupon when you download the app and register.
You can enroll and get the app at at: Noodles & Co. Rewards.
About Noodles & Company (from Wikipedia)
Noodles & Company is a fast-casual restaurant headquartered in Broomfield, Colorado, that offers international and American noodle dishes, as well as soups, salads, pasta and sandwiches.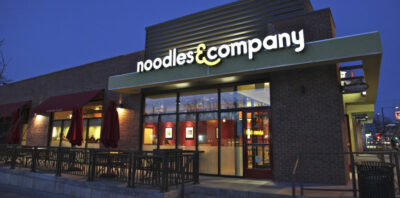 The company had 510 locations, including franchises, in 39 states as of December, 2016.
Noodles & Company offers international and American noodle dishes, as well as soups, salads, pasta and sandwiches. Most pasta entrees come vegetarian, but have optional protein toppings such as tofu, chicken, beef or shrimp. It also sells flat bread and desserts like Rice Krispies Treats.
Customers order at the counter and are served at their table, usually within five to seven minutes.  The average check is approximately $8 per person. The restaurants use soft lighting, furniture made from recycled bamboo and have bench seating and community tables. Orders can be made online, for-here, or to-go.
Seasonal items were first introduced to supplement the menu in 2002. Two years later, noodle-less entrees were added in response to the trend for low-carb diets. The following year it introduced a whole grain Tuscan fettuccine. Naturally-raised pork was added as a meat option in 2012. Three seasonal items and a gluten-free fusilli were added in April 2013.