On the Border has new Family Meals starting at $19.99 to feed a family of 4-5 people.  Choices include a Taco and Cheese Enchilada Meal with ground beef or chicken tinga tacos, cheese enchiladas, rice, beans, chips and salsa, plus fixins for the tacos, or the Frankenstein sounding Enchilasagna.  For $29.99 – $39.99, upgrade to a Chicken, Steak or Carnitas Fajita Family Meal.  To see the full range of options, click here for the On the Border menu page.  Click on the Family Meals section on the left hand side.  On the Border announced the new meals on their Facebook page.
Queso Fest Menu
Who wants mas queso?  Then go to On the Border for Queso Fest!  Starting at $8.99 each in most markets, On the Border has rolled out some new dishes and old favorites as part of the line up:
Border Queso Beef Enchiladas – Two seasoned ground beef enchiladas topped with border queso.
Grilled Queso Chicken – Chicken breast topped with On The Border's signature queso and fresh sliced avocado.
NEW Cheesy Queso Enchiladas – Cheddar cheese filled enchiladas with house made queso and fresh pico de gallo.
NEW Texas Queso Fries – Queso smothered fries, topped with melted white Mexican cheese, crispy bacon crumbles, creamy avocado ranch dressing and sliced pickled jalapeños.
NEW Melted Queso Fundido – Melted Mexican and Monterey Jack cheeses mixed tableside with caramelized onions, poblano peppers and diced chicken. Served with hand-pressed flour tortillas.
NEW Cheese-Smothered Steak Fajitas – Mesquite-grilled 8oz. sirloin served sizzling and smothered with melted Mexican white cheese and honey chipotle sauce, caramelized onions and peppers, and topped with fresh pico de gallo.
Plus, for $1, add a Queso Pour to any meal and up the cheese level.
On the Border posted the new items on Facebook.
"Our guests tell us all the time they love our queso; it's fun, you can dip, you can smother. What's not to love," said Chief Marketing Officer Edithann Ramey in this press release. "Queso Fest is for them and we took it one step further by introducing new border-style queso-inspired dishes you will want to try like our new Texas Queso Fries. We're going all in on the love for queso."
On the Border Daily Deals
On the Border has daily deals and happy hour specials at many locations.
To view the Daily Deals for your location, see the On the Border Daily Specials website and select your location, or call your local On The Border for full details.  Typical daily deals are:
Sundays:  $12.99  Fiesta Trio.  Tortilla soup or house salad, a lunch-size portion of mesquite-grilled chicken fajitas with flour tortillas, pico de gallo, sour cream, cheese, guacamole, Mexican rice, choice of beans and two sopapillas or an individual brownie sundae.
Mondays:  $9.99  Endless Enchiladas.  Plate after plate of hot, hand-rolled enchiladas. Served with Mexican rice and choice of beans. Choose from: seasoned ground beef, chicken tinga, cheese & onion, and spinach & mushroom
Tuesdays:  Tacos Fix Tuesdays with tacos starting at $2.
Wednesdays:  $7.99  Fajita Fest.  Get chicken fajitas (lunch size portion), plus Mexican rice and choice of beans for $7.99.
On the Border Happy Hour
On the Border also has happy hour specials at many locations.
Price and participation vary by location.  Typical happy hour drink specials include $3 drafts, $5 Margaritas, $10 Pitchers, and $3 shots.  Typical appetizer specials include $3 Cup of Queso, a Guacamole Appetizer, Cheese Quesadilla, or two Mini Chimichangas.  Deals vary by location.
To view the happy hour specials for your location, see the On the Border Happy Hour website and select your location, or call your local On The Border for full details.
On the Border Club Cantina
Join On the Border's Club Cantina rewards program and get:
FREE bowl of Signature Queso or Sopapillas on your next visit

EXCLUSIVE "Cinco Deals" on the 5th of every month

SNEAK PEEKS at special offers and events

FREE Queso on your birthday and anniversary of signing up.
For more details or to sign up, visit: On the Border Club Cantina
Daily Deals at More Restaurants
For more daily and weekly restaurant specials like these, see our roundups by day of the week:
About On the Border Mexican Grill (from Wikipedia)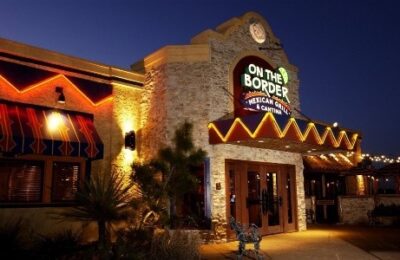 On The Border Mexican Grill & Cantina (also known as On The Border Mexican Café) is a chain of Tex-Mex food casual dining restaurants. There are more than 160 restaurants within the United States.  On The Border is still spreading internationally. The chain and brand name is owned by OTB Acquisition LLC.
Founded in 1982, the restaurant is known for its selection of fajitas and wide selection of margaritas. It is also known for "Guacamole Live," the preparation of fresh guacamole tableside.