Pizza Hut gets you.  It knows you love pizza.  It knows you love fried mozzarella cheese.  It's just giving you what you want.  So, make way for the new Mozzarella Poppers Pizza!  Your pizza of choice will now be complete with 16 Mozzarella Poppers plopped right into the crust.  A large one-topping can be had for about $14.
"I know what you're thinking: they put mozzarella bites ON a pizza?" said George Felix, chief marketing officer, Pizza Hut in this press release. "It's true, and that's why you have to try this pizza + app for yourself before it's gone. It's your world…we're just making pizza in it."
Pizza Hut announced the Mozzarella Poppers Pizza on Facebook.
Pizza Hut $10 Meat Lovers Pizza
Pizza Hut has their Meat Lovers Pizza on sale for $10, a discount of about 40%.
The Meat Lover's Pizza comes with over one pound of meat and cheese.  Meat Lover toppings are pepperoni, Italian sausage, ham, bacon, seasoned pork and beef. It is one of Pizza Hut's most popular pizzas.  Regular price is $17 to $18, making the $10 price a savings of about 40%.
To get the deal, ask for the $10 Meat Lovers special when ordering on the phone or in person. Or, for an online order, click on the deal at:  https://www.pizzahut.com/index.php?c=10MEATLOVERS#/home
* Ask / click for this limited time offer. Extra charge for pan, stuffed crust, extra cheese and additional toppings. Product availability, delivery areas and charges, and minimum purchase for delivery may vary. Delivery charge is not a driver tip. Deal can't be combined with other discounts. Limit 10 per order. This is a national promotion, but locations andprices will vary. Check www.pizzahut.com for prices at your local store.
$9.99 Large Three Topping Deal
Pizza Hut also has this every day deal:  a large, three-topping pizza for $9.99.  Here's how to get the deal:
From the Pizza Hut Deals page click on "Add to Order" under the Large 3-Topping $9.99 Deal
Pick your location
Select order or pre-order
Select Create Your Own, pick your crust and add your three toppings

Click Add to Order
You can also order in the Pizza Hut app, which we rated an 8/10 in our review.
Pizza Hut $5 'N Up Line Up Specials
The Pizza Hut menu features a $5 'N Up Lineup with pizzas, pasta and wings starting at $5.
Buy 2 or more items on the lineup and get them for the special price of $5 or $6 each.  As of September 2019, the Lineup includes:
Cheese Stuffed Cheez-It Pizza $6

Pepperoni and Cheese Stuffed Cheez-It Pizza $6

Pepperoni P'Zone for $5

Medium 1-topping pizza for $6

8 breaded bone-out wings for $6 

Tuscani pasta for $6

Stuffed Garlic Knots for $5 

Double order of breadsticks for $5

Cinnabon Mini Rolls for $5

Ultimate Hershey's chocolate chip cookie for $5

Four 20 oz Pepsi beverages for $5
You can find the Pizza Hut $5 'N Up menu on the Pizza Hut Deals Page.  Good for a limited time at participating locations.
Pizza Hut Wing Wednesday Deals
Get Traditional Bone-In Wings for $0.90 each and Bone-Out Wings for $0.70 each on Wing Wednesdays.  Pizza Hut has the offer up on their website.
Pizza Hut Coupon: $5 Off
Get $5 off an online order with this Pizza Hut / Visa coupon code good now through December 31, 2020.
Enter coupon code VISAFIVE to get $5 off an order of $25 or more when you pay with a Visa card. Not good on special deals.  Enter the coupon code on the checkout page.  See screen capture below for where to enter the code.
The pizza special was announced on the Visa Deals Website.
Terms and Conditions
Offer is valid ONLINE ONLY and cannot be combined with any other limited time offers.
Additional charge for Stuffed Crust Pizzas, extra toppings and extra cheese.
Taxes, delivery charges and driver tip do not apply toward the $25 minimum purchase requirement.
Product availability, prices, participation, delivery areas and charges, and blackout periods may vary.
Offer valid only when you pay with your Visa card.
More Pizza Hut Coupons and Promo Codes
There are a ton of other Pizza Hut coupons and promo codes, but unfortunately they are often only available for specific locations or areas.  You may see Pizza Hut coupons with long character strings like "ZTI53789" that won't always work when placing your order.
At EatDrinkDeals, our policy is to only publish Pizza Hut coupons that are widely available to avoid disappointing our users.  When Pizza Hut coupons or promo codes are nationally available and from verifiable sources, we will post them here.
To get the best Pizza Hut coupons and promo codes for your home location, your best bet is to enroll in Hut Rewards.  You'll be notified of local deals specific to your area Pizza Huts.
Other Pizza Coupons
For more deals like this including coupons and promo codes from Domino's, Papa Murphys and Papa John's, see the EatDrinkDeals Pizza Coupons page.
Pizza Hut Every Day Deals
Pizza Hut also has every day deals on large and medium pizzas. These Pizza Hut deals vary by location; shown are typical deals:
Medium 3-Topping pizza, $8.99
Delivery Deal: Large 3-topping pizza, $9.99
Dinner Box: $10 or Big Dinner Box for $19.99
To get one of these specials click on "Add to Order" at https://www.pizzahut.com/index.php#/menu/deals or use the Pizza Hut App for iPhone or Android.  Good for takeout or delivery.
You can find these specials on the Pizza Hut Deals website.  No coupon required.
P'Zone Returns to Pizza Hut
Pizza Hut has brought back the fan favorite P'Zone and has a Pepperoni P'Zone in the $5 Lineup.
The Pizza Hut menu first offered he P'Zone way back in 2002 and has revived it as a limited time offering on several occasions.   The P'Zone weighs a pound and features abundant pizza ingredients sealed inside a 12" crust.   The P'Zone is available in three varieties:
Pepperoni P'Zone, $5.99 each, or get for $5 when you order as a $5 Lineup item
Supremo P'Zone, $6.99:  Italian sausage, green pepper, red onion, melted cheese
Meaty P'Zone, $6.99:  Pepperoni, ham, beef, pork, Italian sausage, melted cheese.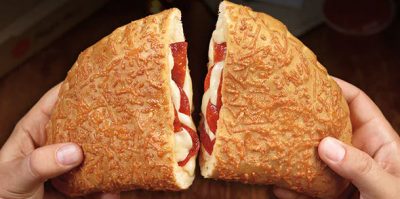 You can find the menu on the Pizza Hut Home Page.  Good for a limited time at participating locations.
Cinnabon Mini Rolls
The Hut has you covered for dessert, too!  The Pizza Hut menu has added Cinnabon Mini Rolls to satisfy your sweet tooth.
Get 10 bite-sized versions of Cinnabon's classic buns, topped with cream cheese frosting and Makara cinnamon, for $5.99.  Pizza Hut announced the new dessert on Facebook.
https://www.facebook.com/pizzahutus/videos/2224128294532773/?__xts__%5B0%5D=68.ARBCK3XqVdvlcmmDtOIdNOICgjACvoxHz2nBEWzcXTphbJ54pXAMp_-KKepz6xETVFAHlhiXQbt_w9qIqAJKpCGcRCXj61fHcfgk4fRiF6s6lC_Q0wI3wyuvIZ9V_oDX1nDPUB971ZKqXlMYNKAjC77GAnAfFykp169NtVRI3Il74gf7x6fm_Q&__tn__=-R
Rewards Program
Pizza Hut has a new points-based rewards program.  Get two points for every one dollar spent on food, which can be applied toward free food.  In our review, we rated the app an 8/10.  We found that Rewards points are earned at a decent clip, you can quickly locate the best deals for your neighborhood Huts, and you get a smooth experience from ordering to payment.
About Pizza Hut (from Wikipedia)
Pizza Hut is an American restaurant chain and international franchise founded in 1958 by Dan and Frank Carney. The company is known for its Italian-American cuisine menu including pizza and pasta, as well as side dishes and desserts.
Pizza Hut has 16,796 restaurants worldwide as of March 2018, making it the world's largest pizza chain in terms of locations. It is a subsidiary of Yum! Brands, Inc., one of the world's largest restaurant companies.
Pizza Hut is split into several different restaurant formats: the original family-style dine-in locations; storefront delivery and carry-out locations; and hybrid locations that have carry-out, delivery, and dine-in options. Some full-size Pizza Hut locations have a lunch buffet, with "all-you-can-eat" pizza, salad, desserts, bread sticks, and a pasta bar. Pizza Hut has other business concepts independent of the store type; "Bistro" locations are "Red Roofs" which have an expanded menu and slightly more upscale options.