The holiday season is upon us which means Pizza Hut's Triple Treat Box is back once more! For a limited time you can get 2 medium one-topping pizzas, 5 breadsticks, and 10 Cinnabon Mini Rolls starting at $24.99. For one one-topping pizza and one Specialty Pizza, you will have to pay $3 more and two Specialty Pizzas will run you $30.99.
This can come through for you if you're in a pinch. In fact, if you've ruined a holiday meal, like burning your pie or ruining your casserole, you can email a photo to Pizza Hut for a chance to win a Triple Treat Box for free.  Just send an email to pizzahut@hutholidayrescue.com for a chance.
New Pizza Hut Melts For $6.99
Pizza Hut recently added 'Melts' to its menu. These innovative menu items enable you to satisfy that pizza craving without having to actually order a pizza. A melt is basically two slices of Pizza Hut's Thin N' Crispy Crust folded over and filled with an array of toppings. There are four types of melts available right now:
Pepperoni Lover's with marinara dipping sauce
Buffalo Chicken with buffalo dipping sauce and ranch dipping sauce
Chicken Bacon Parmesan with ranch dipping sauce
Meat Lover's with marinara dipping sauce
You can snag these for $6.99 at participating locations.
Pizza Hut is also awarding select guests who sign an MDA (Melts Disclosure Agreement) $100. You may be wondering what the heck that is. We got you. An MDA basically says that you won't share any images of Pizza Hut's Melts on social media (because Melts aren't for sharing).  Alrighty.  Click here to sign the MDA and potentially win $100.  Don't worry, it's not a legally binding document or anything.  And $100 is $100, so go for it!
What Are The Current Pizza Hut Coupons And Promo Codes?
Try these Pizza Hut coupon codes valid for a limited time to save on your next order!
20% Off Your Order – use code DV
Note that generally, these codes won't work on other promotions like you'll find in the Deals section.  These are only discounts off the regular menu price.
How Do I Use Pizza Hut Coupons?
When ordering online, get all the items that you want put together.  Then, at the Checkout screen, you'll see a spot that asks "Have a coupon code?"  Click there, enter the promo code, then hit "Apply".  It should look something like this after you've entered the code: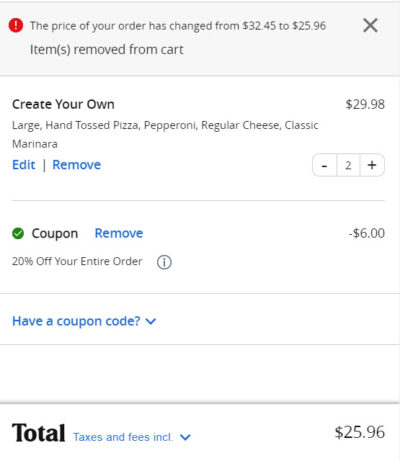 Note that oftentimes the Pizza Hut coupons can't be used on other deals and promotions.  They can only be applied to a regular full menu price.  So, for example, you probably can't use a coupon code on a $6.99 Medium Pizza.
Detroit Style Pizza
Detroit Style Pizza is back at Pizza Hut! The chain initially launched Detroit Style in 2021, and due to popular demand, it has returned for a limited time. This signature pizza has a base price of $11.99 and comes in four varieties:
Double Pepperoni (Classic & Crispy Cupped Pepperoni)
Meaty Deluxe (Crispy Cupped Pepperoni, Italian Sausage, and Bacon)
Supremo (Italian Sausage, Green Pepper, and Onion)
Create-Your-Own (First topping is free, additional toppings are $1/ea.)
Pizza Hut sent this press release with the news.
Oven-Baked Pasta From Pizza Hut
Pizza Hut has new Oven-Baked Pasta available nationwide for $10.99. Pasta options include:
Chicken Alfredo: A combo of creamy Alfredo sauce, grilled chicken, and cheese.
Italian Meats: A brand new recipe with sweet tomato sauce, pepperoni, Italian sausage, and cheese.
Cheesy Alfredo: New creamy Alfredo sauce with two layers of cheese, topped with baked-fresh parmesan.
Veggie: A combination of sweet tomato sauce, green peppers, onions, tomatoes, black olives, and oven-baked cheese.
All of these options come with breadsticks or garlic bread and are topped with a new parmesan and oregano topping.
The Stuffed Crust Pizza
Pizza Hut's Stuffed Crust Pizza – introduced in 1995 – is back for a limited time with a three-topping large for $13.99.
"The Original Stuffed Crust pizza was a game changer 25 years ago, and while there have been many imitators, nothing beats Original Stuffed Crust from Pizza Hut," said George Felix, chief marketing officer, Pizza Hut.
The $13.99 Large up to 3-Toppings Original Stuffed Crust pizza offer is available for a limited time at participating traditional Pizza Hut locations nationwide for contactless delivery, carryout and curbside pickup. Click here to find your nearest Pizza Hut location.
Pizza Hut has the details up on its homepage.
Pizza Hut's Big Dinner Box Deal
The Big Dinner Box is back at Pizza Hut!  The standard box comes with two medium, one-topping rectangular pan style pizzas, boneless wings and breadsticks  You can swap out the boneless wings for a pasta option or even a third pizza at most locations, too.
Pricing varies, but in our testing, we found it was about $23 – $25.  Pizza Hut has the details up on its homepage.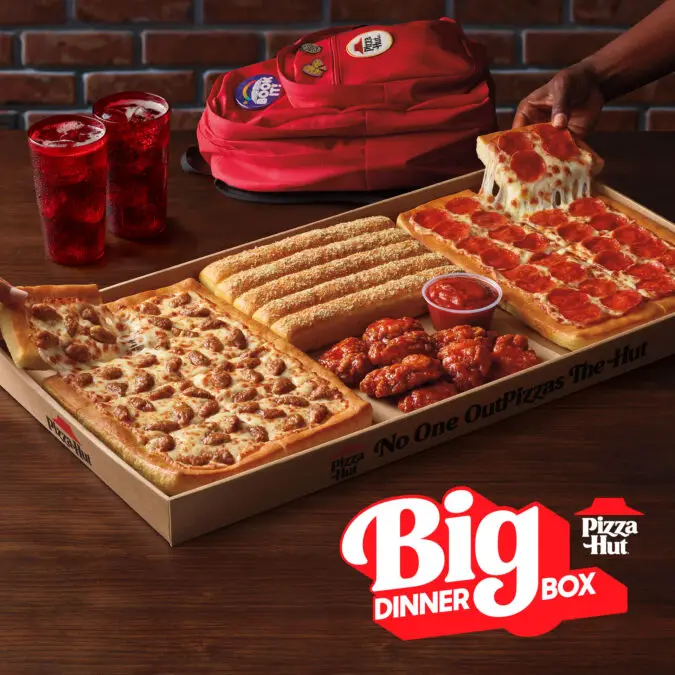 More from EatDrinkDeals
Want to get info on other deals, discounts, coupons and specials from your favorite restaurants?  Click here to see the latest and greatest from EatDrinkDeals!
More Pizza Hut Coupons and Promo Codes
There are a ton of other Pizza Hut coupons and promo codes, but unfortunately they are often only available for specific locations or areas.  You may see Pizza Hut coupon or a Pizza Hut promo code with a long character string like "ZTI53789" that won't always work when placing your order.
At EatDrinkDeals, our policy is to only publish Pizza Hut coupons that are widely available to avoid disappointing our users.  When Pizza Hut coupons or promo codes are nationally available and from verifiable sources, we will post them here, so you only pay the best price for your favorite food!
To get the best Pizza Hut coupons and discount codes for your home location, your best bet is to enroll in Hut Rewards. You'll be notified of local deals specific to your area Pizza Huts.
How Can I Get Free Pizza Hut Pizza?
Pizza Hut has a new points-based rewards program called Hut Rewards.  Get two points for every one dollar spent on food, which can be applied toward free breadsticks, free boneless wings, free Cinnabon Rolls, and most importantly – free pizza.  You'll get a free treat on your birthday, plus something free when you sign up.  That offer changes, but currently it's a free Medium Pizza, which is nothing to sneeze at.
In our review, we rated the app an 8/10.  We found that Rewards points are earned at a decent clip, you can quickly locate the best deals for your neighborhood Huts, and you get a smooth experience from ordering to payment. You also get access to exclusive offers, which is always an added bonus! We'll let you guess what you'll find a lot of on the Pizza Hut menu.  If you guessed pizza… you'd be right.  Because that's obvious.
This is the place for pizza lovers. You've got your standard pizzas, but there are some surprises, too.  Try the Stuffed Crust Pizza if you need more cheese in your life. With the sheer variety of delicious pizza available at Pizza Hut, you're bound to find your favorite pizza.
Also, Pizza Hut has recently upped its game with its Wingstreet offerings of bone-in and boneless wings, tossed in one of a respectable variety of sauces.  They also have side dishes, like that P'Zone calzone type thingy on the menu and french fries at some locations (a great complement to wings!).  Pizza Hut has Pastas available, too.  Desserts include Hershey's Cookies or Brownies, and Cinnamon Sticks.  And, did you know Pizza Hut does Cinnabon?  That's right, you can get Cinnabon Mini Rolls too! They have such a wide selection of menu items, that you have to check out the full Pizza Hut menu on their website.
What's The $10 Pizza Hut Deal?
Pizza Hut had a long-running Tastemaker special for $10 that got you a Large Pizza with up to 3 toppings of your choice.  Sadly, the Tastemaker $10 deal is no more, at least on a national basis.  Some locations may still offer it, but the Tastemaker is conspicuously absent from the Pizza Hut Deals page.
Where Can I Find Pizza Hut Locations?
There are over 16,000 Pizza Hut locations worldwide, with over 7,000 in the U.S.  Chances are you've got one near you, even within delivery distance if you don't feel like leaving your place.  Where's a Pizza Hut near you?
Click here to find your local Pizza Hut using the Pizza Hut store locator.
What Are Pizza Hut's Hours?
Most Pizza Huts open around 11 am, just in time for the lunch crowd.  They don't tend to stay open as late as other pizza places like Domino's or Papa John's, though.  They usually close around 10 or 11 pm.  A typical set of store hours is 11 am – 10 pm.
To find the hours for your Pizza Hut, click here to use the Pizza Hut store locator. 
Many Pizza Hut locations are focused on carryout and delivery orders.  However, there's often at least a few tables for folks who want to plop right down and devour their doughy feast on the spot.  This is unusual for big pizza chains these days.  Trends have shifted to favor a focus away from dine-in customers.
How Much Does Pizza Hut Delivery Cost?
Pizza Hut offers a solid delivery service that you can rely on.  They don't use third parties like Uber Eats or GrubHub; they've got their own drivers.  This tends to make for a better customer experience overall, in our opinion. The delivery fee varies depending on where you live, but it's typically around $4.
To start a delivery order from Pizza Hut, click here for the Pizza Hut website and select "Order" on the type of food you want.
You can also place a delivery order through the Pizza Hut App.  Click here for the Pizza Hut App for iPhone and click here for the Pizza Hut App for Android.
Where Is Pizza Hut's Nutritional Information?
Pizza Hut has a full set of nutritional and food allergen information on its website to help you meet your dietary needs.  To view the calorie counter, nutritional or allergen content, and ingredient information, click here for the Pizza Hut Nutrition portal.
Pizza Hut does offer Gluten Free crusts made with Udi's Gluten Free Crust in about 1/3 of U.S. locations.  For more info on gluten free, click here for the Pizza Hut gluten free page.