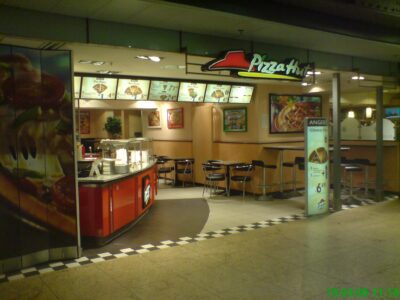 In 1958, two brothers – Dan and Frank Carney – borrowed $600 from their mom and opened the first Pizza Hut in Wichita, Kansas. Little did they know that this was the beginning of a pizza empire. In the 65 years since, over 16,000 Pizza Hut locations have opened around the world. While many dine-in locations have been closing, the chain is still going strong in this new era of digital ordering and delivery. However, it is a bit nostalgic to think about those red-roofed restaurants with long buffet lines and red plastic cups. Good times.
Pizza Hut's menu features a wide variety of pizzas, pasta, and wings along with sides and desserts like Breadsticks, Cinnamon Sticks, and Cheese Sticks. Some of Pizza Hut's hottest pizza options right now include the new Cheesesteak Pizza, the Big New Yorker-Double Pepperoni, and Backyard BBQ Chicken Pizza. You can also customize most pizzas to fit your preferences – like substituting hand-tossed pizza crust for stuffed crust or thin crust. Scroll through the full menu below and click here to begin an online order.
Pizza Hut Deals
Visit our Pizza Hut Coupons and Promo Codes article to get discounts like 30% off the menu price of a pizza, $5 off your order of $25 or more, and more.
Pizza Hut regularly updates its offers and rotates its menu. To stay up to date and ensure you don't miss the return (or debut) of your favorite menu item, subscribe to the EatDrinkDeals newsletter! We'll do the research so you don't have to!
Pizza Hut Menu and Prices
Disclaimer: The menu and prices listed above are based on research of sample locations and are provided for informational purposes only. Since prices and availability may vary by location, please consult your local Pizza Hut menu for the latest details.