Get $5 off with this Red Lobster coupon good today through Sunday, September 1, 2019. Or get 15% off a takeout order.
CLICK HERE for your Red Lobster $5 off coupon. Good for $5 off two adult entrees or $2.50 off a single entree. Good for dine-in only.  Red Lobster announced the deal in This Email.
Red Lobster Coupon Terms:
$5 Off Two Adult Entrees. Dine In Only. Valid 8/19/2019 – 9/1/2019. Coupon code: 17. This coupon may be redeemed for $2.50 off each single adult entrees per coupon. Coupon is not redeemable for delivery or To Go or in combination with any other coupon or special offer. One coupn per visit. Coupon may not be reproduced, re-posted to the internet, sold, transferred or traded. Must present coupon. Red Lobster may refuse to honor or accept any coupon it believes to be in violation of these terms and conditions. Valid at any Red Lobster location in the U.S. (excl PR and Guam) and Canada.
If you have trouble with the coupon link above here is another link to the online coupon.
Red Lobster 15% Off Takeout
Also at Red Lobster get 15% off a takeout order with this promo code good today through Sunday, August 25, 2019.
Use Red Lobster promo code LOBSTER52 and get 15% off your To-Go order.  Enter the promo code on the Red Lobster checkout page. You can start an online order at:  Red Lobster online orders.  Red Lobster announced the back to school promo on Facebook.  (Facebook post is below).
*Not available for delivery & excludes alcohol, gift cards, and applicable taxes & gratuity. Max discount $25. Not redeemable in combination with any other offer. Cash redemption value: 1/20 of one cent. Valid at any Red Lobster location in the U.S. (excl. PR) and Canada.
Red Lobster $15 Specials
Red Lobster has a Weekday Win menu with Endless Shrimp and seafood feasts for $15.
Guests who visit their local Red Lobster restaurant Monday through Friday between 11 a.m. and 6 p.m. can take advantage of these Weekday Win Specials:
Red Lobster announced the Weekday Win Dining Deals on their Specials Page.  You can find the complete Early Dining menu at:  Red Lobster Weekday Win.
In other deals, get  $3 draft beers, $4 house wines, $5 premium well mixed drinks, and $5 appetizers at the Red Lobster Happy Hour.
Good Monday-Thursday from 3-6pm at participating locations.  Happy Hour appetizers include Jumbo Shrimp Cocktail, Half Lobster & Langostino Pizza, Mozzarella Sticks and Chicken Breast Strips. For more details see the Red Lobster Happy Hour Page.

Red Lobster Email Coupon
Sign up for the Red Lobster email club and receive a coupon for a free appetizer or dessert.  Coupon requires the purchase of two adult entrees.  CLICK HERE to get more details and enroll in the Fresh Catch News.
About Red Lobster (from Wikipedia)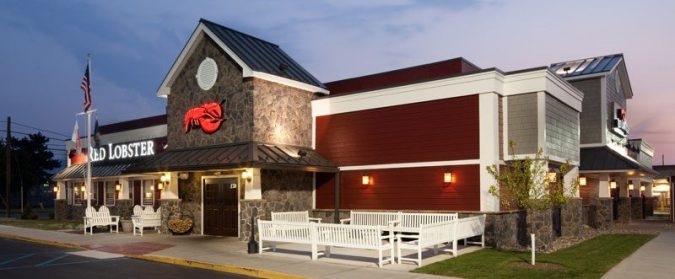 Red Lobster was founded in 1968 by entrepreneur Bill Darden and Charley Woodsby. Originally billed as a "Harbor for Seafood Lovers", the original restaurant in Lakeland, Florida was followed by several others throughout the Southeast. General Mills acquired Red Lobster in 1970 as a five-unit restaurant company. The chain expanded rapidly in the 1980s.
In 1995, Red Lobster (along with Olive Garden and other sister chains) became part of Darden Restaurants, which was spun off from General Mills as an independent, publicly traded corporation. Today, there are nearly 700 Red Lobster locations throughout the United States.
Red Lobster Menu
To see the Red Lobster menus you need to select your location first at  https://www.redlobster.com/locations/  and then click "View Menu".