Ruby Tuesday has food specials every day like a $6.49 lunch special on Tuesdays and a $9.99 Fish Fry on Fridays.  Also get $6 drink specials every day.
Ruby Tuesday Daily Food Deals
Get these meal deals at participating Ruby Tuesday locations:
Monday $9.99 Endless Garden Bar:  During lunch hours (11 am – 4 pm) on Mondays get an Endless Garden Bar plus soup or baked potato for $9.99.
Tuesday $6.49 Burgers:  Get a Cheeseburger or select other sandwiches for $5.99 all day at select Ruby Tuesdays.  The special also comes with tots or fries.  Also on Tuesdays, kids eat free with an adult entree purchase.
Wednesday Specials: On Wednesdays get an Endless Garden Bar for $7.99 at lunch, or a half-rack of Baby Back Ribs and fries for just $11.99 at dinner (after 4 pm). Upgrade to a full rack for an extra $6.
Throwback Thursday: Get a different throwback deal every Thursday, such as a Philly Cheesesteak Hoagie with Fries or Tots for $6.99, or a similar inflation busting deal (rotates each week).
Friday Specials: Get a Fish and Chips dinner for $9.99 all day long on Fridays.  Also Kids Eat Free with an adult entree purchase all day long.
Saturday Lunch: Get an endless Garden Bar for $7.99 during lunch hours (11 am to 4 pm) or add an Endless Garden Bar to any entree for $3.99 during lunch hours.
Sunday Dinner: Get a $10.99 6 oz. Sirloin and Baked Potato entree, or a Ribeye for $11.99.
For more details see: Ruby Tuesday Specials. You can also find flash deals some days on the Ruby Tuesday Facebook Page.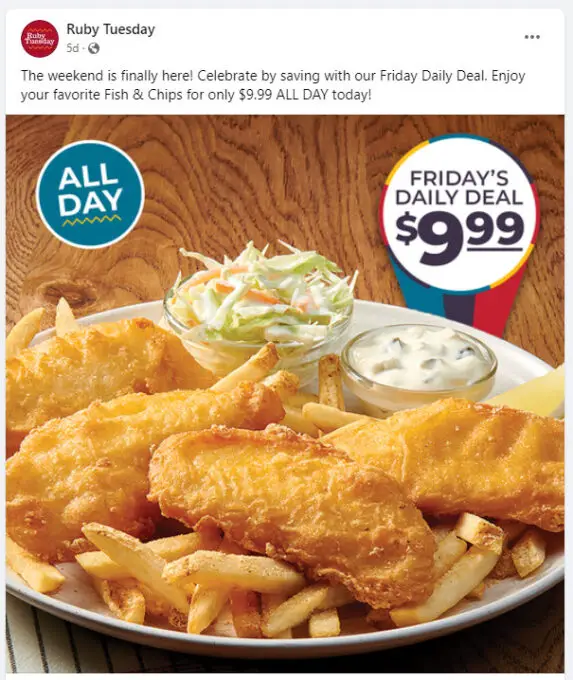 Ruby Tuesday Daily Drink Deals
Get these drink deals at participating Ruby Tuesday locations:
Monday $6 El Toro Loco.
Tuesday $6 Hornitos Margarita
Wednesday $6 Jack Daniels with choice of mixer; also half-off bottles of wine
Thursday $6 Island Mai Tai
Fridays and Saturdays $6 Ruby Relaxer
Sunday $6 Sangria or Bloody Mary
For more details see: Ruby Tuesday Daily Drink Deals. 
Ruby Tuesday So Connected Email Coupon
Get a coupon for $5 off when you join the Ruby Tuesday So Connected Email Club.  Join the club and get your $5 off coupon, plus a coupon for a free gift on your birthday. To join or get more details visit:  Ruby Tuesday So Connected
More Ruby Tuesday Coupons and Promotional Codes
Sometimes we'll come across other Ruby Tuesday promo codes and printable coupons, but unfortunately, they are often only available for specific locations or areas. You may see a Ruby Tuesday online coupon for a free appetizer or free burger with a long string of letters and numbers on other sites, but these generally don't work as they are one-time use only.
At EatDrinkDeals, our policy is to only publish Ruby Tuesday discount codes that are widely available to avoid disappointing our users. When a Ruby Tuesday printable coupon is widely available and from verifiable sources, we will post it here, so you only pay the best price for your favorite food!  If you're trying to find info on the latest Ruby Tuesday coupons, you've come to the right place.  We'll help you get the best deal.
What's The Ruby Tuesday Menu Like?
Ruby Tuesday is a classic American casual dining restaurant, with a full lineup of sandwiches, burgers, and other hearty meals to be had.  The Garden Bar salad bar is a signature feature at Ruby Tuesday, and the Endless Garden Bar deal for $8 or so is a good way to eat there for a great price.  They've got other entrees like Parmesan Shrimp Pasta, Ribs, Steaks, and more.  Ruby Tuesday fans appreciate the gracious hospitality that goes along with the good food.  Select items may only be available seasonally.  Make sure to get that free Garden Bar entree on your birthday!  Low prices doesn't mean a low number of choices here.  Ruby Tuesday has a full bar with a wide array of alcoholic beverages such as beer, wine and spirits to help you let loose.
If you want to browse around, visit our Ruby Tuesday menu page here. Or, visit their website here.
Is There A Ruby Tuesday Near Me?
There are Ruby Tuesday locations all over the United States.  They have about 200 locations.  Looking for one nearby?  Click here to find a Ruby Tuesday location near you. Most locations open at 11 AM for lunch, and usually close around 10 PM during the week, and later on weekends.  Ruby Tuesday night hours can sometimes be later in certain areas.
Does Ruby Tuesday Deliver?
Ruby Tuesday offers delivery for a fee on a typical order will be $5 – $6.  Sometimes, we'll find a free delivery deal or promotional code.  We'll be sure to post them here when we do.  To start a delivery order, click here for the Ruby Tuesday website.
Where Is Ruby Tuesday's Nutritional Information?
Ruby Tuesday has a full listing of calorie and nutritional information available online. To view the calories and nutritional information, click here for the official website of Ruby Tuesday Nutritional Info.
How Do I Buy Ruby Tuesday Gift Cards?
Gift cards from Ruby Tuesday are a popular item for online shopping.  Looking for one?  Visit the Ruby Tuesday website here.  Sometimes, Ruby Tuesday will offer Bonus Card limited time offers with purchase of a gift card.  The special offer usually comes around during the springtime and holiday season.  Gift cards have no cash value, but don't have an expiration date generally.  However, the Bonus Card often does.