Buy a Shake and get another free with a Shake Shack promo code valid from 2-5 pm! The offer is valid through November 30. Any flavor and any size Shake will do. You'll have to order online or in the app to get the freebie. Use promo code FAVESHAKE – click here to start an order. Shake Shack sent this email with the code: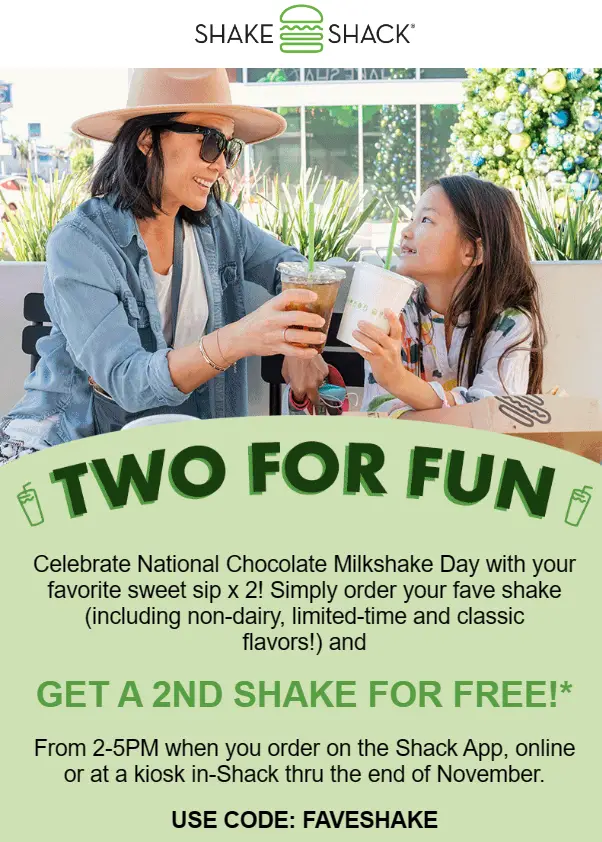 Spicy Hot Menu At Shake Shack
Shake Shack's got a new hot menu available for a limited time, with new items like the Spicy Shackmeister Burger and Spicy Cheese Fries. Plus, the fan favorite Hot Chicken Sandwich returns! All of the Hot Menu stuff comes with the same spice blend to bring the heat. It's available now on the Shack App, and then will be available for in-person orders starting on September 8. Here's the lineup, along with sample pricing based on our review of different locations:
Hot Chicken $8.59 – white-meat chicken breast spiced and topped with pickles and Shack-made cherry pepper slaw.
Spicy Shackmeister Burger $8.59 – Angus beef cheeseburger spiced and topped with crispy onions, chopped cherry peppers and ShackSauce.
Spicy Cheese Fries with Ranch Sauce $5.69 – Crispy crinkle cut fries topped with cheese sauce and the signature spice blend, with Shack ranch sauce on the side.
Spicy Fries with Ranch Sauce $4.69 – Just like above, without the cheese.
App Deals
Get discounts on food and food delivery when you use the Shake Shack app.
When you order with the Shake Shack app, in addition to special deals you'll get texted when it's time for pickup.  For more details or to download the app, visit:  Shake Shack App
Previous Shake Shack Promo Codes And Coupons
Here are some examples of promo codes that Shake Shack puts out from time to time:
| | |
| --- | --- |
| Shake Shack Promo Code | Description |
| SHAKEITUP | Buy one shake, get one free – EXPIRED |
| FRYDAY | Free order of fries with any purchase – EXPIRED |
| TWOFORFUN | Buy one, get one free Lemonades – EXPIRED |
| X45TGH | $5 off a $15 order – EXPIRED |
| GETSHACK | Free delivery – EXPIRED |
What's On The Shake Shack Menu?
If you want to browse around, visit our Shake Shack menu page here. Or, visit their website here.
Shake Shack Near Me
Shake Shack has approximately 170 locations in the U.S, and another 80 internationally, and have grown rapidly since its inception in 2004.  You can find the Shake Shack location near you at: Shake Shack Near Me
Hours
Most Shake Shacks are open from around 11 am to 9 pm every day, but times can vary.  Some locations open earlier to serve breakfast, and some close later to cater to the night owls.  To find the hours, address and more details for your Shake Shack, select your location from: Shake Shack Near Me
Shake Shack Delivery
Shake Shack offers delivery through its third-party delivery partners Doordash and Uber Eats.  Usually there is a delivery fee of about $5, which varies by the service that you use.  Some third party partners aren't available in all locations.  To start a Shake Shack delivery order from DoorDash, visit:  Shake Shack Delivery
Shake Shack Nutrition
Shake Shack lists food allergen and nutritional information online.  To view the nutritional content of any menu item, click here for the Shake Shack Nutrition document from their website.