New York Style pizza is a classic pizza variation, and to many, the best one out there. Regardless of what you may think about NY Style pizza, you're going to want to give Papa John's NY Style pizza a try. Each box has eight wide, foldable slices, with a brilliantly thin crust – perfection.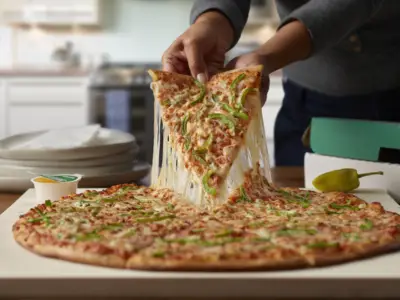 Each NY Style pizza includes one topping and is priced at $15 at most locations.
Coupons
Try out this Papa John's Coupon Code to save 25% on your regular-priced order!  You can click on the link below and your promo code should be automatically applied.  If not, you can enter it on the top of the screen of the Papa John's website as you order, or at checkout after you've filled up your cart:
Note, if you don't see the discount applied at checkout, try to enter the promo code again before entering your payment info, and make sure the discount shows up.
More from EatDrinkDeals
Inflation stinks!  Want to get make your money go further with the best deals, discount codes, coupons, promotional codes and specials from your favorite restaurants?  Click here to see the latest and greatest from EatDrinkDeals!
Papa John's Shaq-a-Roni Pizza
The Shaq-a-Roni is back at Papa John's for $13 for a limited time! This fan favorite pizza, named after legendary NBA center Shaquille O' Neal, has a good cause behind it, too.  One dollar from each sale of a $13 Shaq-a-Roni pizza will be donated to the Papa John's Foundation that supports projects and charities including the Boys and Girls Clubs of America, the Baltimore Hunger Project, and the United Negro College Fund (UNCF). Delicious pizza and giving back to the community…name a better combo. The chain announced this on their social media channels.
What Are Some Good Papa John's Deals?
Get 2 Large Two Topping Pizzas for $22.99, 25% off any pizza and more deals with these Papa John's Pizza specials.  For full details and to place an order, go to the Papa John's Specials website here.  No coupon is necessary to score any one of these deals.  So click here to find a Papa John's near you and get to saving!  The deals vary by location, but here are some typical things you'll see across U.S. locations:
Papa's Pickup – $8 Large 1 Topping Pizza
25% off any pizza at regular menu price
Large 1 Topping Epic Stuffed Crust Pizza for $13.00
Large Specialty Epic Stuffed Crust Pizza for $16.89
Parmesan Crusted Papadia for $7.49
Choose 2 for $6.49 each from:  Papadia, Breadsticks, Garlic Knots, 10″ Cheesesticks, 10 Poppers, or Dessert Cookie
Large 1 Topping Pizza and Parmesan Crusted Papadia for $17.49
NY Style 1 Topping and Epic Stuffed Crust 1 Topping Pizza for $23.99
Two Parmesan Crusted Papadias and Big Cookie for $21.99
Any Large Specialty Pizza $14.79
Papa John's App
To download the app on your iPhone click here or download the Android app here.  In our review, we found that it was easy to use and was a good supplement to the already solid Papa Rewards program. One of the major draws is free pizza when you accumulate Papa Dough, so this is definitely a must-download!
Papa John's Party Specials
Papa John's also has party specials like 5 large pizzas for $45. You can start your order at:   https://www.papajohns.com/order/menu?special=Parties
Other Pizza Coupons
For more deals like this including coupons and promo codes from Domino's, Pizza Hut and Hungry Howie's, click here to go to the EatDrinkDeals Pizza Coupons page.
EatDrinkDeals Papa Johns Coupons and Promo Codes Policy
There are a ton of other Papa John's coupons and promo codes, but unfortunately, they are often only available for specific locations or areas.  At EatDrinkDeals, our policy is to only publish Papa Johns discount codes that are widely available to avoid disappointing our users.  When Papa Johns coupons or promo codes are nationally available and from verifiable sources, we will post them here.  We test the coupons and promo codes for a variety of stores across the U.S. to make sure they work.
What's On The Papa John's Menu?
The Papa John's menu focuses on a wide variety of pizzas.  Try Papa John's signature pizzas, or check out the variety of subs, salads, and pastas on their menu.  Their menu offerings stack up pretty similarly to their biggest national competitors, like Domino's and Pizza Hut.  Plus, there's options like a Double Chocolate Chip Brownie available for dessert!  For the full menu, click here for the Papa John's Menu page.
Is There A Papa John's Near Me?
There are about 5,400 Papa John's locations worldwide, but mostly in the United States.  They got their start in Indiana from founder "Papa" John Schnatter.  They're all over the place.  You can find Papa John's locations near you at: Papa John's Near Me
What Are Papa John's Hours?
Most Papa John's are open from 10 am – 10 pm every day, but times can vary.   They might stay open a little later on weekends depending on the location.  To find the hours, address and more details for your local Papa John's, select your location from: Papa Johns Near Me and click on a particular location for more details, like hours of operation.
Does Papa John's Deliver?
Papa John's offers delivery when you order directly on its website.  They've been in the delivery game for a looooooong time.  To start a Papa John's delivery order visit their website here.
What's Papa John's Nutrition Like?
Papa John's lists food allergen and ingredients information on their website.  To view the ingredients and allergen content, click here for the Papa John's Nutrition page.
How Can I Buy Papa John's Gift Cards?
A Papa John's gift card is always a popular item for online shopping.  Looking for one?  Visit the Papa John's official website here and add one to your shopping cart.  Sometimes, there are Papa Johns coupons that give you great discounts on a gift card purchase.  The special offer usually comes around during the springtime and holiday season, like Black Friday and Cyber Monday.  Gift cards have no cash value, but don't have an expiration date generally.
More Restaurant Daily Deals
Daily deals for all days of the week can be found here:
For more daily and weekly restaurant specials like these, see:  Restaurant Daily Deals