Get a $5.50 Pork Big Deal with a side and drink, or a $10 Pork and Rib Combo at Sonny's BBQ on Wednesdays in May. Sonny's sent this message with the offers.
Sonny's has about 96 locations.
Sonny's BBQ Specials
Grab a rack of St. Louis Ribs with two sides and bread for just $15.99 at Sonny's BBQ for a limited time. If you're dining in, go for all-you-can-eat ribs for $5 more! Loosen that belt a notch or two and get to work. Sonny's has the details of the special up on its website.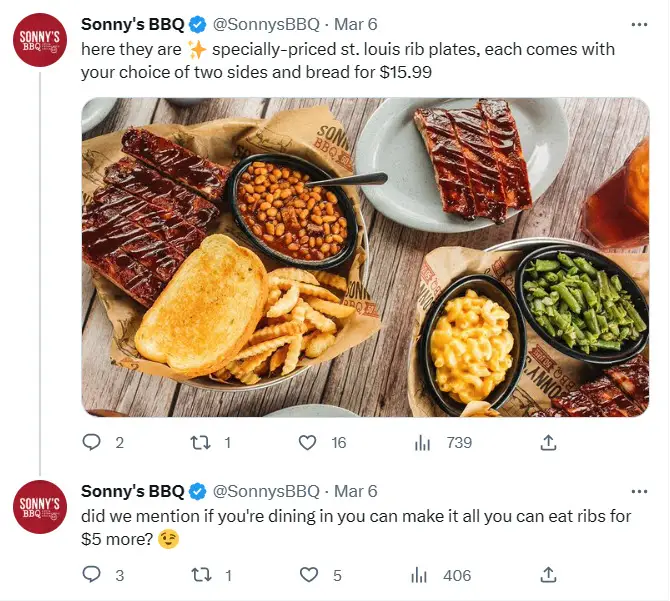 Family Feasts at Sonny's BBQ
Sonny's BBQ is offering a Family Feast for $59.99 and more family meals.
The Family Feast feeds 4 people and includes: Pulled Pork, Sliced Brisket, BBQ Chicken and Sweet & Smokey St. Louis Ribs, plus BBQ beans, coleslaw, crinkle-cut fries, cornbread and four sweet teas. Serves four.
You can find all the Family Meals and more on the Sonny's BBQ Specials page.
Sonny's Rewards Program
Get a coupon for $5 off and more deals when you sign up for the Sonny's BBQ 'Q Crew Rewards program.
Sign up and get $5 off welcome gift which you can use right away. Plus, get a coupon for another free offer on your birthday, such as a free combo meal.
To enroll and get more details, visit the 'Q Crew Rewards page.
Want More BBQ?
If barbeque is your jam, check out our article on City Barbeque for more deals hot off the grill.
What's on the Menu at Sonny's BBQ?
As the restaurant's name implies, Sonny's BBQ is famous for its barbeque. Sonny's slow smokes its meats in-house, infusing them with smoky flavor and fall-off-the-bone tenderness. Choose from ribs, pulled or sliced pork, chicken, beef brisket, and more. Or top off your favorite salad with a helping of barbeque.
Most entrées are served with your choice of Southern-style sides like BBQ beans, mac & cheese, coleslaw, and tater tots. Put a bow on your meal with the down-home taste of banana pudding–or cinnamon sugar donut holes with a side of Signature Sweet Tea glaze.