Sonny's BBQ is offering a "Family Meal Deal" for $29.99 for a limited time. This deal feeds 3-4 people and includes:  One whole chicken, one pound of pulled or sliced pork, three Sidekicks (BBQ beans, coleslaw, potato salad, green beans, mac & cheese) and four pieces of bread.  You can also add a rack of St. Louis Ribs for $12.  Sonny's BBQ posted the deal on their website.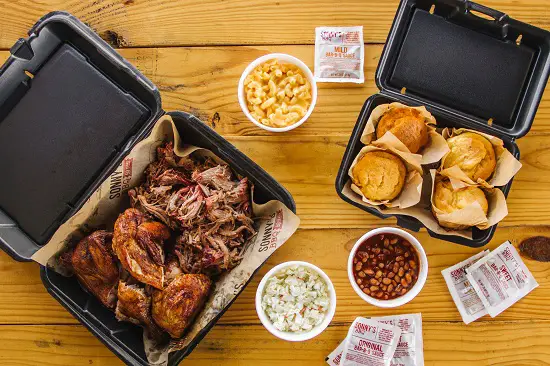 If you need more, try the Grab and Go Kit for $47.99.  This lets you have your own BBQ feast at home, with 2 lbs of Pulled or Sliced Pork, 6 buns, 4 pint Sidekicks and a full rack of Sweet & Smokey or House Dry-Rubbed St. Louis Ribs.
Looking for more Takeout and Delivery Deals?  Click here to go to our EatDrinkDeals Takeout and Delivery Category – or you can find it in our menu at the top of the page!
All You Can Eat Chicken Sundays
Sonny's BBQ has All You Can Eat Chicken every Sunday.  Get all you can eat chicken plus two Sidekicks and choice of bread.
Available for a limited time only.  Sonny's announced the special on the Sonny's BBQ Promotions page.
Looking for more Sunday deals or deals for other days of the week at your favorite restaurants?
Daily deals for all days of the week can be found here:
Sonny's Rewards Program
Get a coupon for $5 off and more deals when you sign up for the Sonny's BBQ rewards program.
Sign up and get $5 off welcome gift which you can use right away, plus on your birthday get a coupon for another free offer, such as a free combo meal.
To enroll and get more details, visit:   Sonny's BBQ Rewards
About Sonny's BBQ (from Wikipedia)
Sonny's BBQ is a barbecue restaurant chain founded by Floyd "Sonny" Tillman in Gainesville, Florida in 1968. Bob Yarmuth purchased the company in 1991 and continues as the company's owner and CEO today. Sonny's BBQ now has 113 restaurants across nine Southeastern states and is headquartered in Maitland, Florida. The restaurant specializes in Southern-style BBQ.
Sonny's BBQ menu has Southern style barbecue including pulled pork, sliced pork, baby back ribs, buffalo wings, St. Louis style ribs, and beef brisket; along with burgers, appetizers and sides.
Sonny Tillman's birthday is celebrated as a special event by the restaurant each August 14.  Events held by Sonny's include its Random Acts of BBQ events, where individual restaurants provide a BBQ feast for community volunteers and volunteer organizations.  The company named October 12 as National Pulled Pork Day beginning in 2016, which is celebrated at all Sonny's locations.
Click here for the Sonny's BBQ Home Page