Sign up for McAlister's Rewards and get points towards free food, get free tea when you refer a friend, and more deals.  Click here to visit the McAlister's Rewards page and sign up.
What's On The McAlister's Deli Menu?
McAlister's Deli is a deli.  You can tell that right there in the name.  So, you've got choices like a wide variety of sandwiches, soups, and salads.  Fan favorites include the McAlister's Club, the Harvest Chicken, and the Reuben.  One signature item you won't find many other places is th Giant Spud – a baked potato loaded with all kinds of toppings.  There's the Spud Max with Ham, Turkey, Bacon, cheese and other toppings, and other creations like the Chipotle Chicken and Bacon Spud.  And don't sleep on McAlister's Famous Sweet Tea, which is available by the glass or by the gallon for those who crave it at home.  For the full current menu, click here for the McAlister's Menu page.
Annual Free Tea Day At McAlister's Every July
McAlister's is famous for their Iced Tea and has a Free Tea Day every year.  This year's Free Tea Day is July 20, 2023. McAlister's announced the event on Facebook.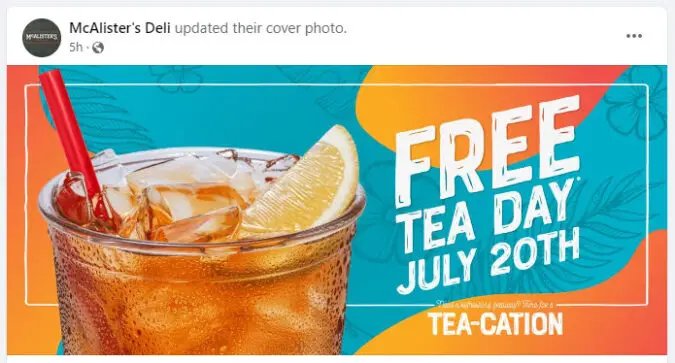 Is There A McAlister's Deli Near Me?
There are approximately 350 McAlister's Deli locations in the United States.  You can find your local McAlister's Deli restaurant at: McAlister's Deli Near Me
What Are McAlister's Deli's Hours?
Most McAlisters open around 10 – 10:30 AM but times can vary.  They usually close around 8 – 9 pm, but may stay open until 10 or 11 pm on weekends or in busier locations.  They're not a typical late night place, though.  To find the hours, address and more details for your local spot, select your location from the McAlister's Deli Near Me.
Does McAlister's Have Delivery?
McAlisters Deli offers delivery through its third-party delivery partners like Doordash and Uber Eats.  Usually there is a delivery fee of $4 – $5.  To start a McAlister's delivery order, visit:  McAlisters Delivery
Where Do I Find McAlister's Nutritional Information?
McAlisters Deli lists food allergen and nutritional information in their online and app menus.  To view the nutritional content of any menu item, click here for the McAlister's Nutritional Calculator page.
When you start an online or order, you can make modifications to the menu ingredients online; when ordering at the restaurant, you just ask your server your meal exactly the way you want it.
Does McAlister's Sell Gift Cards?
McAlister's Deli gift cards are a popular item for online shopping.  Looking for one?  Visit the McAlister's Deli official website here and add one to your shopping cart.  Sometimes, there are McAlisters coupons that give you an extra discount on a gift card purchase.  The special offer usually comes around during the springtime and holiday season, like Black Friday and Cyber Monday.  We'll keep you posted when a deal comes up!