Taco Bueno has Party Tacos or Party Burritos for only $1 each for a limited time. Also, their daily specials include buy one, get one free offers on most days.
Party Tacos and Burritos For $1
Taco Bueno has Party Tacos and Burritos starting at $1. You can find the deal on the Taco Bueno home page and Facebook page.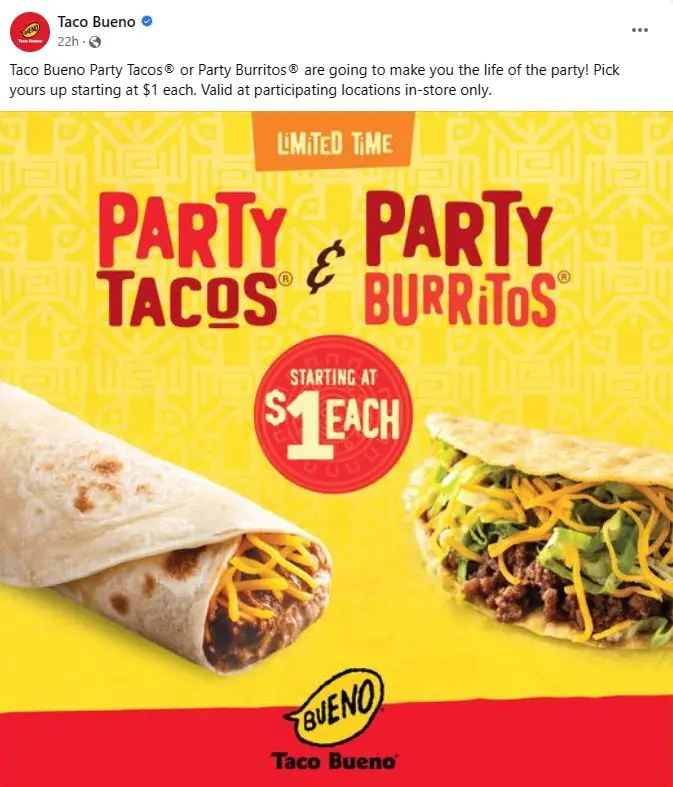 Taco Bueno Daily Specials
Taco Bueno has daily specials on most days.
On Mondays, buy 1 Muchaco and get 1 free.
On Tuesdays, get a Taco Platter for $2.99.
Wednesdays mean you can get a Wholotta Box for $12.  That's 12 Party Tacos or Party Burritos, 4 bags of chips, 1 large salsa, 2 sides of Mexican rice and 2 sides of beans.  Taco Bueno announced the offer in a Facebook post.
On Thursdays, get Party Tacos for 59 cents.
On Fridays, get $2 off a Bueno Bundle, which is a mix and match of 10 tacos/burritos.
Below are the announcements on the Taco Bueno Facebook page.
Bueno Under a Buck Menu
Taco Bueno has a "Bueno Under a Buck" menu featuring tacos and burritos.
Choose from:  Party Taco, Party Burrito, Party Quesadilla, Party Tostada, Party Nachos, or a Taco Cup, all for $1 and under.
Taco Bueno announced the special at  https://www.tacobueno.com/food/.
Taco Bueno's Menu
Visit our Taco Bueno Menu page here to browse what's available, along with sample pricing based on our experience checking several locations.
About Taco Bueno
aco Bueno is a fast-food restaurant chain that specializes in Tex-Mex cuisine. The first Taco Bueno location opened in Abilene, Texas in 1967. It now has 180 locations throughout the U.S. They mainly focus on the Southwestern part of the country.
Taco Bueno's menu features a variety of Tex-Mex dishes, including tacos, burritos, nachos, quesadillas, and fajitas. They use fresh ingredients, such as hand-rolled tortillas and freshly grated cheese, to prepare their dishes. The restaurant also offers a selection of sides and drinks, including their signature "Big Freakin' Drinks" in flavors like cherry limeade and strawberry lemonade. Taco Bueno strives for affordable prices and fast service, with most locations offering drive-thru service. The Bueno Under A Buck menu offers a lot of low cost options. They also have a loyalty program called "Buenoheads," which offers exclusive deals, discounts, and birthday rewards.