Torchy's Tacos has Family Packs to-go or for delivery to feed 4-5 people ranging from $25 – $30.  Choices of entrees include Pork Carnitas, Chicken or Beef Fajitas, and more, and come with your choice of tortillas (flour, corn or combo), 8 oz sides of rice and beans and homemade chips.  Go big and add a Margarita Kit and a large order of Chips and Queso to get the Weekender Bundles for $70 – $75 and kick things up a notch!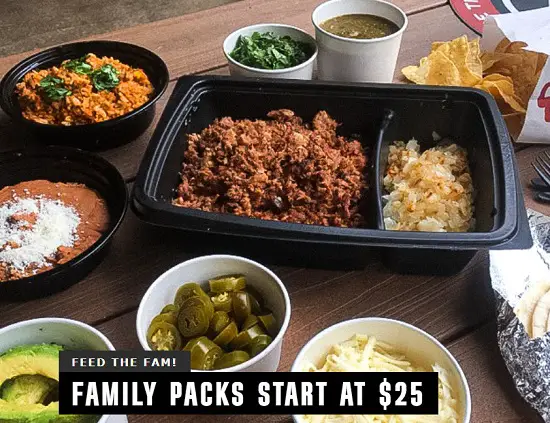 For the full menu options available and to place an order online, click here for the Torchy's Tacos website.
Looking for more Takeout and Delivery Deals?  Click here to go to our EatDrinkDeals Takeout and Delivery Category – or you can find it in our menu at the top of the page!
Happy Hour Specials
* Note that bar hours may vary or be closed depending on location due to coronavirus. Check with your local Torchy's about bar availability and Happy Hour!  However – you can still order Margarita or Bloody Mary Kits and more for at home drinking – click here to learn more!
Torchy's Tacos has weekday Happy Hour specials from 3-6 pm and also drink deals all day Saturday and Sunday.
On weekdays from 3 – 6 pm, get $2 off all margaritas and Signature Sips, and $1.50 off all drafts and bottles of beer.  On weekends all day, get Sangrias, Bloody Marys, Mimosas and Tequila Sunrises for just $3.50 apiece.  Torchy's has their Happy Hour menu posted online here.
Interested in other Happy Hours from other restaurants?  Click here and take a look at the EatDrinkDeals Happy Hour section!
Torchy's Tacos is a Tacos and bar chain found in Austin, Texas.  It's got around 60 locations in Arkansas, Colorado, Louisiana, Missouri, Oklahoma and Texas.  Torchy's dedication to making high-quality, cooked-to-order, Damn Good tacos remains the same.  Their commitment to top-notch ingredients is found each location. To serve up the best of the best, Torchy's focuses on developing partnerships around the world to responsibly source the finest ingredients.   Torchy's thanks the environment by only stocking napkins, cups and cutlery made from 100% renewable resources.  Plus, the used cooking oil is turned into fuel for cars.