Which Wich rewards members can get $25 off a $100 catering order every day in November.
Now through November 30, 2019, log into your rewards account and place an online order, or give your rewards account information in-store, and get $25 off a catering order of $100 or more. Which Wich announced the special on their Home Page and on Facebook.
*Offer valid at participating locations. Offer redeemable for $25 off your catering order of $100 or more. User must be logged into their online ordering account to redeem this offer online or provide their Vibe Club rewards account in-store. Limit one per customer. Not valid with any others offers. Expires 11/30/19.
You can find more information about Which Wich? on their official website: http://www.whichwich.com/
Which Wich Rewards
Get a Which Wich coupon for a free drink and other deals when you enroll in their rewards program.
CLICK HERE to enroll in the Which Wich Vibe Club.  You'll need to provide your name, birthday, email and phone number.
You'll get a free drink just for joining, a free 7" wich on your birthday, and the potential for other random freebies, special promotions, or even cash giveaways.  Also get a free 7″ wich after you've earned 35 points.  You can either provide your rewards card or mobile number at check out to earn points for your purchase. To learn more about ways to earn points see How To Earn Points.
You can find more information about Which Wich? on their official website: http://www.whichwich.com/
About Which Wich? (from Wikipedia)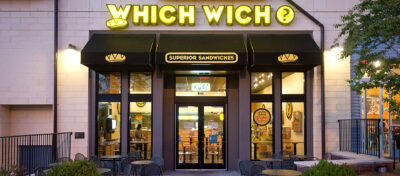 Which Wich? is a fast casual sandwich chain with its headquarters in Downtown Dallas, Texas.Founded by restaurateur Jeff Sinelli in 2003, Which Wich? began with one location in downtown Dallas. It began franchising in 2005.
As of December 2016, it has 404 locations open in 36 U.S. states as well as the District of Columbia, along with 27 international locations in Bahrain, Guatemala, Kuwait, Mexico, Oman, Panama, Qatar, Saudi Arabia, and the United Arab Emirates.
Which Wich is known for its ordering system, in which customers use red sharpies to mark up pre-printed menus on sandwich bags. They select a sandwich from 10 categories, then choose the bread, cheese, spreads, and toppings. The sandwiches are then prepared, and delivered in the personalized sandwich bags. Guests are encouraged to draw on their bags using red Sharpies and hang their "artwork" on the community wall.
Which Wich sells customizable submarine sandwiches it calls "Wiches". There are ten categories and 60 topping options. Sandwiches come in small (7 inch), medium (10.5 inch) and large (14 inch) sizes.