Get artisan cheeses for half price as Whole Foods celebrates its annual 12 Days of Cheese today through December 23, 2018.
Get half off a different cheese each day from Dec. 12 through Dec. 23, including award winners from across the world. Each of the selected cheeses will be 50 percent off for one day only during the 12-day period. Prime members can also enjoy an additional 10 percent off the discounted price of each day of cheese.
"Our team is extremely excited to share the cheeses we've identified for this holiday season with our shoppers," said Whole Foods Market's Global Executive Coordinator of Specialty and Product Innovation & Development, Cathy Strange. "We've curated a diverse and innovative selection, including several world champion cheeses and a few exclusive cheeses you can only get at your local Whole Foods Market. The 12 Days of Cheese is truly a celebration of our favorite cheeses and they will each be available at an incredible value for one day only!"

The featured cheeses include:
Dec. 12: Klare Melk Truffle Gouda

Exquisite, rich and flavorful raw milk gouda laced generously with truffles!

Dec. 13: Esquirrou Petit Ossau-Iraty

Awarded the international title for best cheese at the World Championship Cheese contest (will hold this title through 2020), this French cheese features rich nutty notes.

Dec. 14: Kaltbach Cave Aged Le Gruyère

Robust and deeply full-flavored with rich tones of tangy fruit and classic nuttiness make this Swiss cheese perfect for fondue, paired with apple pie, potatoes or roasted meats.

Dec. 15: Vermont Creamery Bijou

French for "jewel," Bijou is the perfect name for this small, geotrichum-rinded beauty featuring light citrus fruit forward flavors with a hint of nuts on the finish.

Dec. 16: Mons Camembert

This delicate, slightly salty, yet smooth and earthy cheese was selected exclusively for Whole Foods Market from one of the most respected affineurs in France.

Dec. 17: Neal's Yard Dairy Keen's Cheddar

This protected designation of origin (PDO) recognized raw milk farm-house Cheddar comes from one of only three traditional producers remaining in the UK, boasting a dense yet creamy texture and complex flavors ranging from brothy to spicy.

Dec. 18: Cypress Grove Humboldt Fog

Conceived in a dream by founder Mary Keehn, this delicious American original cheese paved the way for soft-ripened goat cheese in America.

Dec. 19: Uplands Cheese Company Pleasant Ridge Reserve

Modeled on the French classic cheese Beaufort, this raw milk cheese is only produced May through October and is the only cheese to win Best in Show at the American Cheese Society three times, featuring sweetness ranging from grassy to butterscotch and fruit.

Dec. 20: Saxon Creamery Hika Bay

This exclusive to Whole Foods Market Wisconsin cheese was named as one of the top 16 cheeses in the world (selected from 3,401 cheeses), carefully aged the cheese is smooth and creamy with amazing texture.

Dec. 21: Rogue Creamery Organic Enraptured Blue

Exclusive to Whole Foods Market, this decadent blue is soaked in a blend of biodynamic Merlot, Syrah and Zinfandel from the Frey Vineyards giving the cheese rich and buttery flavors with notes of currants and berries.

Dec. 22: Mitica Drunken Goat

Made from the milk of Murciana goats and soaked for 3 days in Monastrell wine, both the cheese and wine are typical to this region of Spain, this mild and creamy goat cheese is well balanced and perfect for entertaining.

Dec. 23: Cellars at Jasper Hill Kombucha Willoughby

Vermont classic reflects the terroir with its succulent, buttery and aromatic components.  The cheese is complex from first taste with subtle undertones of buttermilk and fruit.  This year's Willoughby is washed with organic Dr. Kombucha Love produced in Oregon, adding notes of jasmine & lavender.
These distinctive cheeses were chosen by Whole Foods Market's global experts in collaboration with the company's Certified Cheese Professionals. This highly trained group has been certified by the American Cheese Society for their expertise in cheese storage and handling, nutrition, distribution, raw materials, the ripening process, the making process, and on categories and types of cheeses.
Shoppers are encouraged to stop by their local Whole Foods Market to sample these new and adventurous cheeses they may not have experienced before. Certified Cheese Professionals and Cheesemongers are available to answer any questions guests may have about the cheeses, from tips for building a cheese board, to food and beverage pairing suggestions.
The chain announced the deal on the Whole Foods News Page.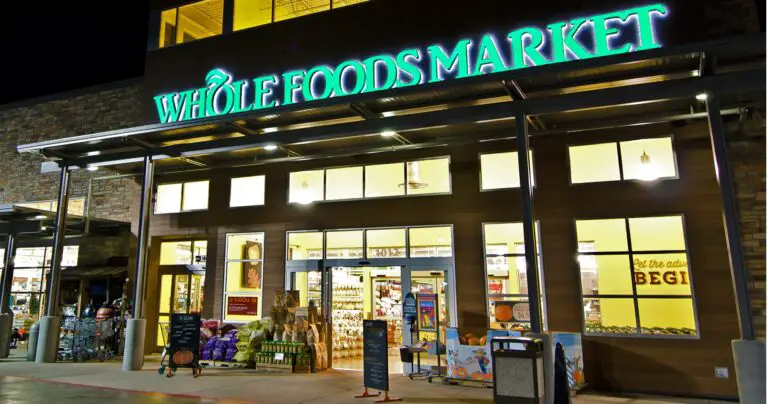 About Whole Foods Market (from Wikipedia)
Whole Foods Market Inc. is an American supermarket chain exclusively featuring foods without artificial preservatives, colors, flavors, sweeteners, and hydrogenated fats.
On June 15, 2017, Amazon.com announced it would acquire Whole Foods Market, adding 400 physical stores to Amazon's e-commerce assets.