Get 20% off a catering order with this Bruegger's Bagels promo code good now through September 15, 2019.  Or get a free Snapple with a sandwich order.
Use promo code BACKTOSCHOOL to get a 20% discount on your order of $100 or more. Good for pickup or delivery orders. Bruegger's announced the catering special on the Bruegger's Home Page.
Use promo code GIFTFORME to get a $20 Amazon Gift Card with a $200 catering order.  Good for pickup or delivery orders.  This isn't as good as the BACKTOSCHOOL code, but it is valid through September 30, 2019.  Bruegger's announced the code in this email to customers.
Bruegger's Email Coupon
Get a Bruegger's Bagels coupon for a free Bagel and Cream Cheese when you enroll in their email club.
CLICK HERE to enroll.  Bruegger's will email you a coupon right away for a free Bagel and Cream Cheese, plus other coupons throughout the year.
About Bruegger's (from Wikipedia)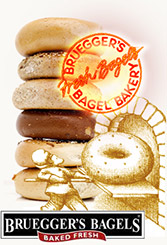 Bruegger's brand restaurants serve bagels, breads, coffee, specialty drinks, soups, salads, sandwiches, wraps, paninis, desserts, fresh fruit and a large variety of other related items.
They produce approximately 70 million bagels each year, and are the holders of the Guinness World Record for producing the world's largest bagel.  Bruegger's operates approximately 300 restaurants in 26 states, the District of Columbia and Canada.
Bruegger's offers bagels, coffee blends, specialty sandwiches, paninis, salads, carb-friendly wraps, deli style sandwiches, soups, desserts and original cream cheese in an assortment of flavors.
Bruegger's is best known for its best-selling product, a variety of authentic New York-style, water-boiled bagels that are baked fresh and served hot.  The bagels come in a variety of 17 different base flavors and in seasonal varieties.  Many Bruegger's bakeries feature viewing areas where customers can see how the bagels are made.
Bruegger's recently announced that it is being acquired by Minneapolis-based Caribou Coffee.