Get a free cup of yogurt and a birthday treat when you sign up for Yogurtland's Rewards program.
Get a three-ounce cup of yogurt immediately after you sign up.  Then get a special treat on your birthday plus rewards points for every purchase you make.
You can sign up here:  Yogurtland Rewards.
More Fast Food Coupons
Looking for other specials from Fast Food Restaurants for a cheap meal on the go?  Click here to visit our EatDrinkDeals Fast Food Coupon, Specials and Deals section!
About Yogurtland (from Wikipedia)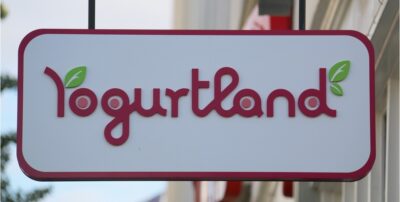 Yogurtland is an American international franchise chain of frozen yogurt restaurants headquartered in  Irvine, California. Yogurtland provides self-serve soft-serve frozen yogurt with active cultures. Yogurtland has stores in twenty states in the United States and also several other countries.
At any time, Yogurtland stores have up to 16 flavors of soft-serve frozen yogurt.  Customers may mix and combine flavors in their cups by pulling on spigots that control the yogurt containers. Additionally, 33 toppings, including chocolate bits, Oreo, fresh-cut fruits, nuts, and syrups are available. At any given time, there are many low-fat and non-fat flavors available. Each location tries to provide at least one tart flavor, as well as one dairy-free flavor, which is popular for people who are lactose intolerant. Also, some flavors are even gluten-free. Products are sold for 30-49 cents per ounce.  In Hawaii and Alaska, the products are sold at 42 cents and 45 cents per ounce, respectively. Their current slogan, "get real," refers to the real milk and fresh-cut fruit that is used in making the yogurt, and real toppings.
As of January 2018, Yogurtland has 326 locations.