Get 25% off an order of $25 or more with a Papa Murphy's Pizza promo code valid on football game days!  Click here to start an online order, and use promo code GAME22 for the deal. Papa Murphy's sent this email with the promo code.  In previous seasons, the promo code was valid on Saturdays and Sundays during the college and NFL football seasons.  We'll keep you posted on any updates.
*Offer valid on PapaMurphys.com delivery orders of $25 or more (before fees, taxes and gratuities) where available for a limited time only. Cannot be combined with other offers. Cart minimum excludes FAVES , XLNY , Specials, Tuesday and Friday pizza deals and gift card purchase/reload. Deliveries subject to availability.
Papa Murphy's also has Medium 2 Topping Pizzas for $6.99 every day.  On Tuesdays get large pizzas for $10.
Papa Murphy's $6.99 Medium Pizza Deal
For a limited time, get Medium 2 Topping Pizzas from Papa Murphy's for $6.99 apiece.  No limit!  We spotted the deal on the Papa Murphy's online ordering page and on Facebook.
You should find this Papa Murphy's deal in the Classics and Specials section near the top.  The price is $10.99 in Alaska and Hawaii.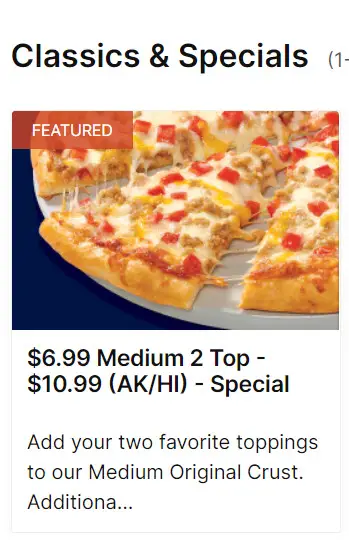 Papa Murphy's Pizza also has discount codes for a $10.99 special for any pizza on Tuesdays, and a $5.99 Large Thin Crust pizzas on Fridays.
Papa Murphy $10 Tuesdays
On Tuesdays, Papa Murphy's has large pizzas for $10 (higher in some markets).
Get any Large pizza for just $10 or upgrade to a Family for just $3 more. The final discounted price will appear at payment.  To get the deal, order a "Create Your Own Pizza" then select a large pizza (14 inches) and add up to 5 toppings.  You should see the $10 price.  Or select Family size for $13.
*Offer available at participating locations on Tuesday only. In-store Family Size prices may vary. Includes Signature, Gourmet Delite®, Fresh Pan, Stuffed or Create Your Own pizza up to 5 toppings; topping additions to recipe pizzas will result in additional charges. Not valid on dairy-free cheese pizzas.
Papa Murphy's Friday Special
Papa Murphy's has $5.99 large pizzas on Fridays at select locations.  To find the deal or see if it is good at your Papa Murphy's:
1. Select your location by clicking here 2. Click Begin Order 3. Scroll down to Classics & Specials.  Look for the $5.99 Large Thin Cheese, Pepperoni or Sausage pizza.
More Papa Murphy's Pizza Specials
Papa Murphy's Pizza has every day specials at some locations. You can find your local Papa Murphy's specials as follows:
Start from the Papa Murphy's home page, then click View Menus, then select your location, click Order, then click Classics & Specials.
Papa Murphy's MySLICE Rewards
Join MySLICE Rewards and get access to the latest deals.  Click here to join MySLICE Rewards.  You'll earn points towards free food on regular price items on a qualifying visit, and also be able to access members-only exclusive deals, sneak peeks, national deals, and local happenings for extra savings.  You'll just need an email address and phone number to get started for your next order.
Papa Murphy's Coupons and Promo Codes
There are sometimes other Papa Murphy's coupon codes, but they'll only be usable for specific locations or areas.  Local franchisees will also send out printable coupons, too.  Our policy is to only publish Papa Murphy's coupons that are widely available to avoid disappointing our users.  When a sweet Papa Murphy's discount code is nationally available and from verifiable sources, we will post it here, so you only pay the best price for your favorite food!
What's On The Papa Murphy's Menu?
The Papa Murphy's Pizza has one big difference – it's "Take 'N' Bake" style.  You'll pick up your pizza and take it home to cook in your oven for 15-20 minutes. This way, it's guaranteed to be the made with the freshest ingredients.  Papa Murphy's often has more imaginative topping combinations that other national competitors.  One fan favorite pizza is the Chicken Bacon Artichoke.  The Buffalo Ranch Chicken is also quite popular.  Other popular menu items are their scratch-made cheesy bread and freshly made cookie dough.  Grab a fresh pan and fire up that oven!
For instructions on baking your pizza see: Papa Murphy's Baking Instructions.  For instructions on how to grill your delicious pizza, see:   Papa Murphy's Grilled Pizza Instructions  
Is There A Papa Murphy's Near Me?
There are over 1,300 Papa Murphy's locations in the United States and Canada.  Where's a Papa Murphy's near you?  Click here to find your local Papa Murphy's using the Papa Murphy's store locator. 
What Are Papa Murphy's Hours?
Most Papa Murphy's open around 11 am.  They'll close around 8-9 pm, meaning they won't be open as late as other competitors.  They're not catering to the late night crowd.  To find the hours for your Papa Murphy's click here to use the Papa Murphy's store locator. 
Does Papa Murphy's Deliver?
It's not their bread and butter, but Papa Murphy's does now offer delivery of its fresh pizza at many locations.  To start a delivery order, click here and select "Delivery" on the type of order want
You can also place a delivery order through the Papa Murphy's Mobile App.  Click here for the Papa Murphy's App for iPhone and click here for the Papa Murphy's App on the Google Play Store.
Where Is Papa Murphy's Nutritional Information?
Papa Murphy's has a full set of nutritional and food allergen information on its website to help you find the healthier option for you.  To view the calorie counter, nutritional or allergen content, and ingredient information, click here for the Papa Murphy's Nutrition page.
Papa Murphy's does offer Gluten Free crusts in most locations, but only for medium size pizzas.
More from EatDrinkDeals
Want to get info on other deals, discounts, coupons and specials from your favorite restaurants?  Click here to see the latest and greatest from EatDrinkDeals!
More Restaurant Daily Deals
Daily deals for all days of the week can be found here:
For more daily and weekly restaurant specials like these, see:  Restaurant Daily Deals
If you're an AARP member, you can get every day discounts at Denny's, McCormick & Schmick's, Outback and more places.  You can find all the details in our story, AARP Dining Discounts.
Also, many restaurant chains such as Bob Evans, Outback Steakhouse, Zoe's Kitchen and more offer discounts to the active military and veterans.  Here's the EatDrinkDeals roundup, Restaurant Military and Veterans Discounts.