Papa Murphy's has a coupon code to get 25% off online orders of $20 or more on Sundays for a limited time. Click here to start an order and use promo code FBALL25 to get the discount. It should look like this at checkout when you've entered the code correctly: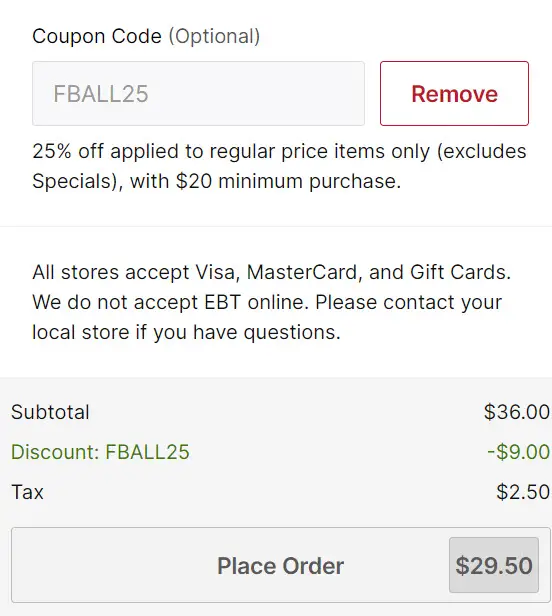 Papa Murphy's posted the deal on their Facebook page.
BOGO on Mondays
Get a BOGO on a large pizza with this Papa Murphy's coupon code good on most Mondays.
To find out if the deal is available at your local Papa Murphy's, visit the Papa Murphys Order Page, select your location, then click on the Classic & Specials tab on the left. For locations that are participating in the deal you will see:
Text/Email Club Deal – BOGO LG Cheese (Monday Only) and Text/Email Club Deal – BOGO LG Pepperoni (Monday Only)
Click on whichever offer you want (cheese or pepperoni), then click Add to Cart. Then go back to Classics & Specials and scroll down to Cheese or Pepperoni and add one to your cart. Then go to checkout and enter coupon code: BOGO on the checkout page. You should see the price of one pizza deducted from your total.
Papa Murphy's announced the special in This Email.
*Offer valid for one free Large Signature Cheese or Pepperoni Pizza on Original crust with online purchase of a Large or Family Size pizza on Mondays only. Qualifying purchase excludes Medium size pizzas, FAVES®, XLNY® and Friday pizza deals. No substitutions or additional toppings on free pizza. Available at participating locations for a limited time. Not valid with other offers. Limit 1.
Tuesday $10 Any Large
On Tuesdays, Papa Murphy's has large pizzas for $10 ($12 in some markets).
Get any Large pizza for just $10 or upgrade to a Family for just $2 more. The final discounted price will appear at payment. To get the deal, order a "Create Your Own Pizza" then select a large pizza and add up to 5 toppings. You should see the $10 price. Or select Family size for $12.
More Papa Murphy's Pizza Specials
Papa Murphy's Pizza has every day specials at some locations. You can find your local Papa Murphy's specials as follows:
Start from the Papa Murphy's home page, then click View Menus, then select your location, click Order, then click Classics & Specials.
Papa Murphy's Cooking Instructions
Papa Murphy's pizzas are take-and-bake. For instructions on baking your pizza see: Papa Murphy's Baking Instructions
For instructions on how to grill your pizza see: Papa Murphy's Grilled Pizza Instructions
More Pizza Coupons
For more deals like this including coupons and promo codes from Pizza Hut, Papa John's and Chuck E. Cheese, see the EatDrinkDeals Pizza Coupons page.