October is National Pizza Month. Rejoice! Papa Murphy's has a coupon code to get 30% off online orders of $20 or more to celebrate. Click here to start an order and use promo code PIZZA10 to get the discount. Take and bake, baby! Papa Murphy's posted the deal on their Facebook page.
BOGO on Mondays
Get a BOGO on a large pizza with this Papa Murphy's coupon code good on most Mondays.
To find out if the deal is available at your local Papa Murphy's, visit the Papa Murphys Order Page, select your location, then click on the Classic & Specials tab on the left. For locations that are participating in the deal you will see:
Text/Email Club Deal – BOGO LG Cheese (Monday Only) and Text/Email Club Deal – BOGO LG Pepperoni (Monday Only)
Click on whichever offer you want (cheese or pepperoni), then click Add to Cart. Then go back to Classics & Specials and scroll down to Cheese or Pepperoni and add one to your cart. Then go to checkout and enter coupon code: BOGO on the checkout page. You should see the price of one pizza deducted from your total.
Papa Murphy's announced the special in This Email.
*Offer valid for one free Large Signature Cheese or Pepperoni Pizza on Original crust with online purchase of a Large or Family Size pizza on Mondays only. Qualifying purchase excludes Medium size pizzas, FAVES®, XLNY® and Friday pizza deals. No substitutions or additional toppings on free pizza. Available at participating locations for a limited time. Not valid with other offers. Limit 1.
Tuesday $10 Any Large
On Tuesdays, Papa Murphy's has large pizzas for $10 ($12 in some markets).
Get any Large pizza for just $10 or upgrade to a Family for just $2 more. The final discounted price will appear at payment. To get the deal, order a "Create Your Own Pizza" then select a large pizza and add up to 5 toppings. You should see the $10 price. Or select Family size for $12.
More Papa Murphy's Pizza Specials
Papa Murphy's Pizza has every day specials at some locations. You can find your local Papa Murphy's specials as follows:
Start from the Papa Murphy's home page, then click View Menus, then select your location, click Order, then click Classics & Specials.
Papa Murphy's Cooking Instructions
Papa Murphy's pizzas are take-and-bake. For instructions on baking your pizza see: Papa Murphy's Baking Instructions
For instructions on how to grill your pizza see: Papa Murphy's Grilled Pizza Instructions
About Papa Murphy's Pizza (from Wikipedia)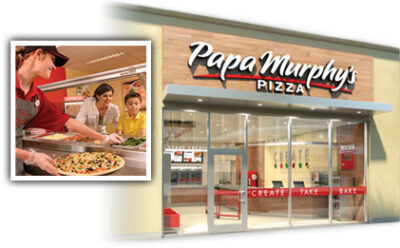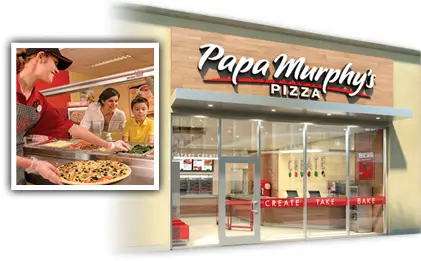 Papa Murphy's, a business based in Vancouver, WA, is a take-and-bake pizza company. Started in 1981 as Papa Aldo's Pizza and 1984 as Murphy's Pizza, the two chains merged in 1995. The company and its franchisees operate more than 1,300 outlets in the United States and Canada. Papa Murphy's is the fifth-largest pizza chain in the country.
Orders are available by walk-in or call-in and also online orders. Some stores have a drive-thru window where customers can pick up call-in orders. Unlike regular pizza establishments, the pizza is made at the store but is not baked there. Instead, consumers bake the pizzas at their houses. According to Nation's Restaurant News, take-and-bake pizzerias typically have lower costs because they require less restaurant space and equipment. As a result, they are often able to undercut the national pizza giants. Papa Murphy's also offers salads, chocolate chip cookie dough, cheesy bread, cinnamon wheels, smores dessert pizzas, soft drinks in various sizes, and in some locations, lasagnas and chicken wings.
There are currently over 1,400 stores in 37 states, plus fourteen more in Canada and three in Dubai, UAE. Nearly all of the stores are franchised.
More Pizza Coupons
For more deals like this including coupons and promo codes from Pizza Hut, Papa John's and Chuck E. Cheese, see the EatDrinkDeals Pizza Coupons page.