Beef 'O' Brady's has daily food specials including dinner deals on burgers, wings, and more, plus 10 entrees available for $10 apiece.
Daily Specials at Beef 'O' Brady's
A different deal is available every day of the weeks. Here's the lineup:
Monday: Build Your Own Burger (and Fries) $7.99
Tuesday: Taco Tuesday – $7.99 Two Tacos, Chips and Salsa. Plus, $3.49 Kids Meals all day.
Wednesday: Wing Wednesdays – Buy six, get six free Boneless Wings or buy ten, get ten free Boneless Wings. Or, enjoy $0.99 Traditional Wings.
Thursday: $10.99 Philly Cheesesteaks
Friday: Fish and Chips Fridays $10.99
Saturday and Sunday: Earn double Beef's Rewards points on every purchase you make on the weekend.
All the daily deals are posted on the Beef 'O' Brady's Specials website.
* Note: Some deals and prices may vary slightly by location. To get the specific information for your local Beef 'O' Brady's, click here to go to the Store Locator. Once you've located your store, click on the "@myBeefs" button to take you to the local page.
10 Entrees For $10 At Beef 'O' Brady's
Enjoy 10 entrees and combos for only $10 apiece at Beef 'O' Brady's. You can choose from the following:
Boom Boom Shrimp Tacos
Shrimp Po' Boy
Loaded Chicken Nachos
Big Catch Salad
Traditional Wings
The O' Brady Burger
Grilled Chicken Wrap
Hand-Breaded Tenders & Fried Shrimp
Fried Cod & Fried Shrimp
Boneless Wings & Fried Shrimp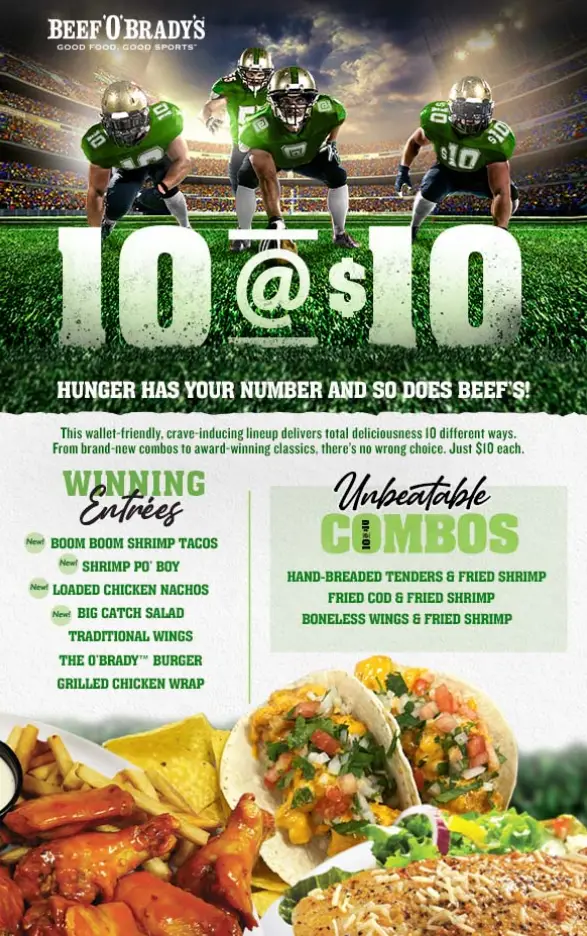 Join the Beef's Rewards program with your email address or download the app to get a coupon for a free appetizer. Plus, you'll get a $10 off coupon every time you accumulate 200 points ($200 of purchases). Click here to sign up, if only just for the free food.
What's on the Menu at Beef 'O' Brady's?
Beef 'O' Brady's is a family friendly sports bar chain. With the restaurant's wide range of delicious pub fare and array of TVs showing live sporting events, the casual atmosphere at Beef 'O' Brady's makes for a fun family outing.
Beef 'O' Brady's is best known for classic pub menu items like wings, burgers, and fish and chips. You can even "build your own" burger with customized toppings! Tasty tacos, salads, sandwiches, and desserts (Molten Chocolate Cake, anyone?) give the menu universal appeal.