Since the advent of the smartphone revolution about ten years ago, the world has changed at a drastic pace, and the restaurant industry is no exception.  Many restaurant chains large and small have launched their own apps to make dining more convenient and offer rewards for their loyal customers.  At EatDrinkDeals, we are committed to helping our users find the best restaurant value for their money, no matter where the deals may be found.  Therefore, we are starting a new series of reviews of restaurant apps.  Today we're headed to Chili's!
Visit the App Store to download for your iPhone or download the Android app here.
For info on Chili's menu specials and deals, click here for the EatDrinkDeals Chili's page!
Convenience and Reliability
To create an account, you sign up with your phone number and some basic info.  The app will let you place orders for carryout or their popular Curbside service.  Payments are made with any of the major credit cards.  To start your order, click "Order" at the bottom middle of the screen.  You'll need to have selected your location first.  The app defaults to your favorite location, but you can change your order spot when you click on the "Home" button at the bottom.  The location will be displayed at the top of the screen. Overall, the interface is crisp and includes convenient options like listing your favorites, and a Reorder button if you prefer.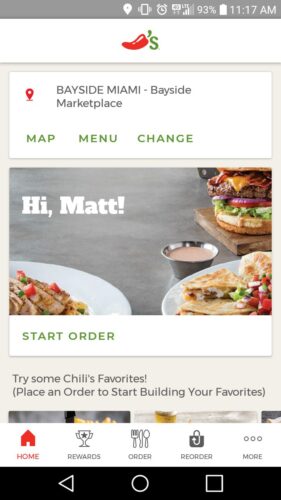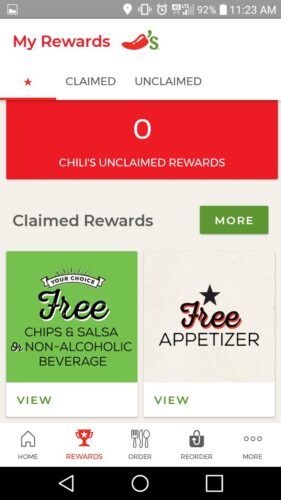 Rewards and Savings
The Rewards section clearly labels which deals are available.  Chili's encourage's you to visit the app frequently and claim rewards that are available.  Rewards can range from free kids meals, to appetizers, to desserts, and more.  For example, I had an offer for free chips and salsa when I opened the app, but I had to claim the other free appetizer deal to make it available.  If you enter your date of birth into your account profile, you'll also get a free dessert Reward made available.   Overall, these rewards are really good, and you don't have to jump through a lot of hoops to get to them.
Is Chili's one of the best restaurant apps to save your money?
7/10
The Chili's app is well constructed.  Ordering either pickup or curbside service is straightforward, with modern day conveniences like Favorites available.  Currently, only major credit cards are accepted, so those who prefer PayPal or other methods may be turned off by the lack of other options.  Chili's Rewards are worthwhile, offering freebies like appetizers and desserts, and don't require $100+ of points built up to become available.
Next up:  Subway