Since the advent of the smartphone revolution about ten years ago, the world has changed at a drastic pace, and the restaurant industry is no exception.  Many restaurant chains large and small have launched their own apps to make dining more convenient and offer rewards for their loyal customers.  At EatDrinkDeals, we are committed to helping our users find the best restaurant value for their money, no matter where the deals may be found.  Therefore, we are starting a new series of reviews of restaurant apps.  Today we review the Domino's Pizza app.
Visit the App Store to download for your iPhone or download the Android app here.
If you're interested in all the Domino's deals and specials, read our Domino's story here.
Convenience and Reliability
First things first, you set up your account after downloading the app.  You can set your order for pickup or delivery.  This app has a lot of great features.  You can set your order to pickup or be delivered later in the day, if you're planning ahead.  Also, there are a couple of features not seen with other pizza apps.  First, you can set up group notifications with the "Dinner Bell" feature to allow notifications and invite others to join you for pizza.  This is a convenient way to let your group know when it's time to eat!  Also, Domino's has "Hotspots" that make it easy to have pizza delivered to public places such as parks and beaches.  No more lengthy phone conversations when all you want is a pizza coming your way by the playground or poolside!
To start your order, pick Delivery, Carryout or Hotspots, then choose your location.  Domino's can find your location for you, or you can search by address.  You can pay with a debit or credit card when you checkout, or you can pay cash upon delivery.  You can save your go-to pizzas by saving any specific order as an Easy Order for future reference.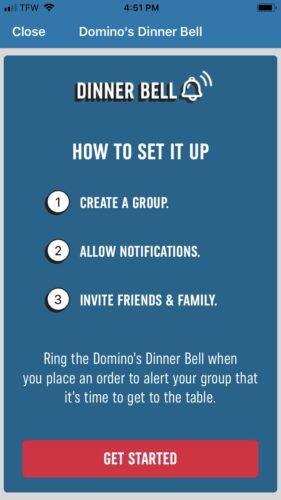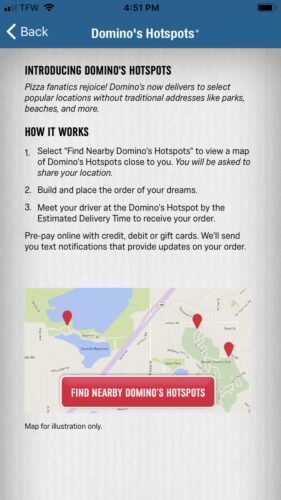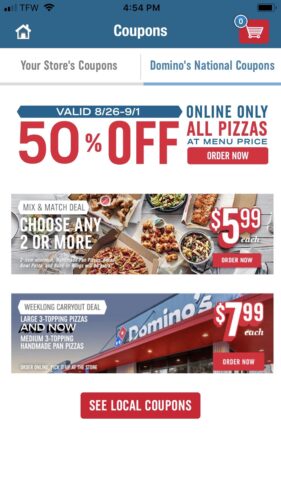 Once you've selected the pickup or delivery location, you can see the "Coupons" section prominently displayed at the top of the screen.  We like how Domino's makes it easy to get info on both nationwide promotions and coupons as well as local ones.  Other pizza restaurant apps fall short of this.  Domino's usually has strong promotions running at any given time, so as long as you are flexible on your order, you can get a good deal.
Rewards and Savings
Domino's rewards program is called Pie Rewards.  For every order of at least $10, you get 10 points.  For every 60 points you earn, you get a free medium 2 topping pizza.  You don't get more points for big orders, unfortunately.  However, if you're the type that's just getting one or two pizzas in a typical order, you do pretty well with Pie Rewards.  Full terms and conditions of the Pie Rewards program can be found here on the Domino's website.
Is Domino's Pizza one of the best restaurant apps to save your money?
9/10
Domino's has one of the best pizza apps out there, and one of the best apps overall really.  There are features that you won't find elsewhere like the Dinner Bell notifications and delivery to Hotspots.  The Pie Rewards program gives you a free pizza for every six orders, and the app makes it very convenient to access national and local coupons and specials.  For a national chain like Domino's, sometimes it can be difficult to know how to get the best deal, but the Coupons section of the app makes it far easier.
Next up:  ???