Get a 3-course meal for two for only $45.90 with the Bonefish Grill Dine & Discover menu now through May 28. You'll get to pick two entrees from seven available, two salads (House or Caesar) and one Key Lime Cake to share for dessert. The entree options are:
Grilled Bone-In Pork Chop
Mahi Mahi
Rainbow Trout
Atlantic Salmon
7 oz. Sirloin Steak
Lily's Chicken
Baja Scallop and Shrimp Pasta
For the full menu, click here for the Bonefish specials page.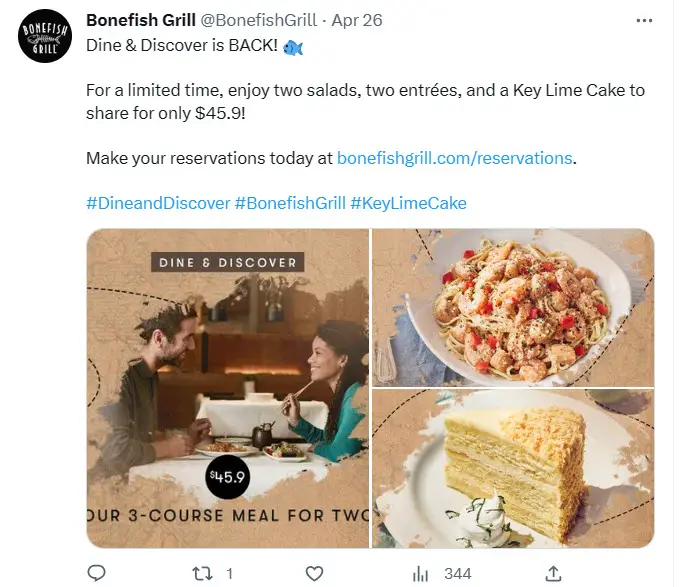 Also, enjoy an everyday Bonefish Grill Happy Hour with $6 cocktails and discounts on beer and wine.
Bonefish Grill Happy Hour
Bonefish Grill has an everyday Happy Hour with $6 cocktails and discounts on beer and wine.
Every day, including weekends, get special prices on a selection of handcrafted martinis and cocktails, mixed drinks, wines and draft beers. The Bonefish Grill Happy Hour begins at 4 pm daily; end times vary by location but 6:30 pm is a typical end time.
Bonefish Grill's Happy Hour Drink Specials include:
DRAFT BEERS $1 OFF
HOUSE WINES $5
SELECT SPIRITS $7 (Single Liquor Mixed Drinks) Absolut, Tito's, Bacardi, Dewar's, Jack Daniel's, Maker's Mark, New Amsterdam
Bonefish Grill's happy hour menu is available only in the bar area, while drink specials may be available throughout the restaurant. For more information on happy hour prices and the happy hour bar bites menu, visit   https://www.bonefishgrill.com/bar-menu/happy-hour
*Prices, product availability, participation and hours may vary by location. Drink specials not valid in Indiana, Oklahoma, Massachusetts, North Carolina and Gwinnett and Fulton County, GA.

Bonefish Sunday Brunch Returns
Sunday Brunch is back on at Bonefish Grill, featuring shareable pitchers of cocktails and special entrees. The full menu is available, too. The Shareable Pitchers can be with Blackberry Red Sangria, Sparkling Mango White Sangria or Margaritas. You can also get individual cocktails like Mimosas and Bloody Marys.
The featured brunch entrees include:
Bacon and Cheddar Frittata: an egg souffle topped with melted cheddar cheese and bacon.
Caprese Frittata: an egg souffle with blistered tomatoes and mozzarella fondue, topped with fresh pesto.
Crab and Fontina Cheese Frittata: an egg souffle topped with creamy Fontina cheese and lump crab meat.
Grand Marnier French Toast Sticks: served with fresh whipped cream, strawberries, bacon, and some maple syrup.
Bonefish Grill Menu
If you want to browse around, visit our Bonefish Grill menu page here. Or, visit their website here.
Bonefish Grill Near Me
There are nearly 200 Bonefish Grill locations in the U.S. in most states.  You can find Bonefish Grill locations near you at: Bonefish Grill Near Me
Bonefish Grill Hours
Most Bonefish Grills are open from 11 am – 9 or 10 pm every day, but times can vary.  This is a great spot for a casual business lunch all the way up to a formal anniversary celebration.  You can get a great deal on some drinks during Bonefish Grill's Happy Hour, too.  Enjoy premium cocktails like a Raspberry Vodka Collins or Tropical Tiki Martini, or keep it simple with a beer or glass of wine.  Happy hour times vary, but are normally around 4 – 6:30 pm on weekdays.
To find the hours, address and more details for your local Bonefish Grill, select your location from: Bonefish Grill Near Me and click on a particular location for more details, like hours of operation.
Bonefish Grill Nutrition
Bonefish Grill lists food allergen and ingredients information on their website.  To view the ingredients and allergen content, click here for the Bonefish Grill Nutrition page.
Bonefish Grill AARP Discount
Bonefish Grill offers 10% off to AARP members every day.  Discount is good for your entire check (some restrictions apply).
To receive your 10% discount, just show your valid AARP membership card during dinner, lunch or Sunday brunch at any Bonefish Grill restaurant location.
AARP discount is not good with Bonefish coupons or other offers. More details at the AARP Discount site.
Find other restaurant discounts in our story,  AARP Restaurant Discounts
Bonefish Military Discount
Bonefish Grill offers a 10% heroes discount every day.  Servicemen and women, police officers and firefighters, retired veterans can get 10% off their entire check by showing their ID.
Discount does not apply to alcohol and other items noted below.  For more details visit:  Bonefish Heroes Discount