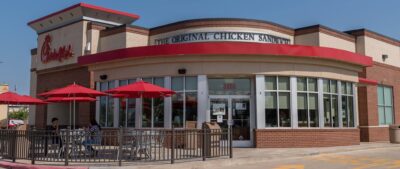 Ah, Chick-Fil-A, the breakfast oasis we've all come to know and crave first thing in the morning. Waking up early has never been so easy, knowing that a delicious treat awaits us. But, with so many mouth-watering options, it's a daunting task to choose the one that will truly start our day off on the right foot, or rather, with the right taste bud. Fear not, fellow food lovers, for we have explored the vast world of Chick-Fil-A breakfast items and found the absolute best ones.
Now, you might be saying, "But wait, how can you possibly know which breakfast item truly reigns supreme?" Well, we've conducted a serious investigation, tirelessly sampling and savoring every possible breakfast offering at Chick-Fil-A (yes, it's a tough job… but someone's got to do it!). Through this journey, we've uncovered the top menu contender, ensuring that your early morning Chick-Fil-A run will be nothing short of perfection. Let's dive into the tasty adventure together, shall we?
A Clucking Good Time at Chick-Fil-A
Busting Myths about Fast Food Breakfasts
"You are what you eat" – a phrase we've all heard countless times, but when it comes to Chick-fil-A's breakfast menu, we think it might be more fitting to say, "we're clucking fabulous!" Chick-fil-A is known for its delicious chicken, but many might think that fast food breakfasts are limited to greasy, unhealthy options. Allow us to quickly debunk that myth for you!
While it's true that fast food options can sometimes be calorie-laden and nutritionally void, Chick-fil-A is happily bucking the trend with some healthier, scrumptious ways to start your day. For instance, the Egg White Grill is a game-changer. With only 300 calories and 25 grams of protein, this dynamite choice boasts egg whites, grilled chicken, and a touch of cheese on a warm English muffin. Your taste buds won't be disappointed, and your waistline will thank you. Way to go, Chick-fil-A!
Now let's talk about Grilled Nuggets, a morning snack to give you a much needed protein boost. Weighing in at just 130 calories and 25 grams of protein, these little bites of heaven will help kickstart your day without the guilt that may come with other breakfast options.
If you're looking for more traditional breakfast, worry not – Chick-fil-A's got you covered. Feast your eyes (and taste buds) on some delightful options:
Hash Brown Scramble Bowl: a flavorful mix of hash browns, eggs, and your choice of chicken or sausage – topped with cheese and that oh-so-good jalapeño salsa!
Chick-n-Minis: who could resist those bite-sized chicken nuggets nestled between two soft, honey butter-brushed mini yeast rolls?
There you have it, folks! Fast food breakfasts can impress without sending your arteries into a frenzy. If you haven't yet made Chick-fil-A part of your morning routine, perhaps it's time to give it a try. We know that we certainly can't resist their fabulous breakfast choices!
Chick-Fil-A Breakfast Menu All-Stars
Fowl Fantastic Chick-N-Minis
Let's start with the Chick-Fil-A Chick-N-Minis. Tiny but mighty, these golden bundles of joy consist of tender chicken filets nestled in warm mini-biscuits. What's not to love about bite-sized pieces of chicken heaven? You'd be hard-pressed to find a better way to kick off your morning shenanigans.
Chick-Fil-A Chicken Biscuit Showdown
Get ready to rumble with the beloved Chick-fil-A Chicken Biscuit. It's like a classic heavyweight champion, bringing a knockout punch of flavor by pairing a breakfast portion of Chick-Fil-A's seasoned-to-perfection boneless chicken breast with a delightful, buttery biscuit. You know you can't resist this classic combo of goodness in every bite!
Breakfast Sandwich Madness
Of course, we can't ignore the abundance of breakfast sandwich options available at Chick-fil-A. It's an all-star lineup of contenders, from the Spicy Chicken Sandwich for those seeking some morning heat, to the Grilled Chicken Sandwich, offering a healthier alternative without sacrificing flavor. And what about the battle between the humble yet yumtastic Sausage, Egg & Cheese Biscuit and its mighty muffin counterpart? It's a showdown we're always happy to watch unfold.
No matter which of these fabulous breakfast menu wonders you decide to indulge in, you know you'll be starting your day off with a symphony of flavors guaranteed to tickle your taste buds. You're welcome, appetites everywhere!
Healthier Pecks at Chick-Fil-A
Greek Yogurt Parfait Power Up
Let us tell you about our Greek Yogurt Parfait because, honestly, who doesn't love a parfait? With honey vanilla Greek yogurt, fresh strawberries, and blueberries, every bite is a sweet, delicious trip to flavor town. Choose nutty granola to sprinkle on top for extra fiber-rich goodness or Oreo crumble if you're feeling indulgent. We won't judge, promise.
More Than Just the (English) Muffins
The Multigrain English Muffin is the underrated hero of Chick-fil-A's breakfast menu. Sure, everyone loves a buttered biscuit or a bagel, but trust us, this English Muffin deserves a place in the spotlight. Besides being delicious, it's lower in calories and higher in fiber. Dress it up with some egg and cheese, and you've got yourself a breakfast fit for royalty. Pro tip: Pair it with a cup of coffee for the optimal Chick-fil-A morning experience.
Fruit-Filled Choices
For all the produce lovers out there, the fruit cup will make your morning shine bright. Brimming with green apples, oranges, strawberries, and blueberries, it's the perfect way to start your day! Make it a combo and swap those tempting fries for a healthier treat. Your body will thank you later, and let's face it – we could all use a little gratitude in the mornings.
Don't Forget the Sides
When it comes to the Chick-fil-A breakfast menu, we can't help but drool over the main items. But, let us tell you, there are some amazing sides that can make your mornings even more delicious. Trust us, you don't want to miss out on these little breakfast gems. So, come along on this side-dish extravaganza!
Breakfast Burrito Bonanza
The classic breakfast burrito. Chick-fil-A has elevated this morning staple to a whole new level. We all know that most people's mornings revolve around coffee, but ours revolves around this perfect little wrap of happiness.
At Chick-fil-A, breakfast burritos come filled with a variety of mouth-watering ingredients: scrambled eggs, your choice of proteins like grilled chicken or sausage, and of course, a blend of delicious veggies. Each bite is a mini-explosion of flavor that makes us want to jump up and hit the "snooze" button on our alarms just to celebrate.
Now, you might be wondering: "Why is this the burrito bonanza?" The magic lies in the option to customize your burrito with the perfect pairings. Some of our favorite additions include:
Substituting grilled chicken for a healthier protein kick
Loading up the veggies for a burst of freshness
Drizzling some hot sauce for a spicy morning wake-up call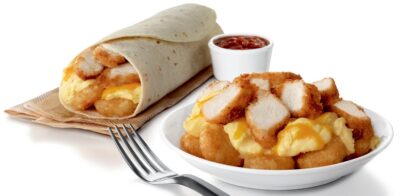 So, next time you're at Chick-fil-A for breakfast, do yourself a favor and grab a breakfast burrito on the side. It's the perfect little meal that will make you forget about the hustle and bustle of your hectic mornings (at least for a few moments).
Quenching Your Chick-Fil-A Thirst
Summer mornings call for a refreshing beverage to go along with your Chick-Fil-A breakfast delights. Armed with our taste buds and sunglasses, we're here to explore the best ways to quench your thirst at Chick-Fil-A.
Lemonade Lovin'
Ah, the classic Chick-Fil-A lemonade. This golden liquid is truly the nectar of the gods. If you haven't tried their lemonade yet, here are a few convincing reasons to do so:
Freshly squeezed: Chick-Fil-A doesn't play around when it comes to lemonade. They squeeze their lemons daily to ensure you get the freshest, tangiest taste possible.
Perfect balance: With just the right amount of sweetness and tartness, their lemonade strikes a harmonious chord with every sip.
Customizable: Not a fan of super sweet drinks? No worries! You can ask for a lighter version with less sugar, or even try their diet lemonade for a guilt-free experience.
And let's not forget about Chick-Fil-A's Watermelon Mint Lemonade, which recently made its way to the menu. This refreshing beverage combines their signature lemonade with a watermelon and mint blend, creating the ultimate summer sipper. You can also get Watermelon Mint Sunjoy and Watermelon Mint Iced Tea for a limited time!
Now that we've shared our thirst-quenching discoveries, it's time to don our shades and savor these tasty treats. Cheers to lemonade lovin' at Chick-Fil-A!