National Coffee Day is Thursday, September 29.  Let's…get…JITTERY!!!  We're going to share all the deals we can find with you so you can get free coffee all day long until your heartrate goes through the roof and you can float off the ground when you flap your arms really hard and…. whew.  Sorry about that.  Coffee Day really is a fun day, and you can get lots of deals on a good cup o' joe to celebrate, and even free coffee outright at lots of places.  Here's our EatDrinkDeals Ultimate Guide to National Coffee Day to help you get your fix and join the party!
EatDrinkDeals confirms all National Coffee Day deals from verifiable sources such as the restaurant website or social media pages before posting.  We wouldn't want you to be all tweaked out wondering if the posted deal really is too good to be true.  We will update this page as more offers are announced.
Want to get info on all the deals, discounts, coupons and specials from your favorite restaurants?  Click here to see the latest and greatest from EatDrinkDeals!
Do you want to have great deals like these emailed directly to you? Click here to sign up for our newsletter!
2022 Coffee Day Deals
Au Bon Pain
Get any size hot or iced coffee for only $1 from Au Bon Pain on National Coffee Day.  Au Bon Pain sent this email with the deal – show it to your cashier when ordering.
Biggby Coffee
Get a free 20 oz hot or iced brewed coffee from Biggby Coffee on September 29.  You can get upgrades for an additional charge if you're in the mood to jazz it up.  Biggby Coffee posted the free coffee offer on Facebook.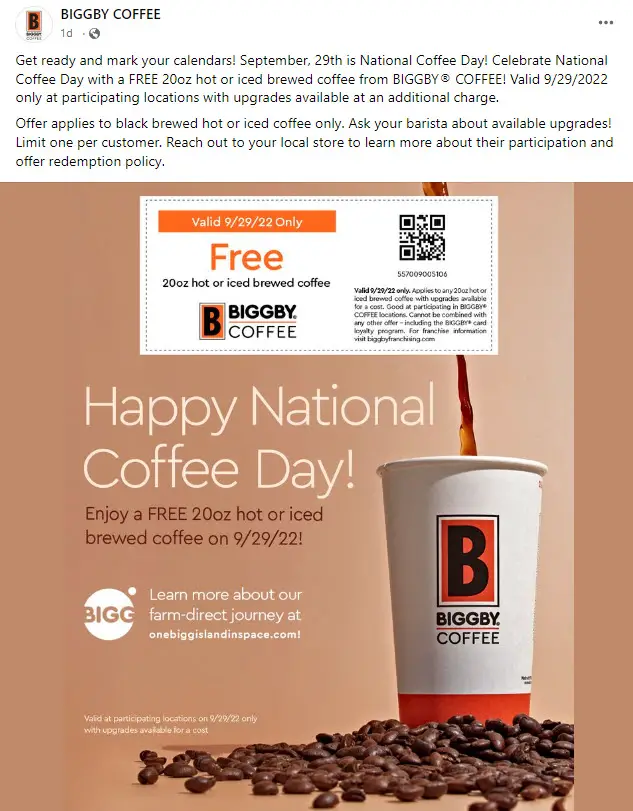 Bruegger's Bagels
Order ahead with the Bruegger's Bagels app and you can get a free coffee, all day every day!  Add any item to your app order and add a hot or iced coffee for free.  Click here if you want to download the app for iPhone, or click here for Android to access the offer.  Bruegger's posted the offer on their website.
Burger King
Burger King is celebrating National Coffee Day all week long with a free Small Iced Coffee for guests who spend a dollar or more from 6 AM – 10:30 AM on September 26 – 30 by ordering online or through the app.
Caribou Coffee
Caribou Coffee has a offer for Caribou Perks Members on National Coffee Day with a $3 Medium Handcrafted Beverage.  Not signed up yet?  You can do that and get details on the Coffee Day deal here on the Caribou website.
Duck Donuts
Duck Donuts is offering free Medium Hot Coffee or Cold Brew to guests who purchase a donut online or in-store on September 29. Duck Donuts sent an email with the offer.
Dunkin'
Celebrate National Coffee Day on September 29 at Dunkin' with a free medium hot or iced coffee with any purchase!  You'll need to be a DD Perks member to get the deal.  Not with the program yet?  Click here to join the DD Perks program on the Dunkin' website.
For other great Dunkin' deals, click here to read our Dunkin' deals story.
Dutch Bros.
Dutch Bros. is offering customers the chance to win free coffee for a month. From September 19 – 28, guests that use the app and scan their Dutch Pass at the window will be entered for a chance to win this awesome deal! After this, the chain will have a promotion to win free coffee for an entire year. For the full contest rules and details, click here.
Holiday StationStores
Get a $0.99 coffee of any size at Holiday locations on September 29.  Click here to get a Holiday coupon to claim the offer.
Kolache Factory
Kolache Factory will have a free cup of Katz gourmet coffee on September 29. Simply show the cashier the coupon on Facebook, Instagram, and Twitter that will be posted closer to Coffee Day or ask for it in-store.  You can get the deal in-store or curbside, but not online.
Krispy Kreme
Get a free coffee AND a free doughnut at Krispy Kreme on National Coffee Day!  You'll need to be a Krispy Kreme Rewards member to get the free doughnut, but the coffee is free for all! Krispy Kreme posted this press release with the news. Need to join Rewards? Click here to sign up.  Trust us, it's worth it.  There are all sorts of perks going on at any given time.
For more info on doughnuty deals and their fall Cinnamon Rolls, click here to read the EatDrinkDeals Krispy Kreme story.
la Madeleine
Any guest who stops by la Madeleine on September 29 or orders online will get a free regular or large drip coffee with any other purchase.  We spotted the deal in this email.
Panera Bread
Panera is kicking off its MyPanera week on National Coffee Day. On the 29th, new Unlimited Sip Club subscribers will get two months for free. Existing members will get $2 off select barista beverages and smoothies. This is a one-time offer available only on the app.
Click here to read the EatDrinkDeals Panera story with more info on the coffee subscription and MyPanera week.
Peet's Coffee
Peet's Coffee is offering a free small drip coffee to guests who make any purchase at participating locations.  Also, get 20% off coffee beans to celebrate.  Peet's Coffee sent this press release with the details.
Pilot / Flying J
Pilot / Flying J has a free coffee deal for its app users for National Coffee Day.  On September 29, app users can enjoy a free serving of their choice of Pilot Flying J's coffee varieties, hot or cold.  Coffees include the new Cinnabon Pumpkin Spice Cappuccino, Bourbon Pecan Coffee, Macchu Picchu Bean-to-Cup, and Southern Pecan Cold Brew flavors.  Click here to download the myPilot app and get your coffee on.  Pilot put out this press release about the Coffee Day perk.
Royal Farms
Rofo Rewards members will receive a complimentary free any size coffee (hot or iced) at Royal Farms on September 29.  You'll need to sign up and show your Rofo Rewards card or app for the deal.  You can visit the Royal Farms Rewards page here to sign up.  Royal Farms sent this press release with the details.
Shipley Do-Nuts
Get a free medium House Blend with any purchase at Shipley Do-Nuts when you use code COFFEE29. Click here for a list of participating locations.
Smoothie King
Smoothie King is offering guests a 20 oz. Espresso or Cold Brew blended smoothie for just $5 on National Coffee Day, provided they order before 11 AM. Plus, from September 29 – October 2, Smoothie King Healthy Rewards members can get a free 20 oz. smoothie when they order any coffee or espresso smoothie.
Starbucks
So… Starbucks is passing on National Coffee Day this year, apparently.  This kinda seems blasphemous in some way, but you've got plenty of other options for free coffee!
Tim Hortons
Tim Hortons is offering medium hot or iced coffee for just $0.25 at all US restaurants on National Coffee Day. Plus, since October 1 is International Coffee Day, guests can snag $0.99 medium hot or iced coffee the entire month of October. 
For more deals from the friendly chain, click here for the EatDrinkDeals Tim Hortons page.
Waffle House
Get a free cup of coffee with another purchase using this Waffle House coupon valid through October 14.  CLICK HERE for your Waffle House coupon, and show it to your cashier to redeem.
Wendy's
Get a free Wendy's Coffee with an app reward valid one time from September 29 – October 5.  Wendy's posted this press release with the details.  Looking for the app?  Click here to download it.  It's got all sorts of other perks and coupons running on it all the time.
Ziggi's Coffee
Download the Ziggi's Coffee app and get a free coffee on September 29.  Fam (basic) members get a free 16 oz. coffee, and the Insider and VIP members can get the fancy stuff for free.  Visit the Ziggi's Coffee website for more details, and to get that app.