Freddy's Frozen Custard & Steakburgers has announced the launch of its new Grilled Cheese Steakburger, which will be available for a limited time at participating locations nationwide. The Pumpkin Pie Concrete is also returning to the menu, along with a new option, the Pumpkin Pie Shake.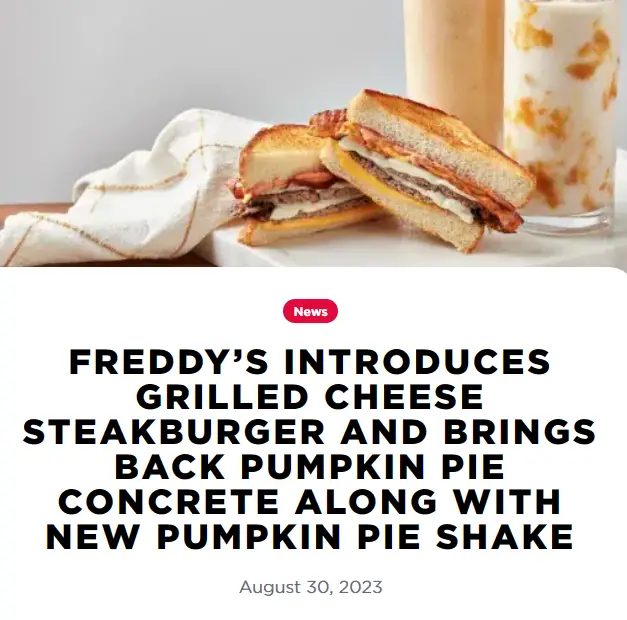 The Grilled Cheese Steakburger features two premium steakburger patties grilled with four slices of American and Swiss cheese, crispy Applewood bacon, and a savory tomato spread, all between two slices of buttery Texas toast. The tomato spread aims to give you that feeling of dipping grilled cheese into tomato soup.
The Pumpkin Pie Concrete and Pumpkin Pie Shake are seasonal favorites made with fresh and creamy vanilla frozen custard blended with a slice of rich pumpkin pie, crust included, then topped with whipped cream and sprinkled with cinnamon. The shake has added milk for easier sipping through a straw.
"Our pumpkin treats are made with a deliciously creamy vanilla custard base that is churned fresh daily in each of our restaurants. What truly sets them apart is the inclusion of pieces of whole pumpkin pie that have hints of spices including cinnamon, nutmeg, and ginger," Rueckel said.
In our testing, the Grilled Cheese Steakburger was about $8.50, or about $11.50 as a combo with fries and a drink. The Pumpkin Pie Concrete and Pumpkin Pie Shakes are about $5.75 for a Mini Size, $6.50 for a Regular and $7.50 for a Large. Prices will vary by location, however.
Freddy's Email Club
Get coupons from Freddy's Frozen Custard when you join their email club.
To enroll in the email club just provide your email address at: https://freddysusa.com/connect/
Freddy's Birthday Celebration
Freddy's usually has a special on frozen custard every February.
The special, usually around February 15-24 is to celebrate the birthday of Freddy's namesake, Freddy Simon, father of two of the chain founders.
In 2023, the offer was a buy one, get one free Birthday Cake Shake deal on February 24. The chain's name comes from Freddy Simon. Simon served his country during World War II and went on to start the burgers and custard spot. You can get the BOGO offer for in-person orders, through the drive-thru, and online or in the Freddy's app.
The chain announces the special on their website at  https://freddysusa.com/
Freddy's has about 300 locations in 30 states.
Freddy's Menu
If you want to browse around, visit our Freddy's menu page here. We computed average pricing based on our research of locations across the U.S.
Freddy's Rewards App
Freddy's has a mobile app and rewards program that can help you earn sweet discounts and bonus rewards!
Download the new app for Freddy's Frozen Custard & Steakburgers and get a free Original Double or Regular Concrete for your trouble!  Earn points with your purchases for free menu items like a Signature Turtle Sundae, California Style Double or large Cheese Curds.  Visit the Freddy's Rewards FAQ page here to learn how to sign up, or how to carry over an existing account to the new version to keep your points.
After you download the app and register or login, you are immediately eligible to earn points and rewards. Every dollar spent is worth 10 points. Redeem your points for free food and frozen custard. Simply select "My Points" to track your progress. To see what items you can get with your points, select "See what I can get" in the app. You can redeem points in store or via online ordering. Points expire in one calendar year, so be sure to plan accordingly! Click here for more details on the Freddy's Rewards program.