Red Lobster has a new Seafood Lovers Lunch starting at $8.99 and Summer Power Bowls starting at $9.99.
Red Lobster's new Seafood Lover's Lunch menu, available every day from 11 am to 3 pm, features these new menu items:
Endless Soup, Salad and Biscuits: Enjoy Red Lobster's signature Cheddar Bay Biscuits® along with the choice of soup and salad. Soup options include New England Clam Chowder, Lobster Bisque and Creamy Potato Bacon.
Summer Power Bowl: Quinoa rice, edamame, seasonal berries, sliced almonds and a lemon olive oil vinaigrette with the choice to add Grilled Shrimp, Crispy Shrimp, Grilled Chicken or Grilled Fresh Salmon.
Dragon Power Bowl: Spicy soy-ginger sauce drizzled over quinoa rice and fresh broccoli with the choice to add Grilled Shrimp, Crispy Shrimp, Grilled Chicken or Grilled Fresh Salmon.
"Our new seasonal Power Bowls really deliver on flavor and variety – giving our guests the choice of something sweet or savory and a choice of their favorite protein to build the perfect lunch," said Chef Dustin Hilinski, Executive Chef and Director of Culinary at Red Lobster. "And, everyone craves our Cheddar Bay Biscuits, so we're excited to now be able to have a lunch offering that allows guests to enjoy our delicious biscuits with as much soup and salad as they want. There's really something for everyone on this lunch menu."
In addition to the new items, Red Lobster's lunch menu also includes favorites, such as the Petite Chilled Lobster-and-Shrimp Rolls with Fries, Southwest-Style Tacos, Shrimp and Wood-Grilled Chicken and more. The menu also offers a Create your Own Lunch option affording guests the opportunity to choose two proteins and a side to customize their meal based on preference and craving. The lunch menu is available every day from 11:00 a.m.-3:00 p.m.
The Red Lobster Lunch menu is available Monday through Friday from 11:00 a.m. to 3:00 p.m., at participating locations nationwide. Red Lobster announced the new promotion on the Red Lobster News Page.
Your lunch plans may never be the same. 😝NEW! #SeafoodLoversLunch is HERE and it starts at just $8.99!

*Prices may vary. Valid in U.S. (excl. PR) pic.twitter.com/lxIyfaM06r

— Red Lobster (@redlobster) June 27, 2019
Red Lobster Coupon
Sign up for the Red Lobster email club and receive a Red Lobster coupon for a free appetizer or dessert with the purchase of two adult entrees.  You'll also get another Red Lobster coupon on your birthday, and coupons on other occasions.
About Red Lobster (from Wikipedia)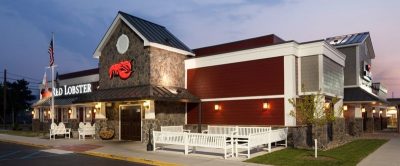 Red Lobster was founded in 1968 by entrepreneur Bill Darden and Charley Woodsby. Originally billed as a "Harbor for Seafood Lovers", the original restaurant in Lakeland, Florida was followed by several others throughout the Southeast. General Mills acquired Red Lobster in 1970 as a five-unit restaurant company. The chain expanded rapidly in the 1980s.
In 1995, Red Lobster (along with Olive Garden and other sister chains) became part of Darden Restaurants, which was spun off from General Mills as an independent, publicly traded corporation. Today, there are nearly 700 Red Lobster locations throughout the United States.
Red Lobster Menu
To see the Red Lobster menus you need to select your location first at  https://www.redlobster.com/locations/  and then click "View Menu".