Red Lobster has lunch specials starting at $7.99.
On Monday-Friday from 11 am to 3 pm, starting at $7.99, lunch entrees include:
Classic Caesar Salad with Chicken

Grilled Shrimp Salad and cup of soup

Southwest Style Tacos

Chilled Lobster & Shrimp Rolls and Fries.
All entrees come with unlimited Cheddar Bay Biscuits. The  Red Lobster Lunch menu is available Monday through Friday from 11:00 a.m. to 3:00 p.m., at participating locations nationwide.
Red Lobster Coupon
Sign up for the Red Lobster email club and receive a Red Lobster coupon for a free appetizer or dessert with the purchase of two adult entrees.  You'll also get another Red Lobster coupon on your birthday, and coupons on other occasions.
About Red Lobster (from Wikipedia)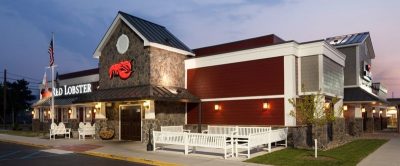 Red Lobster was founded in 1968 by entrepreneur Bill Darden and Charley Woodsby. Originally billed as a "Harbor for Seafood Lovers", the original restaurant in Lakeland, Florida was followed by several others throughout the Southeast. General Mills acquired Red Lobster in 1970 as a five-unit restaurant company. The chain expanded rapidly in the 1980s.
In 1995, Red Lobster (along with Olive Garden and other sister chains) became part of Darden Restaurants, which was spun off from General Mills as an independent, publicly traded corporation. Today, there are nearly 700 Red Lobster locations throughout the United States.
Red Lobster Menu
To see the Red Lobster menus you need to select your location first at  https://www.redlobster.com/locations/  and then click "View Menu".