Get half-price shakes at MOOYAH on weekdays from 2-5 pm for a limited time.
Guests who dine-in at participating locations can take advantage of this offer. There's no better way to cool off on a hot summer day than with a MOOYAH shake!   The chain posted the offer on their website.
$9.99 Classic Combo
Get the Classic Combo for only $9.99 at MOOYAH Burgers, Fries & Shakes for a limited time, with a Cheeseburger, hand-cut fries and a regular drink. You can upgrade to a famous MOOYAH shake for $3.50 more.
For more details see the MOOYAH website.
Also at MOOYAH get a Big Deal for $28.  This includes 4 Cheeseburgers and one Family Hand-Cut Fries.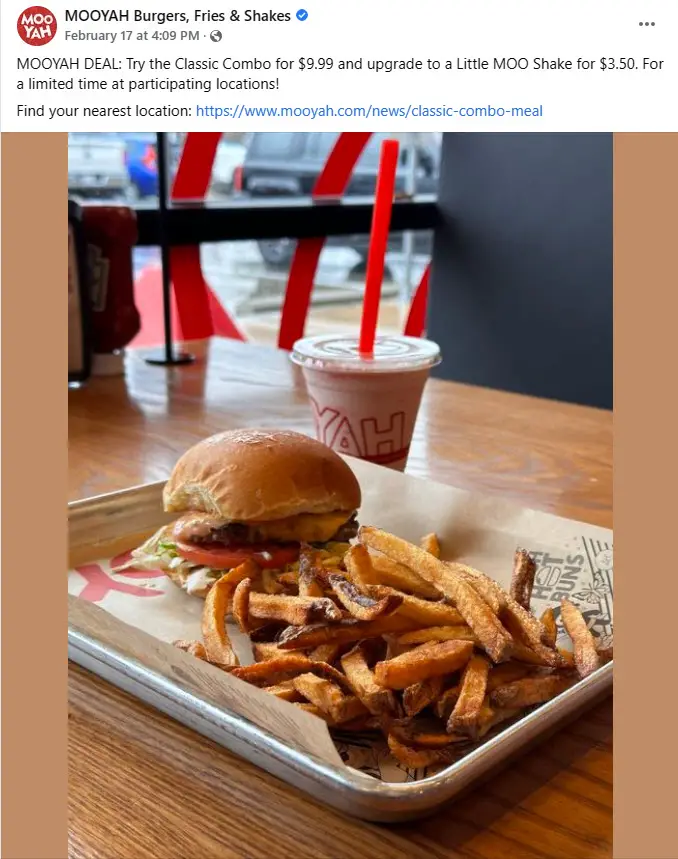 Free Fries With The MOOYAH App
Get a free order of fries and other deals when you download the MOOYAH rewards app.
In addition to getting a coupon for free fries, get points with each purchase; 100 points equals a $10 reward.  MOOYAH said they will also have other promos in the app, available only to app users.
For more details see the Mooyah Rewards Page