For a limited time, get 4 meals for $40 at Quiznos with 8″ subs, chips, cookies and bottled drinks.  A veritable feast for four to enjoy!  Quiznos posted the deal on their Facebook page.
* Valid at participating locations only.  Excludes Steak and Lobster subs.
More from EatDrinkDeals
Want to get info on other deals, discounts, coupons and specials from your favorite restaurants?  Click here to see the latest and greatest from EatDrinkDeals!
Quiznos $5.95 Toasty Deal of the Day
Quiznos has a different 8 inch sub available for $5.95 every day of the week.  You can't get this deal on deliveries, though.  Here's the schedule:
Monday:  Spicey Monterey
Tuesday:  Turkey Ranch and Swiss
Wednesday:  Baja Chicken
Thursday:  Ultimate Turkey Club
Friday:  Classic Italian
Saturday:  Honey Bacon Club
Sunday:  Honey Bacon Club
Quiznos posted the Toasty Deal of the Day schedule on their website.
* Not valid with any other coupons or offers.
Quiznos Loyalty App Coupon
Also at Quiznos, download the new loyalty app and get a Quiznos coupon for a 4″ sub, free with any purchase.  To download the Quiznos app or get more details see Quiznos App Deals.
About Quiznos (from Wikipedia)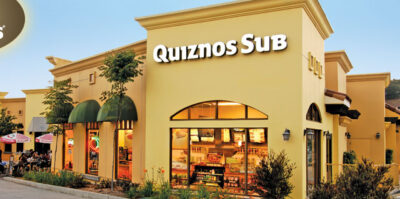 QIP Holder, LLC, doing business as Quiznos, is an American franchised fast-food restaurant brand based in Denver, Colorado, that specializes in offering toasted submarine sandwiches. It was founded in 1981 by Jimmy Lambatos and sold to Rick and Richard Schaden ten years later, before growing to nearly 5,000 restaurants afterwards. Quiznos was the second-largest submarine sandwich shop chain in North America, behind Subway. A 2016 survey indicated that Quiznos was the ninth-largest submarine sandwich shop chain based on sales. As of June 2018, however, it was down to about 800 locations.