Try out this promo code to feed 4 for $29.99 at Quiznos! Get 4 8″ subs, 4 cookies and 4 bags of chips and get your feast on. Use coupon code 8026 at checkout (click here to start an online order) for the deal.
Or, you can feed 8 people with subs, cookies and chips for $55.00 with code 8029.
To get the deal, add the subs, cookies and chips to your order, then enter the appropriate Quiznos coupon code (8026 for a 4-person bundle or 8029 for an 8-person bundle).
On your checkout page, look for "Redeem Coupon Code" and enter the code.  Here's what the checkout page looks like after the 4-person code was entered:
More from EatDrinkDeals
Want to get info on other deals, discounts, coupons and specials from your favorite restaurants?  Click here to see the latest and greatest from EatDrinkDeals!
Quiznos Deal of the Day
Quiznos has a different 8 inch sub available for $6.50 (up to $7.99 in some locations) during the Quiznos Deal of the Day.  You can't get this deal on deliveries, though.  Here's the schedule:
Monday:  Spicy Monterey
Tuesday:  Turkey Ranch and Swiss
Wednesday:  Baja Chicken
Thursday:  Ultimate Turkey Club
Friday:  Classic Italian
Saturday:  Honey Bacon Club
Sunday:  Honey Bacon Club
Quiznos posted the Deal of the Day schedule on their website.
* Not valid with any other coupons or offers.
Quiznos Loyalty App Coupon
Also at Quiznos, download the new loyalty app and get $5 off your first online order.  To download the Quiznos app or get more details see Quiznos App Deals.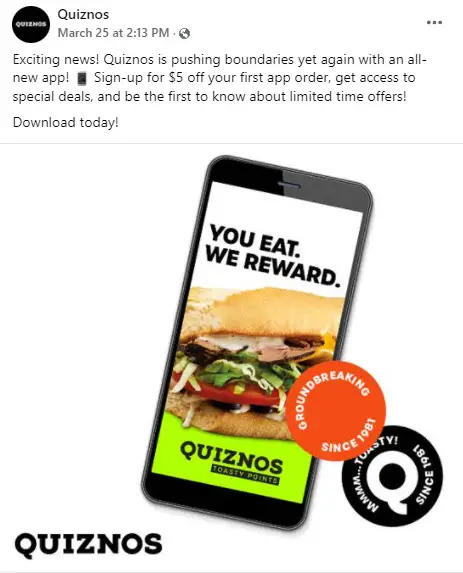 More Restaurant Daily Deals
Daily deals for all days of the week can be found here:
For more daily and weekly restaurant specials like these, see:  Restaurant Daily Deals
If you're an AARP member, you can get every day discounts at Denny's, McCormick & Schmick's, Outback and more places.  You can find all the details in our story, AARP Dining Discounts.
Also, many restaurant chains such as Bob Evans, Outback Steakhouse, Zoe's Kitchen and more offer discounts to the active military and veterans.  Here's the EatDrinkDeals roundup, Restaurant Military and Veterans Discounts.