Download the loyalty app from Quiznos and get $5 off your first online order.  To download the Quiznos app or get more details see Quiznos App Deals.  You'll also earn 1 point for every $1 spent, which gets you perks like 15% off your check at 25 points, a free sub at 80 points, and more.  Also, a free sub on your birthday!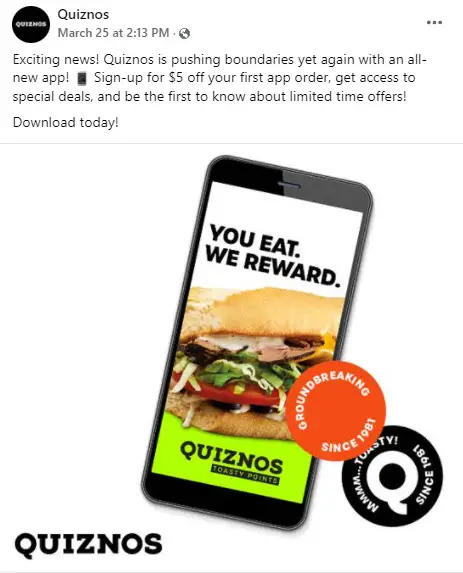 About Quiznos
Quiznos is a sandwich restaurant chain that was founded in 1981 in Denver, Colorado. Quiznos was a pioneer in the sandwich biz in that it featured toasted subs many years before the competition. At its height, Quiznos had nearly 5,000 locations worldwide. Now, the company's footprint is much smaller, but it still have several hundred across the US and in several other countries.
The menu at Quiznos features a variety of toasted sandwiches, as well as salads, soups, and sides. Here are some sample menu items:
Sub sandwiches: Quiznos offers a variety of subs, including classic options like turkey and ham, as well as more unique options like the Chicken Carbonara and the Spicy Monterey. All subs are toasted to bring out the flavors of the ingredients. Another popular choice is the Ultimate Turkey Club with turkey, bacon, cheddar cheese, lettuce, tomatoes, and mayo. Vegetarians may instead opt for the Veggie Guacamole with cheddar cheese, lettuce, tomatoes, onions, and sautéed mushrooms, green peppers, and black olives.
Salads: For a lighter meal, Quiznos offers a variety of salads, including options like the Chicken Caesar and the Honey Mustard Chicken Salad.
Soups: Quiznos also offers a rotating selection of soups, including options like broccoli cheddar and tomato basil.
Sides: In addition to its main dishes, Quiznos offers a variety of sides, including chips, cookies, and brownies.
Quiznos prides itself on using high-quality ingredients, including all-natural meats and cheeses, and on offering a unique, flavorful menu. The company also offers catering services for events and parties.