Subway will bring back its Footlong Pass on March 21 with 50% off Footlongs for a month for $15. Also, the Subway Series Lineup features 12 new signature sandwiches and there is a Subway deal of the day at many stores with footlong subs or combos for $5 to $6.
Looking to save on your next visit? Check our Subway coupons and promo codes page for the latest!
Footlong Pass At Subway – $15 For 50% Off Footlongs For April
After a dazzling debut in 2022, the Footlong Pass comes back to Subway on March 21, 2023. For $15, you can get 50% off any footlong sub all throughout the month of April. The offer is valid once per day. So, if you're a frequent Subway-er, this is right up your alley. Subway is offering 250,000 of these passes up for sale. Last year, they only had 10,000 available, and they sold out within hours. We still expect these to sell out, though not as quickly, but you'll need to act fast. Visit the Subway Footlong Pass page here to get one. You'll need to be a MyWay Rewards member to be eligible; it only takes a minute to sign up.
Subway Series Lineup
A year after the Eat Free Refresh, Subway has undergone another monumental menu change. The chain recently announced 12 signature sandwiches that can be ordered by number: the Subway Series. Here's a brief outline:
Cheesesteaks: The Philly (No.1), The Outlaw (No.2), The Monster (No.3)
Italianos: Supreme Meats (No.4), Bella Mozza (No.5), The Boss (No.6)
Chicken: The MexiCali (No.7), The Great Garlic (No.8), The Champ (No.9)
Clubs: All-American Club (No.10), Subway Club (No.11), Turkey Cali Club (No.12)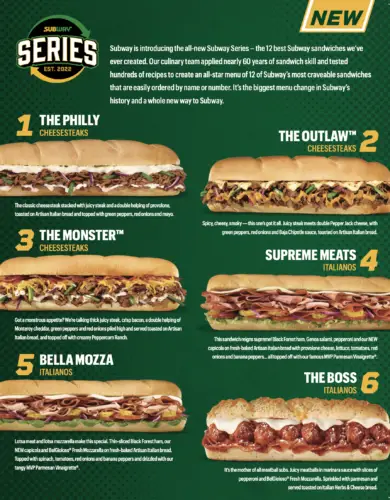 The chain announced these specials in a press release.
Sub Of The Day
There's a rotating Subway deal of the day special at many stores with footlong subs or combos for $5 to $6.
At stores which participate in deal, the price is typically $4.99 or $5.99 for a footlong sub or for a combo with a six-inch sub of the day, chips and drink.  Some stores do not participate in the sub of the day deal but offer a special on one sub every day, usually Meatball Marinara.  No discount code is needed for the daily deal.
To get the deal, look for a posting at your location or ask your server what is the current sub special. Below is an example of the sub of the day rotation at a store that does offer the special.
Subway Sub Of The Day
Monday: Sweet Onion Chicken Teriyaki:  A blend of tender teriyaki glazed chicken strips. Served hot & toasted on freshly baked bread.
Tuesday: Oven Roasted Chicken: Oven Roasted Chicken piled high atop freshly baked bread with your favorite toppings from spicy jalapenos to crisp green peppers.
Wednesday: Turkey Breast: Tender turkey breast piled sky-high with everything from lettuce and tomatoes to banana peppers.
Thursday: Italian B.M.T.: This all-time Italian classic is filled with Genoa salami, spicy pepperoni, and Black Forest Ham.
Friday: Tuna: Flaked tuna, mixed with mayo, and your choice of fresh vegetables.
Saturday: Black Forest Ham:  Black Forest Ham with all the crunchy veggies you like on your choice of freshly baked bread. Even try it fresh toasted with melty cheese and mustard.
Sunday: Meatball Marinara:  Italian style meatballs drenched in irresistible marinara sauce, served on freshly baked bread.
About Subway
Subway is an iconic restaurant chain that specializes in sandwiches (aka subs). It's one of the largest restaurant chains in the world with over 40,000 locations in more than 100 countries.
Subway's menu consists of a variety of sandwiches made to order in front of the customer. Pick your type of bread, meats, cheeses, vegetables, and sauces to come up with your own masterpiece. Some popular sandwiches include the Italian B.M.T., the Subway Club, and the Chicken Teriyaki. They also serve breakfast in many locations.
Subway offers several "Fresh Fit" sandwiches that are under 400 calories to cater to the more dietary-conscious crowd. They also provide nutritional information for their menu items.
If you want to browse around, visit our Subway menu page here. Or, visit their website here.