TGI Fridays has a Fridays Five menu with $5 cocktails and appetizers.
The Fridays Five menu, good all day every day, includes a variety of $5 beer, wine, and premium cocktails, and a variety of $5 bar bites including wings, sliders, and flatbreads.  The menu varies by location but typical Fridays Five features include:
Cocktails
– $5 Aviation 75 (Aviation, Wycliff Brut Sparkling, strawberry, lemon)
– $5 Holiday Blues (Barcardi Rum, Blue Rasberry, Sprite(R), lemon)
Beer
– $3 Bud Light Draft
Appetizers (available in the bar only; deals vary by location, typical deals are shown)
– Loaded Cheese Fries
– Skillet Queso Chips
– Boneless Wings
– Cheeseburger Sliders
– Loaded Chicken Nachos
Menu items vary by location. $5 Apps available in Bar Only. Participation Varies. Tax and gratuity not included. Void where prohibited. Please drink responsibly.   Learn more at fridays.com/fridays5

The launch of Fridays Five Menu is part of Fridays ongoing evolution strategy enhancing its menu as a whole, the chain said.
"Bars and restaurants can make Happy Hour confusing with inconsistent specials, and we don't think it should be one or two hours only. As the inventors of Happy Hour, we wanted to make Happy Hour just that – fun, simple, and on your terms," said Stephanie Perdue, Fridays Chief Marketing Officer. "We have created a bar menu with great bar pairings, and as seasons change, so will we so Guests can count on Happy Hour anytime."
For more deals at TGI Fridays, see:  TGI Fridays Coupons and Specials
About TGI Friday's (from Wikipedia)
T.G.I. Friday's (often shortened to "Friday's" in most countries, and stylized "FRiDAY'S", or "T.G.I.s" in the United Kingdom) is an American restaurant chain focusing on casual dining. The company is a unit of the Carlson Companies. Its name is taken from the expression TGIF. The company asserts that it stands for "Thank Goodness It's Friday."   The chain is known for its appearance, with red-striped canopies, brass railings, Tiffany lamps and frequent use of antiques as decor.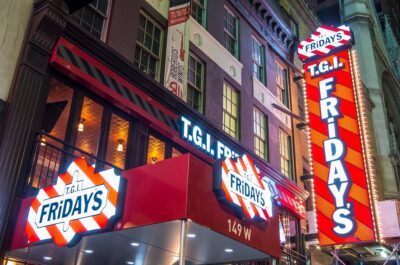 There are about 870 locations in the U.S. (as of October 2018).
Friday's has a large menu with an emphasis on alcoholic beverages which includes their famous "Ultimate" drinks which are served in an 18 oz. (532 mL) glass, and often made with top-shelf and darker liquors. They also focus on a variety of blended drinks that are signature to the Friday's name, such as the "Tropicolada" and the "Friday's Freeze". A section of the menu is dedicated to the "Jack Daniel's Grill", a selection of items with a special Jack Daniel's-branded sauce.