The landscape of the restaurant industry is constantly evolving, and the COVID-19 pandemic is the next major hurdle it will have to overcome. Since the pandemic took stronghold of American society in March 2020, the industry has had to deal with significant decreases in patrons and workers, causing many firms, especially small-scale, local establishments, to close their doors for good. Changes in social norms because of the pandemic have necessitated companies to adopt more comprehensive business models to sustain success. This article will highlight some of these changes and explore what it could mean for the future.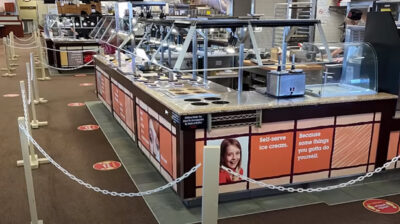 The Rise of Takeout and Delivery Services
Takeout and delivery were common in the food industry prior to the pandemic, but they surged in popularity once the virus began to dominate daily life. The restaurant experience was not an option for many during the worst months of the pandemic; minimizing contact became a need, as opposed to an introvert ideal. Services like DoorDash saw their popularity increase exponentially. Delivery services helped many restaurants that had a subpar or nonexistent delivery program, survive. In fact, as DoorDash highlights on their website, the odds of a restaurant staying open during the pandemic was six times higher if they were partnered with DoorDash. On the same note, 57% of restaurants also claimed that their business would have shut down if DoorDash did not exist. DoorDash is the unquestioned giant in the food delivery industry with a 57% market share in the United States, followed by Uber Eats (26%) and GrubHub (16%). Users of these apps has increased annually, by a total of over 40 million, from 2015-2020. Delivery was integral for consumers and businesses alike during the pandemic, and there are no signs of a reversal taking place anytime soon.
While delivery was a must during the pandemic, it was by no means, the most financially feasible option for consumers. Because it seems like delivery is here to stay, restaurant groups are working to find pragmatic solutions to make them affordable and appealing options. Cities like San Francisco and Chicago, among others, have proposed policies such as a 15% permanent cap on delivery fees. Previously, some of these vendors were charging an upwards of 30% of the price of the sale to consumers with other tacky costs such as "local costs." Consumers relish the experience of eating out, but the pandemic has made it, so they also want the option to eat at home when it is more convenient.
As the pandemic evolves, so does the restaurant industry. Restaurants of all types across the United States are working to expand their services to incorporate delivery. This has been particularly difficult for high-end restaurants who have adjusted their models to accommodate customer limitations. On the other hand, other restaurants are working to adjust their business models to a phase of the pandemic characterized by more in-person attendees and a bit less delivery (though, the Omicron variant may alter this trend).
Digitizing the Food Industry
It should come as no surprise, that in 2021, there is a push for digital transactions. Restaurant apps have increased in their usage throughout the pandemic as online ordering became more prominent. Many firms expanded their apps with a more consumer-friendly interface to make the process as easy and efficient as possible. Expanded nutritional information, alternative payment methods, and additional delivery and pick-up options were all incorporated in these renovated apps. Check out our app reviews for chains including Taco Bell, Papa Johns, Smoothie King, among others, to learn more about how apps have revolutionized consumer-producer interactions in the food industry.
Applications are just one example of how the food industry is becoming more digital. Another example is the digitization of safety and compliance measures, specifically in the realm of tracking and communicating processes. This includes things like food safety, employee wellness checks, sanitation, and adherence by firms to regional guidelines. Digital platforms are replacing the traditional "pen and paper" means of documenting and tracking these core elements of the industry.
As I talked about in an earlier article, there is an ongoing supply chain crisis because of the pandemic. Adding on to this challenge is the fact that many companies have had to adjust their operations to cope with regional mandates and regulations related to health and wellness. There is simply too much data when analyzing these supply chains for there not to be a digital element. Businesses have adopted digital measures to manage inventory in real time, ensure quality control, and record relevant supplier data.
The Push for Automation
Coinciding with a shift toward more digital procedures, there have also been measures taken to advance automation and AI within the food industry. Automated processes help address some of the challenges within the industry, including worker shortages, a shifting consumer base, global food insecurity, and climate change. Automation is efficient, consistent, and flexible. With expanding technology, it is becoming easier to implement and track as well, further increasing its viability during a time when safety measures are of the utmost importance in society.
Automation is currently growing in popularity in the industrial agricultural and food industry. To maximize efficiency, leaders are investing in automated technology in irrigation, fertilizer, harvesting, and breeding systems. Their success has led to the replacement of human labor. Given the uncertainty posed by the pandemic, these machines are simply more consistent and reliable.
We are also witnessing automation in grocery stores and warehouses. Automated guided vehicles, for instance, are replacing forklifts at a number of warehouses because they can perform the work of multiple laborers. In grocery stores, technological advances including automated floor cleaners are allowing workers to engage in other activities. Furthermore, there has been an increase in self-checkout kiosks as an effort to increase checkout efficiency and adhere to pandemic related social distancing guidelines.
Many restaurants are also testing automation as well. Self-service ordering and checkout along with robotic servers are innovative ways to limit contact and maximize efficiency. Moreover, there are also robots programmed to cook foods like hamburgers at an astounding rate. Overtime, there is reason to believe that some businesses may shift to an automated business model if total cost and demand warrants it.
Expectations for the Future
There's no denying that the entire food industry is changing right before our eyes. It's hard to judge the trajectory the industry will take in the coming years, especially given recent events like a global pandemic, but I have a few educated predictions regarding the road ahead.
For one, takeout and delivery services will continue to increase. This should come as no surprise as there was an upward trajectory even before the COVID-19 pandemic began. Providers of these services continue to increase and diversify while users are also increasing every day. Previously, providers were able to charge whatever fees they wanted, but as more of these same services pop up, the giants will have to cut consumer costs to remain competitive. On the same note, as we have seen in cities across the United States, I believe more municipalities will work to make these services more affordable to the average consumer.
It should also come as no surprise that there will be more digital influence in the industry. This is the technological era after all. Not only is digitization cheaper in the long run, but it is also more efficient and more effective. I think we will see more worker layoffs in specific sectors of the food industry because of this (more on this a bit later) because technology has streamlined a lot of worker-oriented operations. These changes coupled with pandemic related worries will certainly lead to more consumers opting for contactless services for years to come. Technology, whether we like it or not, is here to stay for the foreseeable future.
Lastly, we get to automation – the most interesting, but also the most ambiguous topic in this article. Statistically, nearly 75% of food service and accommodation tasks could be automated. On the one hand, this is promising news for businesses that are looking for an advantage in the long run. When implemented correctly, automation can provide a significant economic boost to many businesses. However, this can not only be analyzed from an economic lens. A recent report detailed that 40% of consumers claimed that they would visit a restaurant less frequently if it were to use greeting robots. Consumers constitute the success of a restaurant. If there are less visitors, then the economic value of automation can become negated. Here's where it also gets trickier: the share of consumers preferring contactless interactions in food service is increasing. Thus, in the future, we could see this social impact becoming diminished. Firms must simply implement automation at the right time where they can both retain consumers and maximize their returns.
A major concern over automation is job loss. This is not just in the food industry, but in all sectors of the workforce. A recent report projects that automation will eliminate 85 million jobs by 2025. However, it is also predicted that automation will create 97 million new jobs – a net gain of 12 million jobs. However, this will require workers to take steps to increase their respective skill sets and be responsive to taking on new roles. Automated technology can do a lot of good work, but it cannot do everything (at least right now). Ultimately, you will see automation replace jobs in the coming years. But this is not necessarily a bad thing. It will make for safer workplaces, especially in labor intensive workplaces, and pave the way for those who have had their work automated to take on more expansive roles.
How these trends truly manifest remains to be seen and is something I will be paying close attention to.
Change is always scary. But without constant change, there is no progression. It was Winston Churchill who said, "To improve is to change; to be perfect is to change often." If we are to reach our full potential as a society, we must be welcoming to the changes on the horizon.