Buffalo Wild Wings is a popular spot for wing enthusiasts, offering a wide array of flavors and spice levels to suit every palate. We've sampled the various sauces available and determined some of the best options for a range of preferences. In this article, we will share our top picks, helping you make the most of your next visit.
In the following paragraphs, we'll dive deeper into the array of options and share our advice on which Buffalo Wild Wings sauces to try, depending on your personal preferences. We'll also provide insight into how these sauces can be combined for a truly unique flavor experience.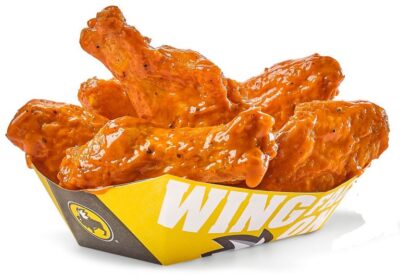 Top Buffalo Wild Wings Sauces
Buffalo Wild Wings is known for its extensive menu featuring a variety of wings and sauces. While we won't be covering the entire menu in this article, you can view the full Buffalo Wild Wings menu by clicking here. In this section, we'll delve into some of the most popular sauces on the menu, including Classic Buffalo Sauce, Parmesan Garlic, Asian Zing, Honey BBQ, Mango Habanero, and Lemon Pepper Dry Rub.
Also, if you're looking for info on their Happy Hour, or weekly Buy One, Get One Free offers on Bone-In and Boneless Wings, go to our Buffalo Wild Wings specials page here.
Classic Buffalo Sauce
The original, and for many, the best. The Classic Buffalo Sauce is the perfect blend of heat and tang, a flavor that has made Buffalo Wild Wings famous. Made with cayenne pepper, garlic, and a hint of vinegar, this sauce is perfect for traditionalists who love the familiar taste of buffalo-style chicken wings. You can get it in three variations – mild, medium, and hot – so you can choose your heat level.
Parmesan Garlic
For those seeking a creamy, savory option, the Parmesan Garlic Sauce is a must-try. Combining grated Parmesan cheese and roasted garlic, this rich, flavorful blend gives wings a delectable, umami-packed bite. It's a fantastic choice if you're looking to switch things up from the standard buffalo sauce.
Asian Zing
Influenced by Asian flavors, the Asian Zing Sauce features a blend of soy sauce, ginger, red chili peppers, and sesame seeds. The result is a sweet and spicy experience that will leave your taste buds wanting more. Perfect for those looking for a unique twist on traditional wings.
Honey BBQ
A fan favorite, the Honey BBQ Sauce is the ideal combination of sweet and tangy. Combining honey and classic barbecue sauce, this option adds a mouthwatering glaze to Buffalo Wild Wings' chicken wings. Whether you're a fan of boneless or traditional buffalo wings, this sauce's balance and complexity is sure to please.
Mango Habanero
For those who crave heat and fruity flavors, the Mango Habanero Sauce is a must-taste. This knockout sauce combines sweet mango and fiery habanero peppers, delivering a burst of flavor and a satisfying kick. Be prepared: this sauce is not for the faint of heart!
Lemon Pepper Dry Rub
If you prefer your wings with a seasoning instead of a sauce, the Lemon Pepper Dry Rub is a game-changer. A zesty blend of lemon and cracked black pepper, this seasoning is the perfect complement to Buffalo Wild Wings' signature chicken wings. Light, tangy, and perfectly seasoned, this option is a favorite among those looking for a dry, flavorful alternative to saucy wings.
Sauce Flavor Profiles
Mild and Tangy
When it comes to mild Buffalo Wild Wings sauces, there are several options that offer a tangy flavor without too much heat. These sauces are perfect if you enjoy a bit of a zing but don't want to be overwhelmed by spice levels:
Salt and Vinegar: This classic flavor combination delivers a tangy and salty taste. It's a great option for those who enjoy a mild yet undeniably flavorful sauce.
Wild Sauce: While not considered hot, the wild sauce does offer a bit of heat alongside its tangy flavor profile. It's a great option for those looking for a medium spice level.
In terms of Scoville Heat Units (SHU), these mild and tangy sauces fall in the lower range, making them perfect for those with a low tolerance for heat.
Sweet and Flavorful
For those who prefer sweet flavors as opposed to spicy, Buffalo Wild Wings offers various sweet and flavorful sauces:
Honey BBQ: This sauce strikes a balance between sweet honey and savory BBQ flavors, making it a popular choice among customers.
Teriyaki: Rich in Asian-inspired flavors, the Teriyaki sauce offers a mixture of sweet and tangy tastes.
The sweet and flavorful sauces don't register high on the Scoville scale, making them a great choice for those who prefer a sauce with less heat.
Hot and Spicy
When it comes to hot sauce at Buffalo Wild Wings, there are several options varying in spice levels. For those who like a challenge and enjoy the heat, these sauces are the way to go:
Hot Sauce: As the name suggests, this sauce delivers a significant amount of heat. It's ideal for those who crave a kick of spice.
Blazin' Sauce: At the top of the spice scale, the Blazin' sauce is not for the faint of heart. With an extremely high Scoville rating, this sauce is so hot that some Buffalo Wild Wings locations have a challenge revolving around consuming these fiery wings.
In general, hot sauces at Buffalo Wild Wings showcase a range of Scoville Heat Units. Always be mindful of this if you're interested in trying new spicy flavors or challenging your taste buds to the ultimate heat test.
Limited-Edition and Specialty Sauces
Nashville Hot
Nashville Hot sauce is a fiery blend of cayenne pepper, paprika, and spices that offers a bold and punchy flavor. It gives a unique and authentic taste that reminds us of the original hot chicken from Nashville, Tennessee. This sauce is perfect for those seeking an adventurous kick to their wings.
Orange Chicken
Orange Chicken is a delicious fusion of sweet and tangy flavors, combining citrus notes with a touch of spice. This sauce not only adds a burst of flavor, but also creates a mouth-watering aroma. The Orange Chicken sauce makes a great choice for those who prefer a sweeter sauce with a subtle kick.
Caribbean Jerk
Caribbean Jerk sauce is a zesty concoction of spices and flavors, including allspice, cloves, and cinnamon. It brings the tropical taste of the islands right to your table. With its peppers, ginger, and citrus, the Caribbean Jerk sauce works wonderfully on wings for a flavorful journey that transports you to a world of deliciousness.
| Sauce | Spice Level | Main Flavors |
| --- | --- | --- |
| Nashville Hot | High | Cayenne, Paprika |
| Orange Chicken | Low | Citrus, Sweet |
| Caribbean Jerk | Medium | Allspice, Ginger, Citrus |
Coconut Ginger
For a more exotic and unique flavor experience, try the Coconut Ginger sauce. This Asian-inspired sauce combines coconut, ginger, lemongrass, and lime for a rich, creamy, and fragrant twist on your wings. It's a delightful mix that pairs particularly well with Thai Curry or Mango Habanero.
Dry Rubs and Seasonings
Buffalo Dry Rub
Buffalo Dry Rub brings a classic taste to Buffalo Wild Wings' menu. With familiar flavors of tangy, spicy, and slightly sweet, it's a favorite among wing enthusiasts. We find this seasoning to be great for those craving traditional buffalo taste without the mess of sauces. The sugar content in this dry rub is quite moderate, making it suitable for most diners.
Chipotle BBQ Dry Rub
For the smoky and savory BBQ fans, Chipotle BBQ Dry Rub is a perfect choice. This seasoning combines the smokiness of chipotle peppers with the sweetness of barbecue, creating a well-rounded flavor profile. Having just a hint of spice, it is enjoyable for those who prefer mild heat.
Desert Heat Seasoning
Desert Heat Seasoning is ideal for those seeking a spicy kick. With a blend of smoky heat and a touch of sugar, this seasoning offers a complex and bold flavor profile. We recommend this dry rub for adventurous eaters or those who enjoy a bit of heat in their wings.
Lemon Pepper Seasoning
As a refreshing and zesty option, Lemon Pepper Seasoning offers a tangy burst of citrus and black pepper. The combination of the tart lemon and the sharp pepper adds a unique flavor to the wings. We find this seasoning to be a great option for diners looking for a lighter, yet flavorful wing experience.
Salt and Vinegar Seasoning
Finally, the Salt and Vinegar Seasoning brings a tangy twist to Buffalo Wild Wings' dry rub lineup. This seasoning delivers the perfect balance of saltiness and tang of vinegar, evoking the classic taste of salt and vinegar chips. It's a delightful choice for those who enjoy a bit of tang in their wings.
Pairing Suggestions
Pairing Sauces with Side Dishes
When it comes to enjoying mealtime at B-Dubs or even recreating the flavors at home, we believe the key is to pair the right sauce with the perfect side dish. For instance, fries are a classic pairing choice that can be seasoned with some popular dry rubs for a burst of flavor. If you like Bourbon Honey Mustard, consider pairing it with soft pretzels or freshly cut carrot and celery sticks.
For those who prefer bolder flavors, Hot BBQ complements more hearty sides such as potato wedges or nachos, while Blazin' and Ghost Pepper sauces often pair well with lighter options like veggies to help balance the heat.
Pairing Sauces with Drinks
To craft the ultimate dining experience, we suggest complementing your choice of sauce and side dishes with the perfect drink. For a smooth, versatile option, beer is always a crowd-pleaser while watching sports games at B-Dubs, making it a go-to for lunch and beyond. Here are some recommendations for sauce and beverage pairings:
Bourbon Honey Mustard: Amber Ales or Brown Ales
Hot BBQ: IPAs or Lagers
Blazin' / Ghost Pepper: Wheat Beers or Pilsners
Keep in mind that these pairings are only suggestions, and your personal taste preferences might lead you to discover your favorite combinations. Buffalo Wild Wings takes pride in offering a wide variety of sauce options to suit every palate, so we encourage you to explore each one and find the perfect pairing for every occasion.
In conclusion, Buffalo Wild Wings offers an enticing variety of limited-edition and specialty sauces for every palate, making it easy to find new flavors to love return to tried-and-true favorites like Desert Heat, Salt and Vinegar, Spicy Garlic, Lemon Pepper, and Smoky Adobo, among others. No matter which sauce you choose, know that you are in for a tasty and unforgettable experience. If your mouth is watering and are looking for an excuse to satisfy your craving for Buffalo Wild Wings, check out our article on Buffalo Wild Wings Specials for some fantastic deals. A fulfilling meal at a reasonable price is always worth it!
Buffalo Wild Wings History
Origin of Buffalo Wild Wings
Back in 1982, two friends, Jim Disbrow and Scott Lowery, were craving some authentic Buffalo-style chicken wings while living in Columbus, Ohio. With limited options in the area, they decided to open their own place, and thus, Buffalo Wild Wings was born. Their passion for these crave-worthy wings cultivated a new market in America for chicken wings with a wide range of sauces and flavors.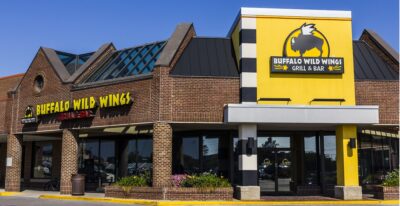 Expansion and Growth
Buffalo Wild Wings has come a long way since the opening of that first location in Ohio. The chain quickly gained popularity due to its inviting atmosphere, delicious wings, and variety of sauces. Today, there are more than 1,200 locations across the United States and B-Dubs has become a staple chain restaurant in many neighborhoods.
Buffalo Wild Wings' success can be attributed to their commitment to quality ingredients, a diverse menu, and a strong emphasis on customer satisfaction. The chain remains dedicated to providing an exceptional dining experience each and every time a guest walks through its doors.
Buffalo Wild Wings may have started as a simple idea, but it has grown into a widely recognized and well-regarded culinary staple in America.