Easter Sunday is April 4, and most chain restaurants are bringing back their traditional dine-in Easter specials.  Every chain restaurant we checked will have their dining rooms open on Easter.  Most also have takeout and delivery specials for those who want to have Easter dinner at home.
Here are the top Easter dinner deals for dine-in, delivery and takeout from the nation's leading chain restaurants.  We hope you and your loved ones have a happy and healthy Easter.  We hope you can use these deals to save a few bucks too!
Want more restaurant deals for any day of the week?  Click here to go to visit EatDrinkDeals for the latest and greatest!
Do you want to have great deals like these emailed directly to you? Click here to sign up for our newsletter!
Easter Restaurant Deals
Baskin-Robbins
Every year, Baskin-Robbins brings out special cakes for Easter.  This year's choices include:  Fluffy Bunny Cake, Bunny Face, Bunny Stripe, Bunny Roll, Hopscotch Bunny Cake, and Speckled Egg Cakes.  Hopscotch the Bunny Cake serves 6-8 people and costs $34.99 in most locations.  You can view the entire selection and order at:  Baskin-Robbins Holiday Cakes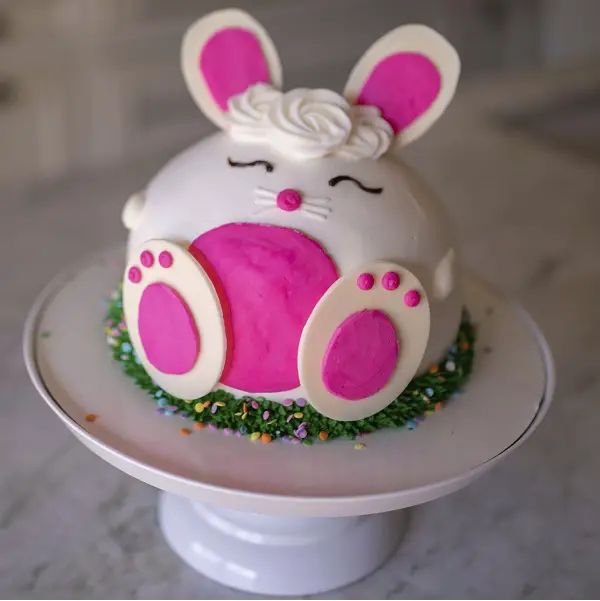 Bertucci's
Most Bertucci's restaurants will be open for dine-in on Easter Sunday and the chain also offers two different Easter choices for takeout or delivery on Easter weekend.
For about $10 per person, get a salad, Cannoli, and your choice of a large brick oven pizza or these entrees: Spaghettie and Meatballs, Chicken Parmesan and Spaghetti, Chicken Piccata & Fettuccine, Shrimp Rossini, or Rigatoni Abruzzi.  For details and to place an order, visit the Bertucci's Easter website.
For more Bertucci's deals, like their BOGO Pizzas on Tuesdays and Kids Eat Free Wednesdays, read our EatDrinkDeals Bertucci's story.
BJ's Restaurant & Brewhouse
Grab the Prime Rib Bundle for $94.95 for 4-6 people from BJ's Restaurant for your Easter celebration – just order 24 hours in advance of your pickup time.  The bundle includes 3 lbs. of prime rib served with au jus and horseradish, a choice of two family-sized sides, and one family-sized salad.  Also, you can score the famous Pizookie desserts for only $5 apiece from April 2-4.  BJ's Restaurant put out this press release with the info.
For more deals, like 1/2 off Large Pizzas ordered online, visit our BJ's Restaurant page.
Bob Evans
Bob Evans restaurants are serving inside on Easter Sunday and the chain offers several Farmhouse feasts for an at-home Easter dinner.  Bob Evans Farmhouse Feasts are fully cooked, heat-and-serve homestyle meals, packed cold.  You can order the Farmhouse Feast for takeout or delivery at  https://www.bobevans.com/menu/farmhouse-feast
For $129.99 get a Premium Feast.  This extra special meal is packed cold and includes BOTH a slow-roasted whole boneless turkey breast and sliced hickory smoked ham.  Also comes with bread & celery dressing, homestyle mashed potatoes, buttered sweet corn, green beans with ham, cranberry relish, gravy, dozen rolls, macaroni & cheese, a whole apple pie, a strawberry supreme pie, and a loaf of banana nut bread.  There are other options, too, like a Farmhouse Turkey Feast that serves 4 for $64.99, or for $94.99 get a Turkey Feast that serves 8.
For more Bob Evans deals, like their $7.99 Dinner Bell Plates and coupons to save on your other trips, go to our EatDrinkDeals Bob Evans page here.
Boston Market
Boston Market is open for a dine-in meal on Easter Sunday and has several heat and serve options for Easter takeout.
Dine-in meals on the Easter menu include an Individual Meal priced at $13.99 and a Feast for 3 priced at $39.99.  Both deals include a choice of ham, roast turkey breast, or rotisserie chicken, plus sides, cornbread, and apple pie.
For takeout or delivery, get a complete Heat and Serve ham or turkey dinner for 12 for $119.99. The dinner package includes a whole ham or two boneless turkey breasts, mashed potatoes, cinnamon apples, sweet potato casserole, cornbread and two apple pies. Take the meal home chilled, then just heat and serve.  For a smaller serving, Boston Market also has a Half Boneless Ham or Boneless Turkey Breast meal for 4-6 for $84.99. Or get a Prime Rib Meal for 4-6 for $109.99.  Boston Market also offers a la carte choices including main dishes, sides, and extras.
BRIO
Get Easter Dinner to go for about $25 per person from BRIO to enjoy at home from April 2 – 4.  The Easter Weekend Package come with a choice of Salad, Main Courses like Chicken Limone, Pasta Brio and more, and Mini Easter Cannoli for dessert.  For more info and to order, visit the BRIO Easter page.
Go to our BRIO article to learn about Happy Hour and other deals available.
Bubba Gump Shrimp
Bubba Gump Shrimp Co. has most dining rooms open on Easter plus the chain has Easter meals available for takeout.  Also, if you dine in on Easter Sunday on April 4, kids 10 and under can get a free Ice Cream Sandwich for each Kid's Meal and Adult Entree purchased.  For more details visit:  Bubba Gump Easter Menu
Buca di Beppo
Buca di Beppo plans to be open for Easter lunch and dinner with Italian favorites starting at 11 am.  For more details see: Easter at Buca di Beppo 
To learn about other deals, like buy one get one free pastas on Tuesday, click here for our Buca di Beppo story.
Capital Grille
The Capital Grille has a $49 Easter Brunch for dine-in and a three-course Easter takeout feast for $155.
The Easter Brunch features entrees like NY Strip Steak and Eggs, Filet Mignon, and Sea Bass, with a starter and salad.  The brunch is priced at $49 for adults, $15 for children.   The Easter Dinner at Home package includes a salad, rolls, a Whole Rack of Bone-In Filet, Grilled Asparagus and Mashed Potatoes, and a Chocolate Espresso Cake for dessert.  For more details, visit:
Easter Brunch at Capital Grille – $49 adults, $15 Children
Easter Dinner Takeout at Capital Grille – $155
Carvel
Carvel Ice Cream is featuring a lineup of Easter Cakes.  Choose from Bunny Cakes, Chocolate Bunny Cakes, and Easter Egg Cakes.  Click here to view the full selection of cakes and start your online order.
Chevy's Fresh Mex
Chevy's Fresh Mex has a $28 brunch special on Easter Sunday. From 8 am – 3 pm, get a starter of fresh fruit, a beverage like bottomless Bloody Marys, Mimosas, coffee, tea or soda) an entree and dessert.  Entrees include Chilauiles, Steak Diabla and Eggs, and Shrimp and Crab Omelettelude Steak la Diabla & Eggs, Shrimp and Crab Omelette, and Churro Pancakes.   The regular brunch menu will also be available.
For the complete Easter brunch menu see:  Easter Brunch at Chevy's
Cotton Patch Cafe
Get Easter Heat and Serve Meals from Cotton Patch Cafe available from March 29 – April 4.  You'll need to put in your preorder by April 2.  Get the Ultimate Holiday Spread to serve 8-10 for $99.99 with Easter Holiday Ham, Dressing, 3 Fixin's and a choice of Carrot Cake or Cobbler for dessert.  Other less expensive options are available if you don't have that big of a group, or you only want a few items.  Cotton Patch Cafe posted the Easter deals on their website.
For info on more specials like their $6 Mix and Match lunch deals, visit our Cotton Patch Cafe page.
Cracker Barrel
Most Cracker Barrel locations will be open for dine-in on regular hours on Easter Sunday.  The chain also has their traditional Heat n' Serve Easter Feasts To-Go available April 2-6, 2021.
The Cracker Barrel Easter Feast serves 4-6 for about $80, or 8-10 people for about $140.  Each feast comes with sugar cured ham, Mashed Potatoes, Roasted Gravy, Sweet Yeast Rolls, and a choice of 2 to 3 additional sides.  New this year, Cracker Barrel is offering a Prime Rib Easter Feast.  The feast services 4-6 and comes with Prime Rib, Au Jus and Horseradish, Mashed Potatoes, Gravy, and Sweet Yeast Rolls.  The Prime Rib Feast is priced at about $110.
Cracker Barrel is also serving their regular menu on Easter Sunday; you can get on the wait list ahead of time by using the Cracker Barrel app.
Cracker Barrel also offers entrees and sides a la carte. For details visit: Cracker Barrel Easter Heat and Serve
Denny's
Denny's never closes and will be serving breakfast, lunch and dinner all 24 hours of Easter Sunday at most locations. New on the Denny's menu are the $6.99 Super Slam, the $11.59 Big Dipper Melt, and $11.59 Pot Roast Bowl. For the Denny's nearest you see Denny's Locations
For takeout, Denny's has Shareable Family Packs that serve 4-5 people, priced from $26.99 – $34.99.  To start an order online, click here for the Denny's website.  Here are the main packs available:
Grand Slam Pack for $26.99:  Grand Slams for 4 people – eight buttermilk pancakes, eight scrambled eggs, four slices of bacon, four sausage links, and hash browns (option to add toast)
Build Your Own Cheeseburger Pack for $28.99:  Cheeseburgers for 4 – 100% beef patties topped with American cheese with option to add custom toppings.  Each burger comes with a side of wavy-cut fries.
Premium Chicken Tenders Pack for $26.99:  Sixteen chicken tenderloins served with wavy-cut fries and BBQ and honey mustard sauces for dipping
Lumberjack Slam Pack for $33.99:  Eight buttermilk pancakes, eight scrambled eggs, eight slices of bacon, eight sausage links, 4 grilled ham slices, hash browns and toast.
Fish and Chips Pack for $34.99:  12 wild-caught Alaska pollock fried fillets and tartar sauce, served with wavy cut fries.
Looking for more Denny's specials?  Go to our EatDrinkDeals Denny's page!
Dickey's BBQ Pit
At Dickey's, you've got some options available. On Easter Sunday, and every Sunday as a matter of fact, get a free Kid's Meal with an order of $10 or more.  Use the promo code KEFOLO for an online order.  You can also get 10% off catering orders of $100 if you got a bigger group with promo code OFFCATERING.  Dickey's put the deals up on their promotions page.
For more info on this and other deals, like two Two Meat Plates for  $24 and the $8.80 Anniversary Meal, visit our Dickey's page.
Eddie V's
Eddie V's has a dine-in brunch on Easter Sunday plus takeout or delivery dinners.
Most Eddie V's dining rooms will be open for Easter Brunch from 10 am to 2 pm. Brunch is priced at $49 for adults, $15 for children.  You can also order from the full dinner menu all day.  Easter Brunch comes with a first course of salad, Lobster Bisque or Smoked Salman, a main course of Steak and Eggs, Lobster Quiche Florentine, or Roast Avocado and Jumbo Lump Crab, plus dessert.
Eddie V's also has a four-course heat and serve dinner for $150 to serve two, or $250 to serve 4-6 people.  You'll get a Shrimp Cocktail starter, Mixed Greens Salad, Herb-Roasted Tenderloin or Chilean Sea Bass, Grilled Asparagus and Au Gratin Potatoes, plus Bananas Fosters Butter Cakes with Butter Pecan Ice Cream.
For full details and to make an order, click here for the Eddie V's Easter page.
El Torito
El Torito has an all-you-can-eat Easter Brunch from 8am – 2pm on Easter Sunday. Featured are a Fajita Station, Taco Station, Made-To-Order Omelettes, and your favorite hot Mexican entrees.  Price varies by location. Add Bottomless Mimosas or Bloody Marys for $6.  For more details see:  Easter Brunch at El Torito
Famous Dave's BBQ
Get a Double Smoked Ham Feast from Famous Dave's BBQ from April 2-4 for $69.99 at participating locations to feed 4-5 people.  Or, double it up and serve 8 -10 people for $129.99.  The offer is valid for dine-in or to-go orders.  Click here for the Famous Dave's site and pick a location to see if yours has the deal.
Click here for the EatDrinkDeals Famous Dave's page for details on other specials they've got going on.
Fleming's
Fleming's Prime Steakhouse has a three-course Holiday Meal on Easter weekend.  Starting at 11 am on both Saturday and Sunday, April 3 and 4, 2021, dine in on the 3 course special featuring hand-cut Filet Mignon paired with your choice of Crab-Stuffed Shrimp or Lobster Tail Scampi.  The childrens menu features filet mignon, chicken tenders, or mac and cheese.  Easter Dinner is priced starting at for $80 for adults and $16 for children.  For more details see the Fleming's Easter Menu.
For more Fleming's deals and Happy Hour specials, go to our EatDrinkDeals Fleming's article.
Fogo de Chao
Fogo de Chão has Easter dine-in specials starting at 11 am on Easter Sunday.  Enjoy fire-roasted meats like Picanha and Lamb Chops as well as Brazilian Brunch recipes like Braised Beef Rib Hash. Kids 7-12 dine for half price, and those 6 and under receive complimentary dining.   The chain announced the Easter special here:  Fogo de Chao Easter Menu
Fogo de Chao also has to-go and butcher shop packages.  Get fire-roasted meats by the pound, or get ready to grill meats for cooking at home.  For details visit:  Fogo de Chao Catering Menu
Fresh Market
The Fresh Market has ready-to-cook Easter meals starting at $39.99.  Easter menu items include:
Lamb Meal for two $39.99
Ham Meal for for $49.99
Ham Meal for 8-10 $79.99
Rib Boast, Beef Tenderloin, Ham, lamb and more traditional favorites are also available for purchase by the pound.
For more details visit: Fresh Market Easter Dinners
Golden Corral
Select Golden Corral restaurants will be open on regular hours on Easter Sunday. Most will offer their traditional buffet where you serve yourself, and some are serving cafeteria style, where a restaurant worker serves you.  For a list of open restaurants visit:  Golden Corral Open Restaurants.
Golden Corral also has special Easter Holiday meals for take home.  Get a holiday glazed ham meal for about $80, a 24-piece Fried Chicken meal for $60, and other take home Easter specials.
For locations and more details see the Golden Corral Home Page.
Granite City Food and Brewery
Granite City Food and Brewery has is offering Easter Brunch from 9 AM – 3 PM for dine in for $24.99 – $28.99 per person, depending on the location.  Kids are $8.99 apiece.  Chow down on assorted pastries, fruits, salad, shrimp cocktail, an omelet bar, prime rib, and more goodies.  Or, get a to-go brunch from 9 AM – 2 PM.  Feed 2-3 people for $39.99 or 4-5 for $74.99, with Ham, Bacon, Eggs, Biscuits and Gravy, Fruit, Pastries and Pasta Primavera.  For more details or to make a reservation, visit the Granite City Food and Brewery Easter page.
Honey Baked Ham
Honey Baked Ham has multiple ham selections for Easter, with coupons available at some times and extended hours on Friday and Saturday at some locations.  Early Birds that order for Gold Pickup Days from March 30-31 can save $5 on their order.  For links to coupons and more details, see our EatDrinkDeals Honey Baked Ham Coupons page.
IHOP
Most IHOP restaurants will be open for dining in or takeout on Easter Sunday, serving their regular menu with new menu additions like Breakfast Burritos and Bowls. For the IHOP nearest you see IHOP Locations.  Call ahead to verify holiday hours.
Click here to visit our EatDrinkDeals IHOP page and learn about the IHOP Hoppy Hour and more deals!
Joe's Crab Shack
Most Joe's Crab Shack dining rooms will be open on Easter Sunday.  Joe's also has Easter meals to-go starting at $10 per person.  Choose from these family meals:  Chicken Tenders $10 per person, Grilled Herb Chicken $10 per person, Fish and Chips $10 per person, Top Sirloin $13.75 per person, or Crab Feast $21.25 per person.  Meals come with a salad, broccoli, and your choice of French fries or mashed potatoes.
For more details visit:  Easter Sunday at Joe's Crab Shack
Kona Grill
Kona Grill is offering an Easter Brunch and Dinner with favorites like Spicy Avocadao Toast, Macadamia Nut French Toast, Mix 'N Match Mimosa specials and more.  Ham dinner specials are also available for dine-in and delivery. To order, reserve, or get more details visit:   Easter at Kona Grill
For more info on other deals like Kona Grill Happy Hour, visit the EatDrinkDeals Kona Grill page.
Logan's Roadhouse
Logan's Roadhouse has several Family Dinner Feasts for Easter  takeout.  Takeout feasts are hot and ready for dining.  Options include a 4 lb Ultimate Prime Rib Feast that serves 6-8 for $99.99, 6 lb for $149.99; Roast Turkey Breast $99.99, Ribs $139.99, Meatloaf $109.99, BBQ Pulled Pork $119.99, and Pork Chops $88.99.  The Feasts are available in select locations April 2-4. Prices may vary.
Also, Logan's will be open all Easter weekend for dine-in from April 2-4.  All kids 12 and under that eat will get an Easter Egg with a voucher for a free Kids Meal on a future visitFor more details see this Logan's press release.  
Macaroni Grill
Macaroni Grill opens early on Easter Sunday, at 11 am at most locations.  The chain will be serving from their full menu of home style Italian-American dishes.  For more details see:  Macaroni Grill Home Page.
Visit our EatDrinkDeals Macaroni Grill page here for other specials, like BOGO coupons available Mondays and Wednesdays and their Feast For Five for $25 or Premium Feast for $50.
Maggiano's Little Italy
Maggiano's is open for dine-in at most locations and is featuring a Family Style menu on Easter Sunday.  Choose from brunch, lunch or dinner menus.
Maggiano's also has take-home Easter meals for pickup on April 2-4, 2021.  Prices for a 4-person package start at about $95.  The package includes classic favorites like: Mom's Lasagna, Fettuccine Alfredo, Cheesecake & more.  Pick up your meal on Friday, April 2 or Saturday, April 3 to be heated at your convenience. Easter Day pick-ups will be served warm and ready to eat.
Click here to find your local Maggiano's and call to place your order. 
McCormick & Schmick's
McCormick & Schmick's will be serving a three-course Easter special priced starting at $39 on Easter Sunday.  The Easter Prix Fixe menu includes soup or salad, dessert, and a choice of entrees including Crab and Stuffed Shrimp Salmon, Seared Sea Scallops, Chilean Sea Bass Oscar and Filet Mignon.  For more details visit: Easter Dinner at McCormick & Schmick's
The high-end seafood chain also has Easter family meals to go for $125.  Entree selections include Salmon, Filet Mignon, Lump Crab Cakes and Herb-Grilled Chicken.  The meals also come with salad, seasonal vegetables, roasted potatoes. sourdough bread and dessert,   For more details visit:  Easter to go from McCormick & Schmick's.
Metro Diner
Metro Diner will be serving an Easter meal of Roast Turkey or Baked Ham for $14.99 per person, available for dine-in or takeout.  For $14.99 a person, you'll get your choice of roasted turkey or baked ham paired with mashed potatoes and gravy, steamed green beans, cornbread stuffing, cranberry sauce and a slice of homemade apple cinnamon bread pudding.
For more details visit:  Easter at Metro Diner
Mimi's Cafe
Mimi's Cafe has Easter Feasts for $120 available from March 31 – April 4 .  The feast serves 8-10 people and includes Smoked Ham with an Orange-Dijon Thyme Glaze; Whipped Mashed Potatoes; Chef-Made Gravy; Buttered Corned Bread Stuffing; Green Beans with Caramelized Onions; Spinach Salad with Strawberries; Walnuts & Feta Cheese; and Two Carrot Raisin Nut Loaves.  More details are available here on the Mimi's Cafe Easter Take-Home Page.
Morton's Steak House
Morton's Steak House has a Prime Rib special for Easter Sunday.  You can also order from the full a la carte menu.  Visit the Morton's website for more details or to make a reservation.
The high-end steak chain also has an Easter To-Go package for $159 for four.  Get a choice of starter, a Kurobuta Berkshire Hog Ham entree, plus carrots, stuffing, green beans and mashed potatoes. Then get a cherry swirl cheesecake for dessert.
The Easter menu is available April 2-4, 2021.
Mountain Mike's Pizza
The early bird gets the worm they say, and they also save 15% at Mountain Mike's Pizza through April 14!  Pre-order online and use promo code EASTER15 to get 15% off your order!  Mountain Mike's posted the coupon code on Facebook.
Ninety Nine Restaurants
Ninety Nine Restaurants has an Easter Feast on both Saturday and Sunday, April 3 and 4, 2021.  Special entrees include T-Bone Steak ($19.99), Haddock ($16.99), and Lobster Topped Seafood Trip ($22.99). For more details see: Easter Weekend Specials at  99 Restaurants  
Oceanaire Seafood Room
Oceanaire Seafood Room has dine-in on Easter Sunday or an Easter dinner takeout package.  The Easter takeout package serves 4-6 people for $149.  Dinner is chilled and ready for you to finish at home.  The package includes salad, shrimp cocktail, Kurobuta Berkshire Heritage Ham, cornbread dressing, green beans, au gratin baked potoatoes and key lime pie.  For more details see:  Easter at Oceanaire
The Palm
At The Palm, go upscale with a Tenderloin Dinner for 4 for $275 or 6 for $425 for to-go, with salads, sides, and desserts to go with it.  Or, you can dine in with a Chateaubriand dinner for two for $150.  The Palm posted the Easter options on their website.
PDQ
PDQ has free Kids Meals with purchase of a Meal, Bowl or Salad on Easter, if you want to grab some tasty chicken on the go.  PDQ sent this email with the deal: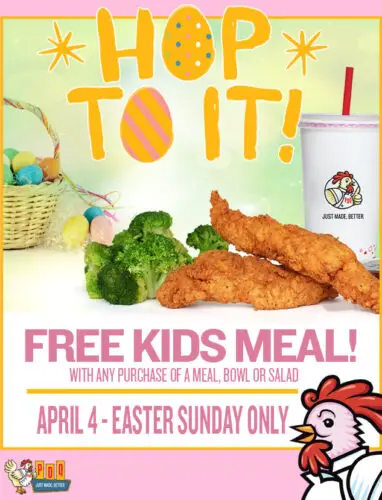 Red Lobster
Red Lobster will be serving from their regular menu – including their current Lobsterfest promotion – on Easter Sunday.  Red Lobster also has family meals for 4 people starting at $27.99. Red Lobster Family meal choices include:
Admiral's Family Feast, Wild-Caught Whitefish (Golden-Fried), Garlic Shrimp Scampi, Parrot Isle Jumbo Coconut Shrimp, Walt's Favorite Shrimp, Chicken Breast Strips, and Linguini Alfredo (with Shrimp, Crab or Cajun Chicken).  Everything except the Linguini comes with two Family Sized Sides – choose from Rice, Broccoli, Baked Potatoes, and Mashed Potatoes.  Plus every Family Meal comes with 8 Cheddar Bay Biscuits!
Click here to see the full Family Meal Deals menu options from the Red Lobster website.  Prices may vary by location, but on the low end are $27.99 for Chicken or Shrimp Linguini Alfredo and $43.99 for the Admiral's Family Feast.
Looking for more Red Lobster deals?  Click here to read our EatDrinkDeals Red Lobster article.
So much shrimp it's hard to fit in one photo! Order our Seaside Shrimp Trio Family Feast with #RedLobsterToGo pic.twitter.com/CZ651L3abe

— Red Lobster (@redlobster) March 21, 2021
Ruth's Chris Steakhouse
Ruth's Chris Steakhouse will be open early on Easter Sunday and serve from their regular menu at most locations.  The high-end steakhouse chain also has a family takeout special.
The Ruth's Chris takeout special is an Easter Celebration Feast that serves four people for about $180.  It includes Roast Beef Tenderloin, a starter, two sides and personal cheesecakes.  This product has a 48 hour lead time and is only available for pickup on 4/4 between the hours of 10 AM – 12 PM and 2 PM – 4 PM.  For more details visit:  Easter at Ruth's Chris Steakhouse
For more Ruth's Chris deals, read our EatDrinkDeals Ruth's Chris story.
Seasons 52
Seasons 52 is hosting a three-course Easter brunch on Easter Sunday and also has a dine at home package.   If you're dining in, for about $35 get a starter, entree and dessert.  Entrees include ham, French toast, Crab and Cheddar Quiche, and Shrimp and Grits.   Enjoy Mimosas, Bloody Marys, Sangria or Champagne Bellinis for $7.50 to $10.   To view the full menu visit:  Seasons 52 Easter Dining.
For takeout, Seasons 52 has an Easter Green Box to Go featuring ham, salmon or beef tenderloin with salad, sides, and mini indulgences.  Pick up chilled, heat at home and enjoy.  Prices vary; for more details visit: Seasons 52 Easter To Go.
Shari's Cafe
Shari's Cafe has a $14.99 Easter Meal plus Family Easter Feasts starting at $84.99. Shari's Easter specials and typical prices include:
Individual Holiday Ham Plate $14.99, Holiday Ham Feast (serves 4-6) $84.99, Ultimate Holiday Ham Feast (serves 10-12) $169.99, side of hand-carved ham $29.99, and several family-sized sides.
The chain announced the Easter promo on the Shari's Home Page.
Shoney's
Shoney's Easter Buffet will be open (where allowed by health guidelines) with an All You Can Eat feast for $12.99 per person for dine-in or to-go, with traditional options like Ham, Roast Beef and sides along with Crispy Fried Chicken, Shrimp and some cobbler for dessert.  Shoney's sent this press release with the news.  
Sullivan's Steakhouse
Sullivan's Steakhouse will be serving from their regular menu at most locations on Easter Sunday, plus the chain has a prime rib special.  Sullivan's will open at 11 am on Easter Sunday.  For menus and more details visit: Easter at Sullivan's Steakhouse
Texas de Brazil
Texas de Brazil is opening early on Easter Sunday – 11 am at most locations – and will be serving their dinner menu all day along with specialty brunch items until 3PM.  For more details see: Easter at Texas de Brazil.
Tijuana Flats
Tijuana Flats is closed on Easter Sunday, but kids eat free with a purchase of an adult entree on April 2-3!  You can get up to two free kids meals this way.  The offer is valid in-store, and for online orders with promo code KFEA1331 for one kid, or KFEA2442 for two kids.  Tijuana Flats posted the deal on Facebook.
Our Tijuana Flats page has info on other specials, like their $6.49 deals Tuesdays and Thursdays.
Waffle House
As they are every day, 24 hours a day, Waffle House will be open for Easter Sunday.   With a few exceptions – such as during the Coronavirus pandemic –  Waffle House restaurants have been open every day since 1955.  For the Waffle House nearest you, see Waffle House Home Page.
Whole Foods
Whole Foods has multiple heat and serve options for Passover and Easter, including an Easter Feast for 12 for about $280, a ham dinner for 8 for $140, and a turkey breast dinner for 4 for $70. You can also get a la carte options like a Lemon Turkey Breast for about $35 and sides like Asparagus and Potato Gratin with Gruyere.    Pickup dates are 3/25 – 4/4 for Passover and 3/31 – 4/4 for Easter.
For links more details, see Whole Foods Easter Menu.  For Whole Foods sale items visit: Whole Foods Sales Flyer
Notes:
EatDrinkDeals includes links to restaurant websites where you can confirm the deal and find further information.  We won't post deals that cannot be verified from a source such as the restaurant website, social media account, or press release.  Also, note that sometimes you'll need to give advance notice of a day or two, so plan ahead for your Easter feast!
Email us at editor@eatdrinkdeals.com if we've missed any!