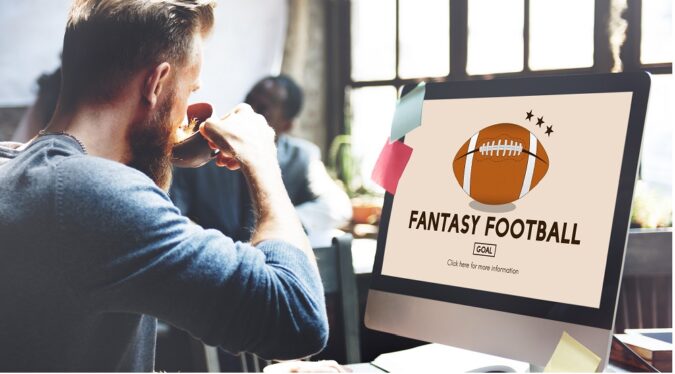 Football season is approaching.  It can't come soon enough, because that means fantasy football is just around the corner! Millions will put their rosters on the line for bragging rights and big stacks of cash.  That also means the rest of us will once again have to constantly hear about fantasy football from our loved ones.  Cheers to another four months of reduced productivity at the office and fights with your friends.  Get your league started off the right way by booking your 2022 draft party at one of these spots!
Get free draft kits, coupons for season-long savings and more deals when you host your 2022 fantasy football draft party at Buffalo Wild Wings, Dave & Buster's, Miller's Ale House, and other great venues.
Do you want to have great deals like these emailed directly to you? Click here to sign up for our newsletter!
Arooga's Fantasy Football Draft
At Arooga's, the first round's on the house if you host your draft with at least 10 folks.  Parties of 10 or more get first round of drinks (one drink per person up to $6) and a voucher for 10 free boneless wings to use toward future visit. For more details or to book a party, click here for the Arooga's website.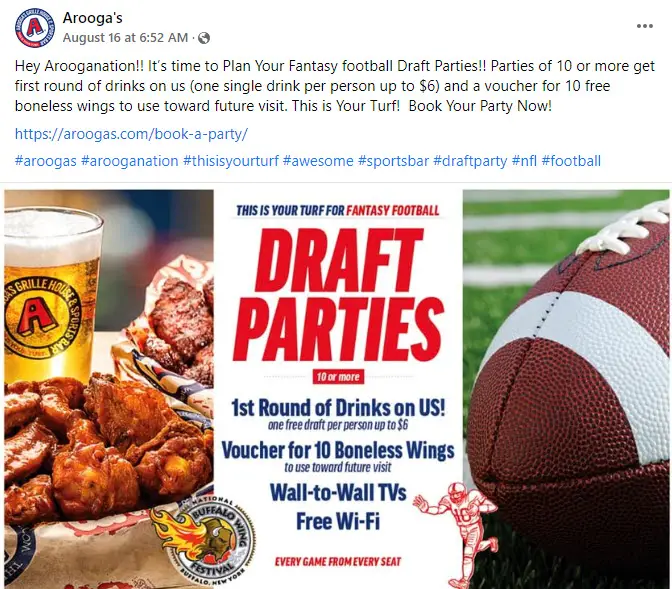 Buffalo Wild Wings Fantasy Football Draft
Enroll to host your fantasy football draft party at Buffalo Wild Wings and get 50% off the price of Bar Food purchased with at least a $25 spend.  Not for drinks, though, sorry folks.  Also, there's a nifty Punishment Pack available to stick it to the sorry sap who got last place in your league last year, complete with a pack of Blazin' Wings.  Let the tears of shame and overspicyness flow!  Get more details here on the Buffalo Wild Wings Fantasy Football page. 
For other deals info, like buy one get one free Boneless Wings on Thursdays, visit our Buffalo Wild Wings page.
Book your draft party at the Carolina Ale House and get a full draft kit with board, roster and materials and a Carolina Ale House Swag Bag! Talk to a manager at your local Carolina Ale House for the most pertinent information!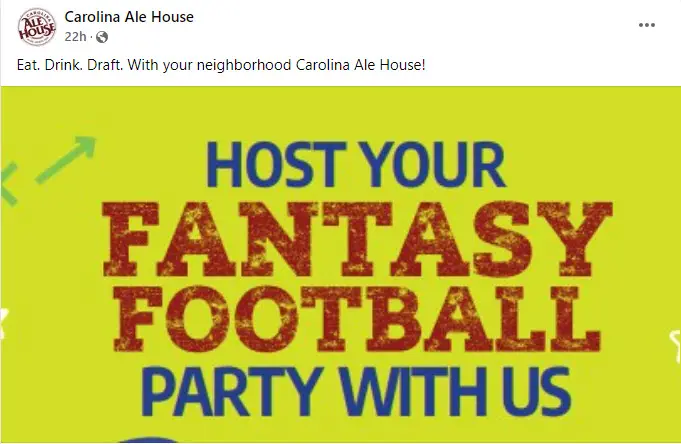 Check out our Carolina Ale House page for info on other specials, like $0.99 Kids Meals on Tuesdays.
Dave & Buster's Fantasy Football Draft
Book your draft party at Dave & Buster's for $24.99 a person and get appetizers for the table, Season Passes with coupons for football season, winner and loser trophies, and a hat for the Commish.  Click here for the Dave & Buster's Fantasy Football page to learn more.
Duffy's Sports Grill Fantasy Football Draft
Duffy's is offering private rooms, draft boards, and 2 for 1 drinks at Duffy's. Click here for more information and to make a reservation!
Book your fantasy draft party at Hickory Tavern and the league commissioner will be given a $50 gift card.  Plus, one lucky commissioner get the chance to attend a Panthers Game or watch party this season. Click here to book your draft party at Hickory Tavern.*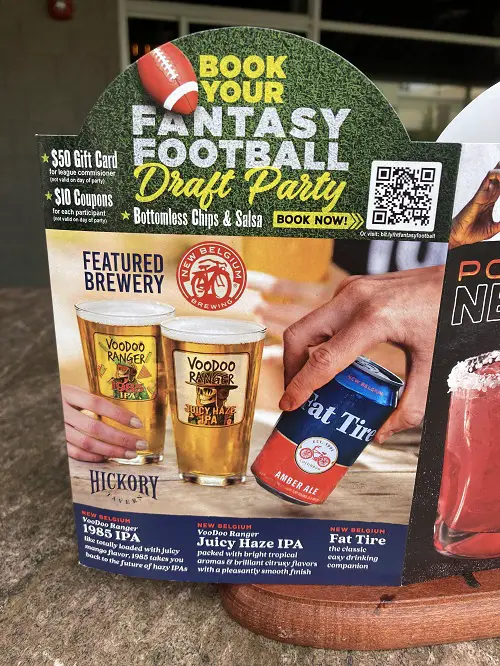 *This promotion is available at select locations. Be sure to contact your local Hickory Tavern in advance.
Miller's Ale House Fantasy Football Draft
Miller's Ale House has a 2022 fantasy football draft party package until September 4.  The draft party package includes the following:
$25 Gift Card for the Commissioner
A Fantasy Draft Kit
Free Wifi.
For more details visit the Miller's Ale House fantasy page by clicking here.
Visit our Miller's Ale House page to learn about other deals and Daily Specials.
Roosters Fantasy Football Draft Free Appetizer
Get a free appetizer for every 4 coaches in your fantasy league when you have your draft at Roosters now through September 8.  Just tell your server when you arrive.  Roosters sent this email with the deal info.
To learn about other deals like Appetizer Tuesdays and Happy Hour, check out our Roosters page.
Twin Peaks Fantasy Football Draft
Twin Peaks is a fantastic spot to host your fantasy football draft party! Their fantasy football draft package has everything you might want including a draft board, player stickers, a $50 bonus commissioner card, a $5 bonus card for each league member, a premium table reservation with free Wi-Fi, and deals on Coors Light and Miller Lite buckets (at select locations). Don't miss out on Twin Peaks' signature beers and menu items, including their Double Stacked Nachos and Loaded Fries during draft night either. Twin Peaks has the details up on their website. 
How to Create or Join a Fantasy Football League
For more information about Fantasy Football, don't ask Joe from IT about it when you see him in the breakroom, or else you're gonna be stuck talking to him for at least 45 minutes.  Check out the NFL website or ESPN Fantasy Football site where you can create a league, join a league, and participate in drawings for free prizes.  If you fancy yourself and expert and want to make things interesting, check out sites like DraftKings, Fanduel or FantasyDraft and put your money where your mouth is.
More from EatDrinkDeals
Want to get info on other deals, discounts, coupons and specials from your favorite restaurants?  Click here to see the latest and greatest from EatDrinkDeals!
More Restaurant Daily Deals
Daily deals for all days of the week can be found here:
For more daily and weekly restaurant specials like these, see:  Restaurant Daily Deals
If you're an AARP member, you can get every day discounts at Denny's, McCormick & Schmick's, Outback and more places.  You can find all the details in our story, AARP Dining Discounts.
Also, many restaurant chains such as Bob Evans, Outback Steakhouse, Zoe's Kitchen and more offer discounts to the active military and veterans.  Here's the EatDrinkDeals roundup, Restaurant Military and Veterans Discounts.