As a vegetarian, eating out can be a chore; I know this from firsthand experience. Scourging the internet and making phone calls to find menu item ingredients at restaurants makes me feel like a seasoned private investigator. To say the least, it is a tough task. Going out to eat or picking up food should be a simple treat, not a task. Here are six great restaurant options for vegetarians, and some of my favorite items at each!
CAVA is a Mediterranean Restaurant Chain that is similar in customization techniques to Mexican chains like Chipotle and Qdoba. At CAVA, you can make a pita, salad, greens and grains bowl, or grain bowl. You can also choose from their seasonal creations, such as the Lentil Avocado. Once you have chosen your meal type, you can customize it as you see fit. If you are customizing a bowl, you will first choose greens and/or grains. Regardless of whether you are ordering a Pita or bowl, you will choose up to three delicious dips and spreads, which are all vegetarian! You will also have protein options. The vegetarian protein options include Falafel, Roasted Vegetables, and Roasted White Sweet Potato. Choosing two of these will give you half-portions of each. Next, you will choose unlimited toppings from their assortment of options. Lastly, you will choose up to two dressings. These are also all vegetarian-friendly!
CAVA's Vegetarian Items
Here is an organized view of CAVA's menu offerings with exclusively vegetarian items:
Greens: Arugula, Baby Spinach, Splendid Greens, Super Greens, Romaine Lettuce
Grains: Saffron Basmati Rice, Black Lentils, Brown Rice, RightRice (extra $1.00)
Dips and Spreads: Tzatziki, Crazy Feta, Red Pepper Hummus, Hummus, Harissa, Roasted Eggplant
Proteins: Falafel, Roasted Vegetables, Roasted White Sweet Potato
Toppings: Tomato and Onion, Tomato and Cucumber Shredded Romaine, Cabbage Slaw, Diced Cucumber, Pita Crisps, Kalamata Olives, Pickled Onions, Crumbled Feta, Fresno Peppers, Fire-Roasted Corn, Lentil Tabbouleh, Avocado (extra $1.99)
Dressings: Yogurt Dill, Greek Vinaigrette, Skhug, Hot Harissa Vinaigrette, Lemon-Herb Tahini, Garlic Dressing, Tahini Caesar
All bowls come with a free Side Pita, which enhances the flavor of the meal. For more information on their menu, visit CAVA's website here.
CAVA is one of my personal favorites because they have such diverse and healthy food options. I usually build a health-conscious bowl packed with vegetables and limited dressings. Here is the Greens and Grains Bowl build that I look forward to eating every week:
Greens and Grain: Super Greens, Brown Rice
Dips and Spreads: Hummus
Proteins: ½ Falafel, ½ Roasted Vegetables
Toppings: Shredded Romaine, Tomato and Cucumber (double serving), Diced Cucumber (double serving), Fresno Peppers (double serving), Tomato and Onion
Dressings: Lemon Herb Tahini or Tahini Caesar (I order Hot Harissa Vinaigrette if I want to add a little heat to my bowl)
Eating at CAVA usually costs me about $10.00 for either a Bowl or Pita entrée. Note that pricing can vary based on location and your choice of toppings.
CAVA also has an app you can download to make ordering easier, and you can earn $8 back for every $88 spent when you order through the app, online, or have your unique in app barcode scanned in store.
To download the app on your iPhone, click here or download it on your Android here.
Moe's Southwest Grill
This slot could easily be filled with Chipotle, Qdoba, Salsarita's, or any other similar chain, but Moe's has a unique and diverse selection of toppings, making it my personal favorite of the bunch. Moe's offers a selection of Burritos, Bowls, Tacos, Salads, Quesadillas, Nachos, and Meal Kits that you can customize to suit your preferences. Every option includes a choice of rice and beans with an array of unlimited toppings and salsas to elevate your dish to the next level.
Moe's Vegetarian Menu Items
Here is a sample selection of vegetarian menu items at Moe's:
Rice: Seasoned Rice, Cilantro Lime Rice
Beans: Black Beans, Pinto Beans
Toppings: Grilled Onions, Grilled Peppers, Grilled Mushrooms, Shredded Cheese, Shredded Lettuce, Pico de Gallo, Roasted Corn Pico, Sour Cream, Cucumber, Black Olive, Fresh Jalapenos, Cilantro, Pickled Jalapenos, Quinoa
Dressings: Southwest Vinaigrette, Chipotle Ranch (contains eggs)
Salsas and Extras: El Guapo, Kaiser, Tomatillo, Space B'Green Us, Tres Jalapeno, Queso, Guacamole (Queso and Guacamole usually cost extra)
Moe's also gives free chips and salsa with every order! To discover more Moe's deals and specials, click here. To learn about the app and Moe's Rewards, be sure to read our app review.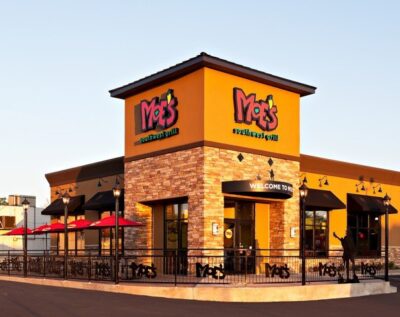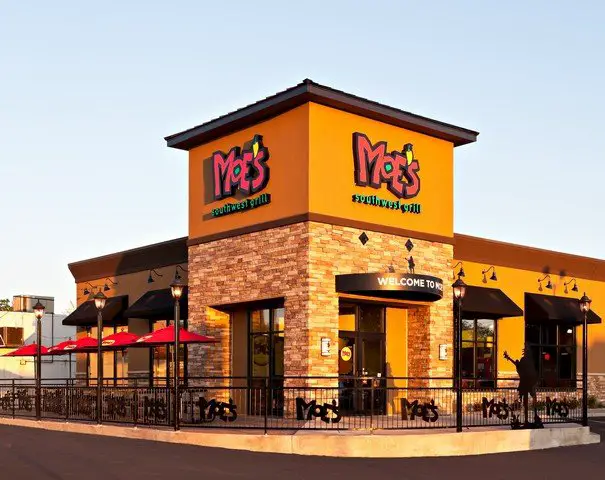 Moe's is a great place to satisfy a Mexican craving on a lazy weekend. I usually build a meal that strikes the balance between health and flavor. As of now, here is my go-to bowl build:
Rice: Seasoned Rice
Beans: Black Beans
Toppings: Grilled Onions, Grilled Peppers, Grilled Mushrooms, Shredded Lettuce, Pico de Gallo, Roasted Corn Pico, Sour Cream, Cucumber, Fresh Jalapenos, Cilantro
Dressings: Southwest Vinaigrette
Salsas and Extras: El Guapo, Kaiser, Tres Jalapeno
A veggie bowl usually runs me about $7.00, though depending on your location, toppings, and sides, your final price might be slightly different.
Which Wich
Which Wich is a sandwich shop that offers a variety of options for all types of sandwich lovers. You can choose from their popular menu offerings or customize your own sandwich or bowl. The Black Bean Avocado and the Garden Party are two great vegetarian menu items. Note that the 1000 Island and Mayo dressings on the Garden Party do have eggs.
Which Wich Vegetarian Menu Items
Here is a sample vegetarian menu for those opting to customize their own sandwiches:
Style: Black Bean Patty, The Avocado, Caprese
Bread: Lettucewich, Salad Base, Spinach Wrap, Wheat Baguette, White Baguette
Toppings: Bell Peppers, Jalapenos, Hot Pepper Mix, Banana Peppers, Avocado, Pickles, Tomatoes, Lettuce, Black Olives, Cucumbers, Onions, Crispy Onion Strings, Caramelized Onions, Coleslaw (eggs), Spinach, Sauerkraut, Hummus, Olive Salad, Roasted Red Peppers
Cheeses: Cheddar, Provolone, Pepper Jack, Swiss, American (note that the cheese may include animal rennet)
Dressings and Sauces: 1000 Island (eggs), BBQ Sauce, Balsamic Vinaigrette, Chipotle Mayo (eggs), Deli Mustard, Dijon Mustard, Honey Mustard (eggs), Yellow Mustard, Spicy Ranch Dressing (eggs), Regular Mayo (eggs), Ranch Dressing (eggs), Light Mayo (eggs), Pesto, Marinara, Buffalo, Oil, Vinegar
Spices: Salt, Pepper, Crushed Red Pepper, Garlic, Oregano
For more nutritional information, click here, or visit their website for a complete menu.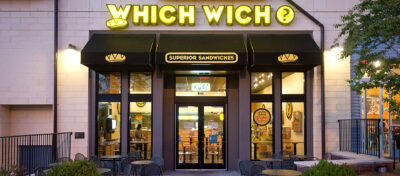 Which Wich is a favorite in my family because of the many options available to customize a sandwich. Their diversity in ingredients has led me to prefer it over sandwich chains such as Subway and Harris Teeter. Here is a rundown of my ideal sandwich at Which Wich:
Style: The Avocado (the Black Bean Patty is an excellent choice as well)
Bread: Wheat Baguette
Toppings: Bell Peppers, Jalapenos, Hot Pepper Mix, Banana Peppers, Roasted Red Peppers, Pickles, Tomatoes, Lettuce, Cucumbers, Onions, Spinach
Dressings and Sauces: Dijon Mustard, Balsamic Vinaigrette, Oil
Spices: Crushed Red Pepper, Pepper, Oregano
My preferred creation costs me roughly $8.00. Depending on your location, topping choices, and sandwich type and size, your price may differ a bit.
For the latest deals and promotions at Which Wich, such as $5 Wicked Wednesdays, click here!
Olive Garden is a fantastic Italian spot for vegetarians and non-vegetarians alike. For one, they have unlimited soup, salad, and breadsticks every weekday during lunch from 11 AM- 2:30 PM. The bread is always warm with a tang of garlic on top and the salad features fresh ingredients, oil, and your choice of cheese and seasoning. For soup, the Minestrone, featuring beans and vegetables with pasta, is an excellent choice. In addition to the exclusively vegetarian options, Olive Garden staff can usually personalize an entrée featuring meat to suit your vegetarian preferences, you just have to ask!
Olive Garden Vegetarian Menu Items
Some great solely vegetarian menu options (that you do not have to customize) include:
Fettuccine Alfredo
Minestrone Soup
Eggplant Parmesan (it is fried, so be sure to notify your server of your preferences so they do not cross-contaminate)
Spaghetti with Marinara Sauce
Cheese Pizza
If you would like to create your own pasta dish, here is a list of the options and how suitable they are for your individual needs:
Pasta

Angel Hair (vegan)
Fettuccine (vegan)
Gluten-Free Rotini (vegetarian; contains egg)
Rigatoni (vegan)
Small Shells (vegan)
Spaghetti (vegan)

Sauce

Alfredo Sauce (vegetarian; contains dairy)
Creamy Mushroom Sauce (vegetarian; contains dairy)
Five Cheese Marinara Sauce (vegetarian; contains dairy and egg)
Marinara (vegan)
Tomato Sauce (vegan)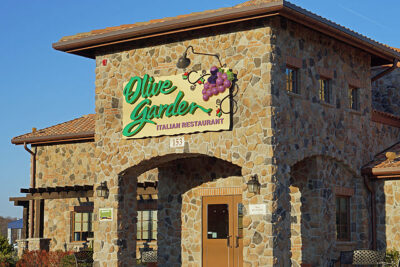 My go-to dish at Olive Garden is the unlimited soup, salad, and bread during lunch for $7.99. The delicious and healthy soup coupled with the warm garlic bread and a side of salad to complement the dish, yes please! Not only does it make for a well-balanced meal, but it also tastes fantastic as well. I am also a fan of their Eggplant Parmesan when I order an entrée. The delicate eggplant works very well with the flavor of the marinara sauce to make for an enjoyable meal. Be sure to give these a try next time you go!
For more information on Olive Garden's allergen information, click here or visit their website for a full menu by clicking here. For the latest Olive Garden deals and promotions including their $5 Take Home Special and Bake at Home Family Meals, click here!
Noodles and Company
Noodles and Company is not your traditional pasta restaurant. It features noodles and pasta from various cuisines that you can further customize to meet your preferences. In addition, they have so many vegetarian options and you can also ask for substitutions on menu items that may contain meat! There is something for everyone at Noodles and Company. Here are some great vegan and vegetarian options:
Penne Rosa (vegan without cream and cheese)
Spaghetti with Marinara (vegan without cheese)
Japanese Pan Noodles (vegan)
Tossed Green Side Salad (vegan)
Spicy Chipotle Adobo (vegan without pork, sour cream, or cream)
Thai Green Curry (vegan without shrimp)
3-Cheese Tortelloni Rosa/Pesto (vegetarian)
Roasted Garlic Cream Tortelloni (vegetarian)
Buttered Noodles (vegetarian)
Pesto Cavatappi (vegetarian)
Wisconsin Mac and Cheese (vegetarian)
Gluten-Sensitive Pipette Mac (vegetarian)
Cauliflower Gnocchi Rosa (vegetarian; also, can be ordered with Roasted Garlic Cream)
Cauliflower Rigatoni in Roasted Garlic Cream (vegetarian)
Tomato Basil Bisque (vegetarian)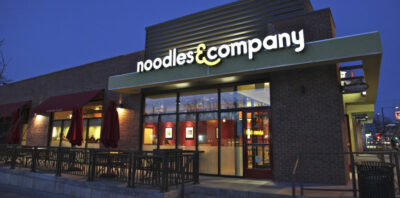 There are so many great vegan and vegetarian options to choose from at Noodles and Company. My favorite is the Spicy Chipotle Adobo without pork, but with sour cream. The spicy sauce provides some needed heat to my dish while the sour cream works to neutralize it. It is the perfect blend of flavors and worth a try. The Tomato Basil Bisque is also a fantastic creamy and rich soup that you should consider purchasing. Coupled with warm bread or salted crackers, it will leave you yearning for more. A typical meal here costs me about $8.00, though, depending on your location and preferences (such as sides, size, and sauces), your price will vary.
Please note that the menu at Noodles and Company varies based on location and rotates from time to time. Be sure to check in advance on their website to confirm the menu items at your preferred location.
For a comprehensive list of nutritional information, click here. To view the latest offers and promotions at Noodles and Company, click here!
Finding vegetarian options can become a bit tiresome every time you want to eat out. Hopefully the restaurants and menu options above make your next restaurant visit more enjoyable and less stressful!